Rigid forms, staggered and edged out in several compartments describe the unevenness of the Veronica Beach House facade, designed by Longhi Architects in Lima, Peru. The house is built on rocky terrain that has been literally carved out and levelled, before the commencing of the construction phase. Major criterion of the design was to maximise the views facing the waterfront, such that the house is aligned to meet with the water bay. With the effective use of levels, the house is designed to come with different views of the serene lake from various angles.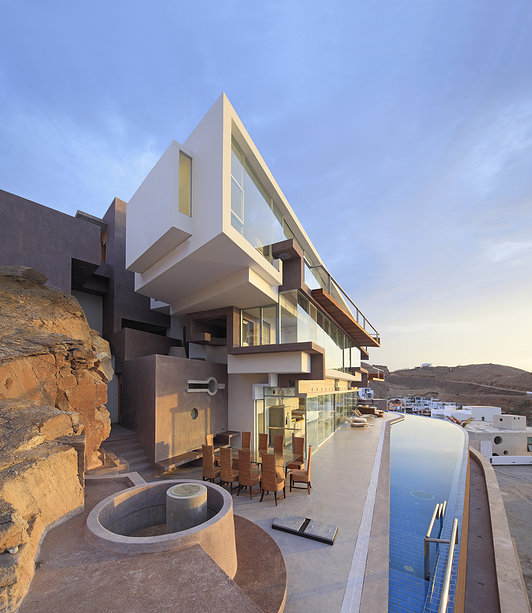 The architect has employed the use of regular organic forms like projected circular ceilings, gradations carved like a stepped ziggurat on the interior walls, and natural impressions of the rustic texture of the excavated rocks are lingering remembrances of the rugged terrain. The interiors of the beach house cave out from the rocky cliffs and are made to co-exist within their natural relief. It paints a Stone Age theme, but flipped with contemporary muse, the furniture arrangement, the use of wood and limestone flooring have portrayed a nostalgic essence to the beach house.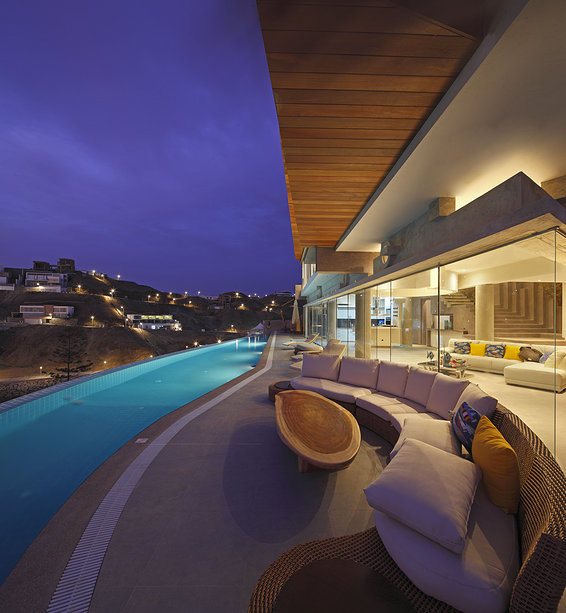 Major highlights of residence are that of the curved pool that demarcates the beach house from the lake. Overlooking the curved pool is a semi covered deck that acts as an outdoor lounge with the glazed living interior to its rear end. A perfect place to wind out would be the outdoor lounge that is complete with a dining area, apt for summer mornings. Curvilinear forms are built, into the house, to break down the rigidness of the rugged terrain and that sweeps fluidity reflecting the serenity of the lake to synchronise with the design idea and elements of the residence.
Photos By :Luis Longhi Traverso