Boxed structure, the Thorncrest House in Ontario, Canada is a cuboid structure with multiple boxes stacked on top, to form a solid mass of space. Offering superb design ideas and concept by Altius Architecture, the exterior of the house is complete with rectilinear glazing frames that define the facade of the house. A culmination of glass, wood, prefab metal panels, and concrete, the house runs, on thermal massiveness, to minimise the loss of heat. The residence is built against a cascading backdrop of English renaissance garden complete with trees and multicoloured foliage that enliven the house during the summers.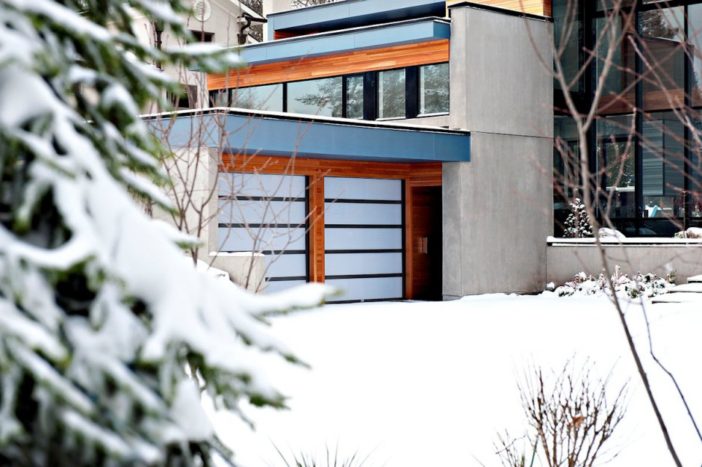 The living spaces are arranged to face the exterior landscape and are recessed by a step down to the floor level. Wooden flooring runs the entire length of the aisled corridor, sitting deck in the formal living room and also extends to the outer ceiling deck. Glossy red laminated panelling adorns the kitchen wall that brightens up the adjoining living space. With black leather cushioned lounge seating, complete with black slate tile flooring, the space retains a charmed ambience that resonates with hanging pendant lamps and sculptural pieces.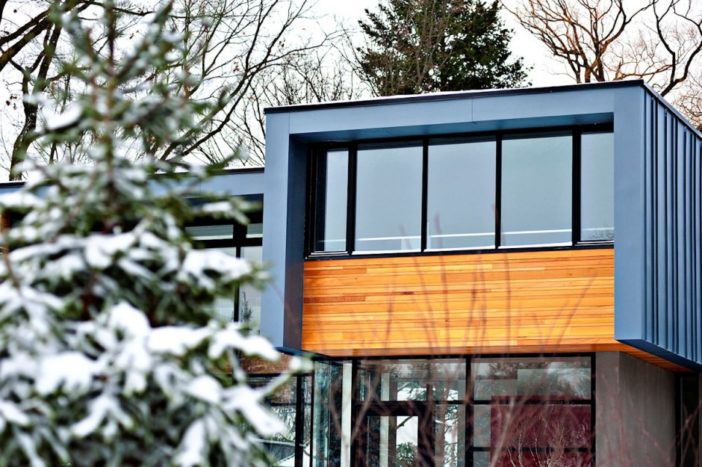 Lamps shades in organic shapes are shaped like a cocoon with textured stripes that emit light to deck up the living space of the residence. With its irregular shape, it adds energy and shares a lively ambience to the interior space that plays an interesting myriad of light and shadow onto the textured walls. The horizontal striped wooden panelling runs throughout the residence, and projects against the textured wall, thus, defining the vertical spaces of the residence. Effective use of space, vertical depth, landscape and massing of solid cube structures make up the Thorncrest residence an artistry work of nature.
Photos By : Greg Van Riel