Ippudo Sydney designed by Koichi Takada Architects is a Japanese cuisine restaurant in Sydney, Australia that specialises in noodles and soups. The overall theme is Asian and is styled in a contemporary manner using prefabricated timber sections fitted with flexible aluminium rods at the back. A very simple and relaxing interior is in place with timber screen partitions and a neat display of ancient noodle cups and spoons. The layout of the restaurant is arranged with wall aligned seats and odd shaped tables fit for a banquet, thus allowing them the advantage of flexible use of space.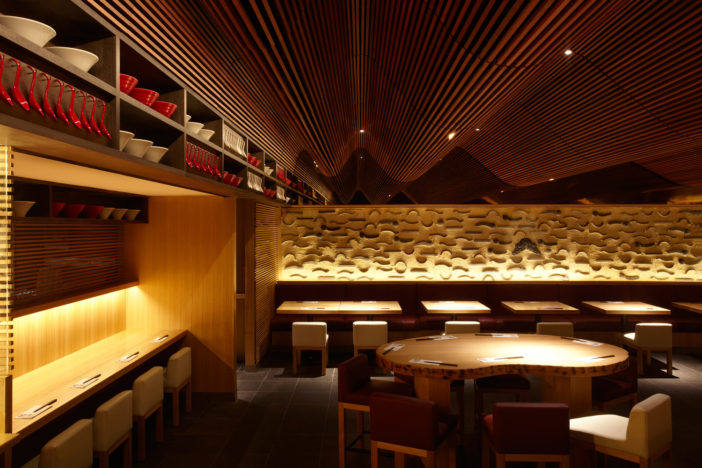 The use of a matte red color renders an oriental feel to the restaurant, with very few Asian artefacts that complement the look of the restaurant. With a minimalism concept to follow, every other element in the design is carefully chosen so that the focus on the cuisine and the ambience is not left out. Another design aspect that captures the visual sight is that of the undulated timber roof panel, which represents the flow of wind. These timber panels are pre-fabricated and allow for easy bending, that makes it possible to give a smooth curved look to the roof.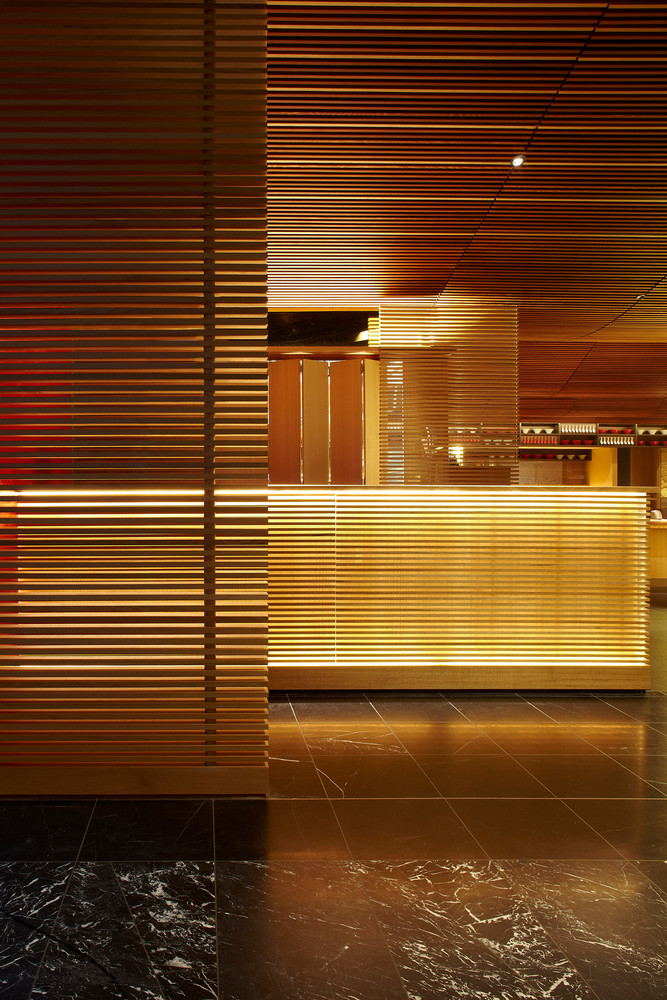 Other than the roof, other elements taken into consideration are the use of flamed finish marble counter and the matching tiles for the flooring. The flooring for the kitchen and store area is similar in texture allowing for easy maintenance and softens the tone of the décor, as well. With a full-fledged service cum work area counter, there are bar stools near the service area to enjoy fresh noodles right off the wok. The ambience is more subtle with the timber partitions that can be moved aside to create more room. On the whole, a flexible and organised layout, the interior décor is absolutely breathtaking and allows the diners to experience a whole new experience in savouring Japanese cuisines.
Photos By : Sharrin Rees