A couple from Base Architecture, Shawn Godwin and Natalie Godwin, has designed this contemporary home named Stonehawke Modern House. Located stunningly in Brisbane, Australia, this house has an area of 3,100 sq ft and has won several accolades and awards for its design. The house seems to rise from the earth with a design that looks protected and private and yet doesn't let that hamper the coordination with nature. The area surrounding the house is more of a bush-land, so the design ensures that best views are available.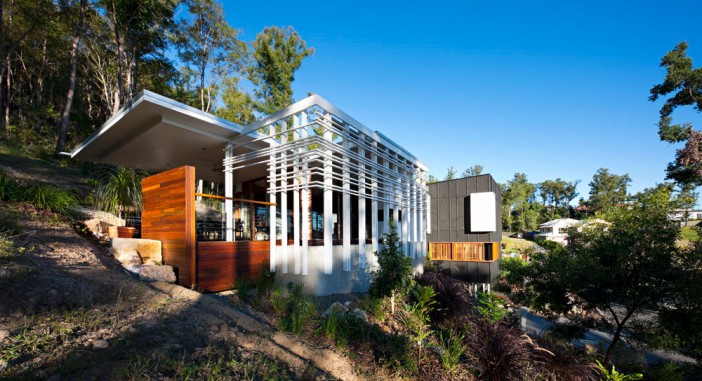 On the façade, one can easily like the open style pool that has a white wooden boundary to make things private. Also, the exteriors include a large garage and are designed in black on certain portions. The thin beams of the exteriors ensure ample sunlight peeps in the house. The perfect house has beams that are designed mostly of wood with huge glass windows and walls for ample natural light. The interiors bear a very glossy finish with portions of the walls and the floor in a silky wood look. The designs appear to be amazing with the well selected furniture that has been selected in the modern lines.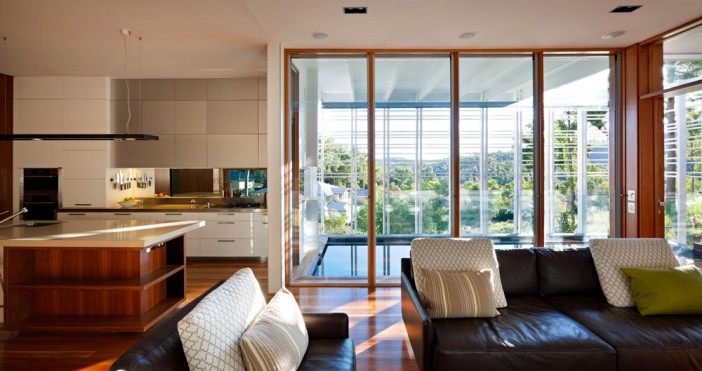 The kitchen cabinets are essentially in white with the countertops in marble, bringing a good deviation to the use of wood. Keeping line with the unique styled furniture is the lighting where pendant and hanging lights have been used for source lighting. Unique and amazingly delightful, this home makes the most of the materials and settings and offers a private ambience where one can still enjoy the nature. With a few cushions here and there, the softness is hard to resist and ignore.
Photos by: Christopher Frederick Jones