Kontum Indochine Café, by Vo Trong Nghia Architects, in Vietnam, is inspired by the conical structure of a traditional bamboo net used by the villagers in the countryside. By inverting the conical structure, a broader base is tied to the roof whilst the narrower end is secured to the ground platform using steel tension rings and bamboo nails. These massive structures are arranged in a grid of 3×5 where 15 such bamboo columns are fabricated to support the horizontal roof of the café. Each of these bamboo structures has a broader base with a bamboo column in the centre that is strengthened by cross bracing poles that support the roof whilst the narrow end is firmly secured to the ground.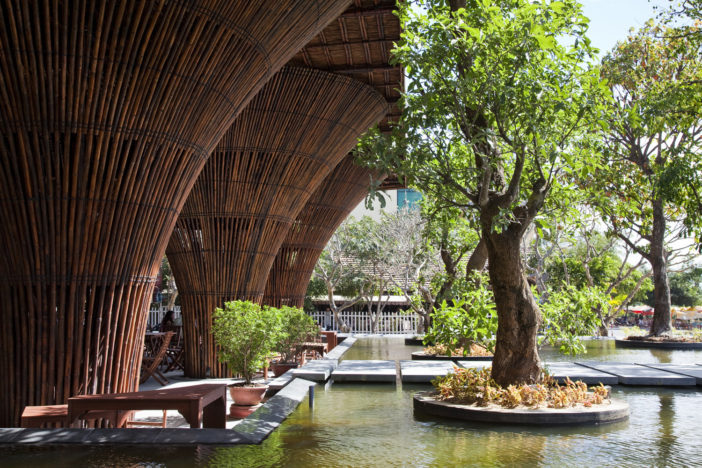 Besides these bamboo structures, there is an artificial lake, which helps in creating a comfortable microclimate inside the café. The bamboo structures facilitate ease of air circulation, with slight openings on the roof that lets the hot air out whilst the cool breeze from the lake fills the interiors of the café. It reduces the need for an external air-conditioning unit and helps keep the facades open on all the sides. Each side of the façade faces interesting outdoor elements that keep the café lively with an interactive space.
Other aspects of the design are the considerations given to the structure of the roof, which is made of polycarbonate panels layered over wooden rafters. These wooden rafters are covered by a loosely but well woven bamboo roof, secured by rattan knots and bamboo nails. On the inside of these massive columns, there is a bamboo pole, with a cross-bracing support that is tightened by means of 3 steel tension rings at various levels. It helps in strengthening the entire structure and gives the conical form a curved effect, as well. With a very delicately woven bamboo structure, the café is more than a landmark and not only is a visual delight to the eyes, but also offers astounding design ideas to the onlookers.
Photos By : Hiroyuki Oki