An interesting design challenge presented to the Kariouk associates was to design the Stacey –Turley residence on a site that is much narrower than you could ever imagine. The residence located in Ottawa, had its own irregularities owing to site, natural lighting, linear form of design and spatial arrangements.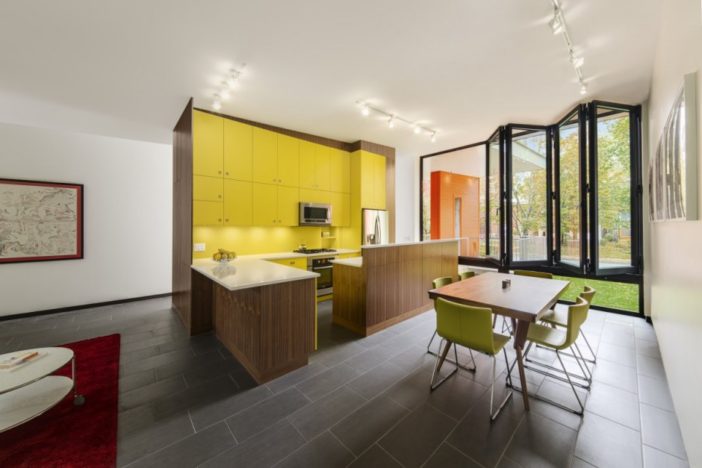 Before working on the design ideas and concept, careful consideration was given to site planning and spatial arrangement due to the narrow site. Being a linear site, the internal spaces of residence had to be provided with maximum daylight. The challenge was to create a floor to ceiling height insulated window that brought in warm light and also aided in maintaining privacy to the inmates. The spatial context of the residence was broken down by using the garage in the basement as a formidable living space. Clerestory windows and sloped in roofs brought the much needed relief to allow light and warm air to enter the internal staircase and garage. The insulated foam opaque walls contain the daylight heat and warm the interiors during the long winter nights. Looking at the design process, the residence has shaped up based on the needs of the site. The usage of black slate tiles and white interior walls lends a contrasting feel of light over dark elements.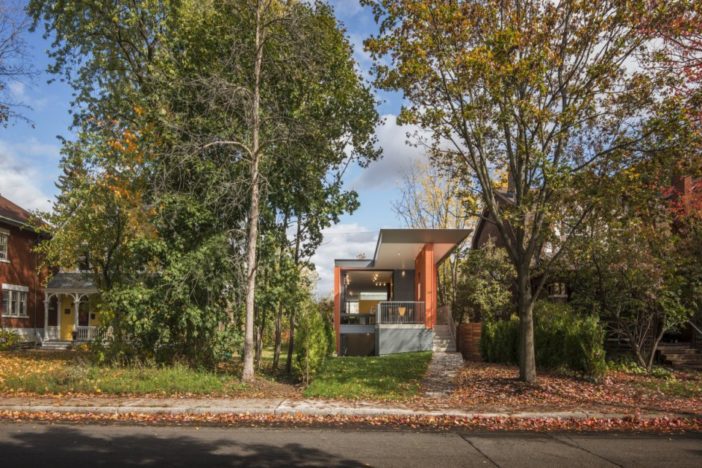 Uncluttered design, with straight edges, and a bright splash of yellow ochre onto the kitchen dashboard adds life to the residence. The pathway leading to the house, is vaguely disintegrated so as to merge with the surrounding residences. A bright orange painted opaque wall creates a focal point for the residence and also denotes the entry level to the first storey with the garage at the basement. A compact and yet responsive design, the Stacey Turley residence has challenged the extents of site based design concepts.
Photos By : Photolux Studios, Christian Lalonde