It has been said by the professionals that the main reason why they prefer to use white and beige for neutral shades is because of its ability to mask grime and dust. As unpleasant as it may seem, this has been the main premise for many designers to opt for this colour combination so that it always appear clean and spotless. Another reason is that the bold hues may take the attention away from other exciting features in the room like artwork or lighting if not used with caution. However, to go neutral does not always mean that one has to choose the boring white and beige combination. Here are some tips to help mix stimulating palettes and get better if not the same effect.
These stylish bedrooms are classic examples of mixing colour with neutral hues. While some of the designs have used the quintessential mix of bright and not-so-bright, some of the rooms have neutral shades capable of standing on their own.
Gray
Image: InHaus Development Ltd
Gray is one of the most commonly used neutral shades these days and has a classic quality to its subtle undertones. Even though many people prefer to use the softer version of this colour, you can also take a slightly deeper tone and use it as an accent. You will be amazed to see the subliminal effect layering gray can have on the bedroom.
Off-white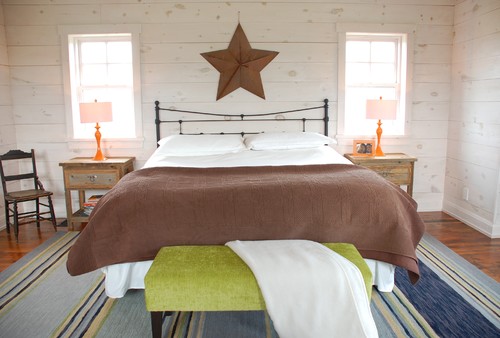 Image: Kate Davidson Design Inc
Ditch the regular boring white and make way for an off-white shade that is cross between beige and gray. The beauty of using off-white is that it is easy to pair with any other shade in the palette. You can get a perfect backdrop for adding any other colour of choice. In this case, a mix of lime green with off-white walls and shade of brown makes the room look flexible and adaptable to a change in colour tones. The colourful bedding takes the edge off and makes the room cheerful and inviting. These accessories can be changed when you get bored and give a fresh take to the existing room without spending too much.
Dark Purple
Image: Icon Interiors Ltd
Purple is a very elegant colour for a bedroom because of its calming and relaxing qualities. This dark shade is a notch or two lighter than black and makes up for a perfect neutral shade that plays really well with white. You can add interesting lighting and keep the bedding simple to get a luxurious and sophisticated look. Allow the colour to expel its own magic by not introducing unnecessary additions.
Shades of Gray
Image: (m) + Charles Beach Interiors
A perfect shade of gray would be the one that is not too dark or light. It should induce just the right kind of warmth, but not be so cool either. The shade of gray that is used in this room is perfect for attaining that look, which is desired from a perfect gray. The colour has been further augmented by the use of bright artwork on the walls and the same kind of linen on the bed.
Not too beige
Image: Linda McDougald Design| Postcard from Paris Home
Although beige is very common when it comes to neutral shades in the house. However, when the colour has been used wisely, it does not really look all that common or boring. In this room, the use of beige has been complemented with other shades such as tan and white so that there can be soft and loud contrast of colours. You can get white trimmings on the wall and dark wood floor to create a distinction of shades.
Relaxing Hues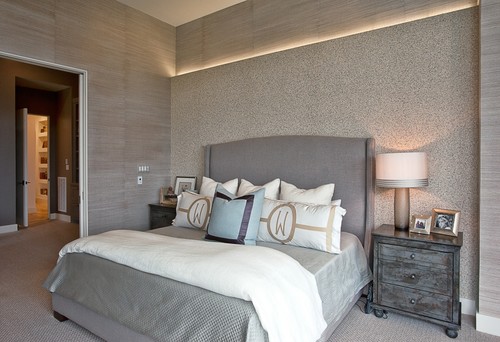 Image: Greenbelt Construction
'Soft hues' is an objective term as many colours can come under its periphery. However, in reference to this room, soft hues necessarily mean a blend of grey and blue shades, which bring in a sense of calmness and relaxation.  If you live in a place that gets hot summers, you can think it over as one the best bedroom decor ideas as this shade will be a perfect choice to complement the climatic conditions. You can feel the coolness of the colour and softness of the palette to have a peaceful impact.
Black for the wall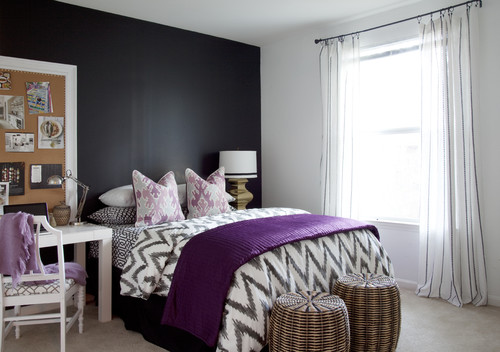 Image: Dayka Robinson Designs
If you need to give your room an interesting look, then you can forsake the headboard on your bed and colour the wall pure black. Black not only provides a neutral backdrop, but it also has the ability to mix with a variety of colours. In this room, the colour has been mixed with purple that provides a sophisticated look and a certain touch of royalty to the room.
Dark and light 
Image: John Goldsmith Photography
While this too is one of the most common combinations, it can really look stunning if done the right way. You can choose a hue as per your preference and dress the room in its dark and light shade to create contrast. You can paint a room in light shade for an airy feel and make it look more ventilated while accessorizing with dark shades.
Neutral colours are in vogue these days and have the ability to really make a room look attractive. However, it must be done in a creative way so that all the shades can play out perfectly and fall in absolute synchronization. Using these options and more can be playful or subtle as per your own preference and décor choice. You can use your own creative bend of mind to come up with amazing decor ideas or involve a professional to help you with the right colour palette.