Interior Renovation of an Apartment in Les Corts, Spain by Sergi Pons is based on a minimalist design by enhancing the rough texture of materials found in the existing layout. Also, the original layout of the apartment had interior partitions, which were taken down to reveal the un-plaster stone walls and wood beams. It was decided that the walls, ceiling and wood beams would be untouched to reveal the depth of the space whilst hydraulic wood sheets were used to give a raised look to the floor. The layout of the apartment is narrow, and hence, the architect decided to place a white cubic structure in the mid-section of the hall that encloses the bathroom while the kitchen counter overlooks the cube.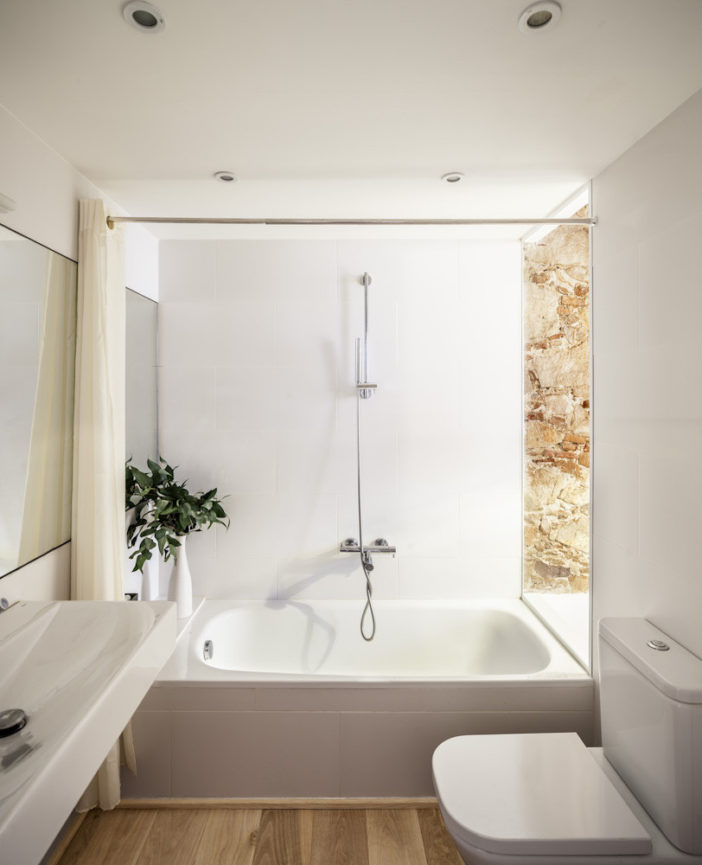 The untreated walls with the oak wood beams on the ceiling give a rustic feeling to the house, which brings out the warmth of the space and makes it look spacious and large. Even the walls of the bathroom reveal a portion of the stone wall through a window opening that faces the bedroom of the apartment. The kitchen and living hall are together seen as a single open space giving the client the freedom to move about without being confined to any kind an interior partition. This gives an uninterrupted flow of circulation space around the house, right through the bedroom and into the terracotta tiled room.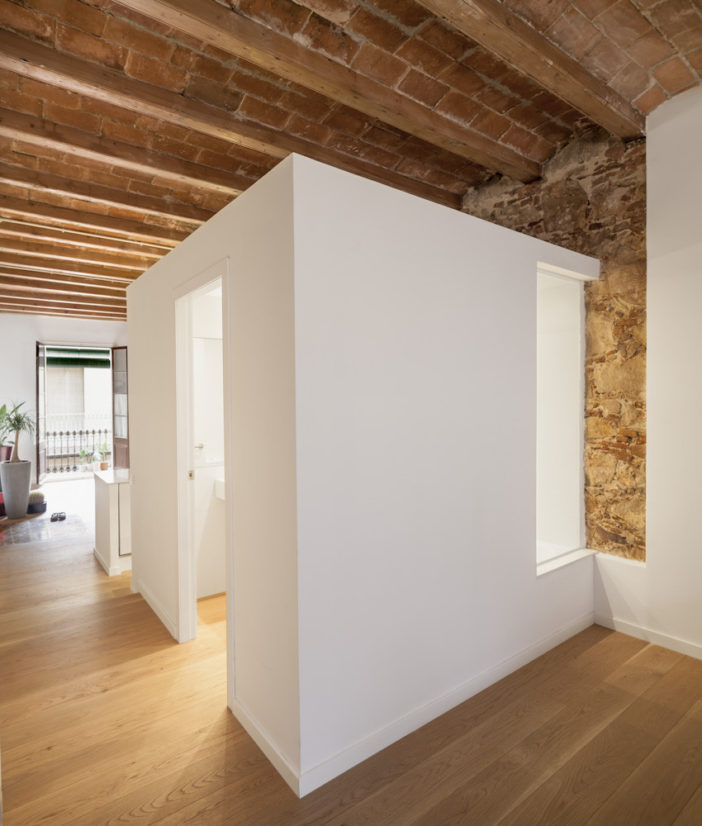 Also, the room adjacent to the bedroom is beautifully contrasted with terracotta tiles that bring out the subtleness of the shades and materials used in the apartment. Moreover, the use of unplaster white wall softens the edginess of the stone wall at the other end and brings out a vibrant feel and touch to the interior décor. On the whole, a complete perfection is achieved by the balance in colours, materials and techniques used for revamping the house and that settles the scores for renovating this apartment.
Photos By : Adrià Goula