Posh Cafe designed by Jassim AlShehab in Kuwait is based on an open island kitchen with a layout that is rectangular in plan and caters to shoppers in the atrium of a shopping mall. It is a reasonable sized kitchen, with cooking counters on all the four sides, excluding the entry point and enclosed on all sides with glass panels at the top half and polished white marble at the sill level. The architect wanted to create an element of curiosity that would attract the attention of the shopping crowd towards the island kitchen thus offering some superb design ideas to the onlookers. It was then decided to have a play between colours and materials, where white and black tones articulated the look of the cladded facade, with an embossed triangular motif.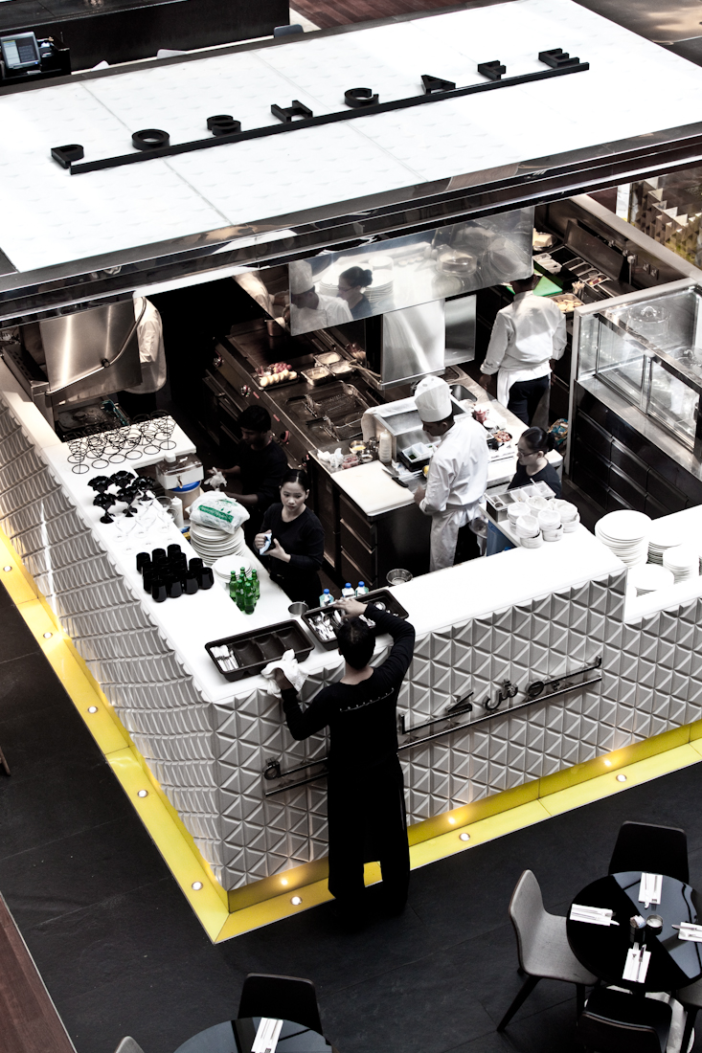 Besides, using marble and glass, the architect also introduced triangular teak wood sections behind the glass panels to accentuate the look of the island kitchen. Being an open layout, the kitchen is visible enough for the crowd to glimpse through the activities, which is seen through the panels and the glass canopy held in place by steel members arising from the cladded marble sections. Inside the kitchen, the usability of space is quite a concern but is efficiently and neatly designed with pull out cabinets, working stations, and storage space that make cooking and serving comfortable even during rush hours.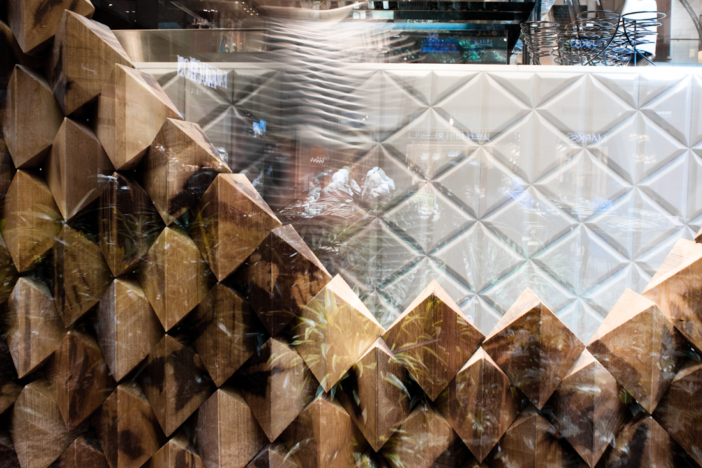 Added along, is the white polished marble, triangulated to create a 3 dimensional effect on the facade and is highlighted by yellow painted wood panels at the bottom to enhance the depth of the cladding. Also worthy of mention is the overhead glass canopy, which brings out the transparency for shoppers to see the activities of the kitchen from above. On the whole, the island kitchen is quite a stand out hit with the crowd and is definitely an eye catcher with its stunning marble embossed cladding and triangle teak wood sections.
Photos By : Courtesy of jassim alshehab