Designed by CR2 Arquitetura, the House 7×37 is more of a weekend home for a couple in a Sao Paulo, in Brazil. It is built on a narrow lot and has a garage facing the entrance, followed by the service and store area on the frontal end. The main access to the house is via a decked pathway aligned towards the site wall. This pathway looks sideways on to a glass and steel panelled window that gives away views of the interiors on the ground floor.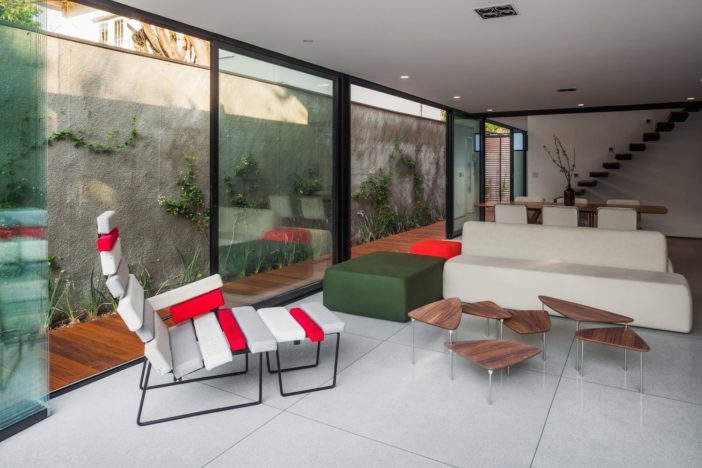 The pathway leads directly to the backyard of the house, which has a rectilinear strip of swimming pool with a deck and the wall adjacent to it is highlighted with a decorative panel. Overlooking the swimming pool towards the rear is a living lounge cabin, and to the other end, the dining, with a kitchen counter and seating area, is designed in an open layout plan. This plan helps in seeing through the spaces and creates an illusion of spaciousness. A floating wooden staircase is nestled to one side of the service wall, which reaches up to the first floor where two large and spacious bedrooms overlooking the swimming pool are to be found.
Adjacent to the master bedroom, there is also an open terrace, which is sheltered by the use of pergolas, where they can host parties overlooking the pool. Offering some great design ideas, the house is compact and is perfect for the weekend, to be situated closely near their existing apartment. Being able to design maximum openness with the space to facilitate both outdoor and indoor activities is the challenge of the site. By creating an open plan, the space can be intermingled and adapted for varied uses. This makes the house even more significant and habitable for the client.
Photo by :-  Rafaela Netto