Designed by Architects EAT, the Parure House in Australia is a well-designed house with a rectilinear layout, approached by a raised wooden deck leading to a long aisled dark corridor. The house being narrow has its rooms designed towards one side of the house owing to space constraints and opens onto the corridor that is partly covered by wooden shutters. Also, a constant play of darkness over light can be experienced throughout the house, where external light is filtered and allows its natural course to shed light on the walls.
The layout of the house is simplistic with two large and spacious bedrooms near the entrance, which receives filtered daylight from the corridor and the punctuated openings on the other side of the wall. At the rear end of the house, there is a working studio, which is slightly raised level above the living floor and is approached by a short flight of steps. In the mid-section of the plot, lies the sunken living and dining room, with a kitchen counter running along the sides of the wall.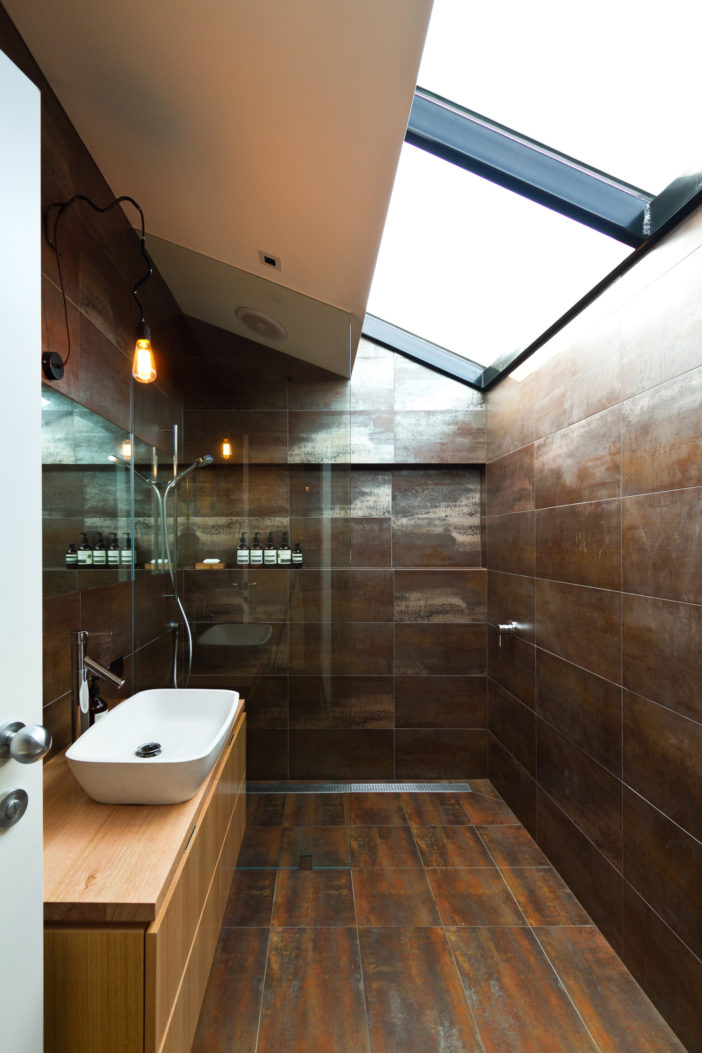 The architect has accentuated the length of the corridor by breaking it down using levels and allotting a specific function to each, such as a library and garden. An internal courtyard is also designed with the wooden floor leaving the house with an external breathing space open to the sky. With the need of a store room, provision is made right across the courtyard, for a tiny strip of space to hold and store equipment's. Providing amazing design ideas, the house has a natural toned look, with unpolished slate floor, pale white walls, rustic wooden floor and rough textured external fabric. All of these woven together paint a subtle picture of a composed and harmonious residence that exists in a space of its own.
Photos By : James Coombe , Courtesy of Architects EAT