Designing rooms of young girls is fun because there are a number of themes that can be incorporated separately or together as a mix. Girls below the age of nineteen love having colors in their room, and the themes and concepts are much more open to different interpretations. Here is a close take at the rooms of the girls and ideas that can work for the needs and interests of teenagers who love to spend time in their rooms.
The bright theme: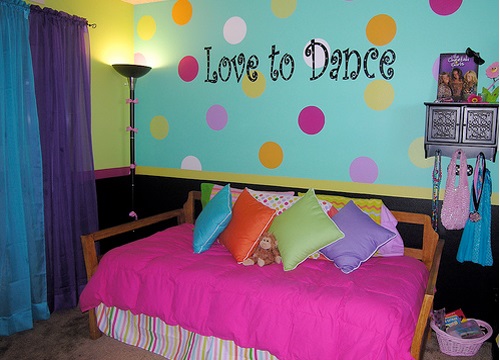 Women, even in their young age, love an array of colors, so setting a theme in bright colors can be a good idea to start. Think of the first two bright colors that come to your mind or else ask your lady to choose for herself. These two chosen colors should be ideally used on the large panes of the home, preferably the walls, bedcover and curtains. For the other small interior parts, you can choose bright shades but in much smaller proportions.
The glam and grown up theme:
Often girls grow up faster than we expect, and that's the reasons adult themes interest them. Look for themes that can work for the growing years and the grown up years at the same time. Unlike the colors that interests colors as bright shades, the choice is more feminine with use of colors like black, maroon, and red and blue. The colors are much more sensuous in appeal and look, and can make any girl feel older and wise.
The city living:
Girls love the fast paced modern life of the city, especially those who are born and brought up in the metros. The city theme is not a very girly one but can be immensely likeable. One can use a number of white lights in varied kinds of lamps, pendants and chandeliers and combine the same with discreet shades. You can choose to use large wall posters to bring more attention to the interior. Keep in mind that the main purpose here is to get rid of the murkiness of the room, so the choices are often abundant.
The vintage style:
The vintage styled houses for girls are quite interesting, mainly because of the color choices. Here, the focus is on the use of white in large and small proportions with a few pastel colors used in balance. There is a very touchy feeling to such interiors, when you use colors like pink, blue, and green pastels in a fine balance. Make sure that you are keeping the essential blend and not too many colors.
The romantic theme:
This is a theme that interests the teenagers the most. Taking cues and ideas from the adult room, this theme focuses on soft colors like pink, purple and lilac. The colors are combined with free flowing curtains, large mirrors and lamps to bring attention to the smallest of details.