Summer is the time of the sun. It is unfair if you keep your drapes drawn and do not let the sunshine flow into the room! It is a gorgeous season to enjoy and you can soak in the sun whenever you want. Summer brings with it both its good side as well as bad side. While summer is a welcome change after the long and cold winter, summers can also get quite warm and uncomfortable at times. Throw in a little bit of moisture in the area and you will be sweating like crazy too in this season.
So, when it comes to choosing drapes for this season, go for something light and has a breezy feel to it. Do not go for dark shades at all. Simple floral prints work well too. The best curtains for summer are the ones, which allow just the right amount of light to filter in through them and block enough so that it does not hurt the eye. If too much sun is allowed to pour into the room, the room in turn will become hot! Summer curtains are always beautiful and elegant. Here are few ideas with summer curtains that you can try out:
Studying in summer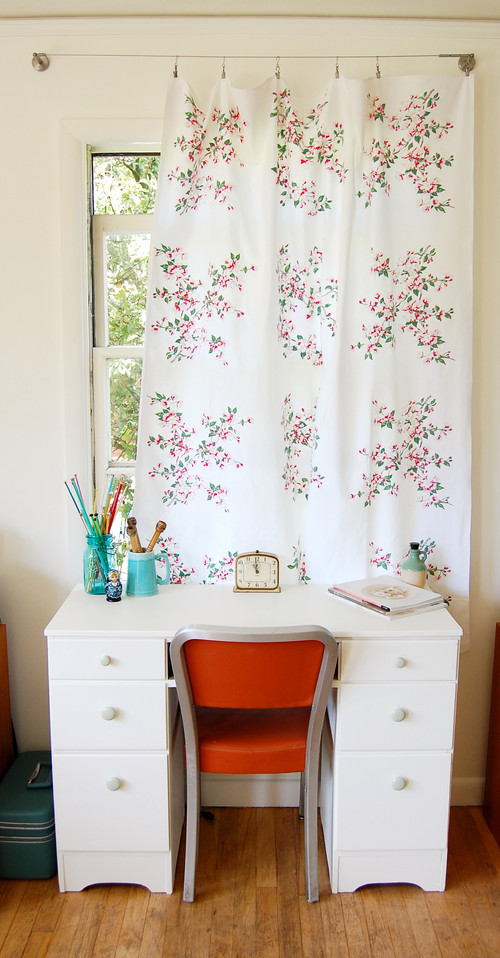 [Lola Nova]
When the summer heat becomes a little bit too much, the best way to spend the afternoons is indoors. This is a great time to give a nudge to your creative side or finish up your pending work. Give your little work corner a total makeover, just for this summer. Go for floral printed curtains. These have a cosy as well as breezy feel to them, which makes the room look bright and airy. A white base always works best for summer. Add a white table and a colourful little mason jar and you are all set to work!
Dining right in summer
[Contemporary Dining Room]
Dining outside is one of the great plus points of summer. Nothing's better than a nice meal while enjoying the nice cool summer breeze outside. Get a few window treatments for your patio and set up a dining table there. Do not forget to install long white curtains, preferably ones of lace in such a way so that it covers the entire area if need be. It is also great place to enjoy a Sunday summer brunch! These work really well when it comes to having friends and family over to your place.
A new room for the outside
[Debra Yates]
Want to try something really unique this summer? Make a room on your back entrance! And to make this room all you need are a few curtains and a few cushions. Fix the curtains there in such a way so that it can cover the entire place if you want. It can cover the entire place if you want some privacy. You can make it a little more cosy by adding a large mattress and a few cushions. This is perfect when it comes to spending some quality time with your loved ones and friends in the summer evenings.
For the summery feel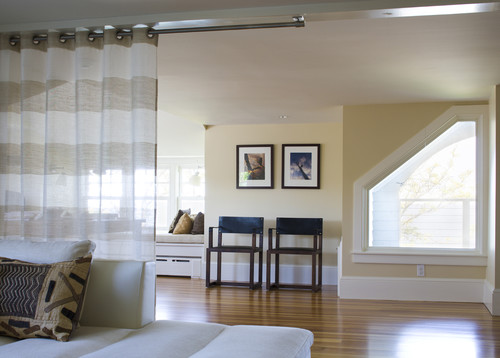 [Siemasko + Verbridge]
You can spruce up the inside of your home as well during the summers. Do you want to turn a large living space into two rooms? Well here's a really cool idea. All you need for that is a curtain. Take a curtain, preferably light in colour and stick it up across the room. Fix it in such a way so that it runs right across the room. In this way this creates a partition of made out of curtain. Keep a window in the room open and let the summer breeze blow in. This will make a really nice summer room and an ideal place to play with your kids in.
The sun room in summer
[Cathy Zaeske]
The best way to spruce up your sun room during the summers is to go for long drapes that can be pulled as and when necessary. You can sit there in the summer mornings and enjoy a nice cup of tea or fresh lemonade.
These 5 cool summer curtains ideas will help you to decorate your room with a different twist this summer!