A site occupied by wild trees, forest views, and thick vegetation growth is home for the Nannup Holiday House designed by Iredale Pederson Hook Architects in Australia. It is a tree top home like experience, where the architect has created a travel path in which the spaces are arranged for the family and guests to spend their weekends. Being a holiday home, the house is raised on stilts with an entrance approached by a raised ramp supported on wooden and steel struts.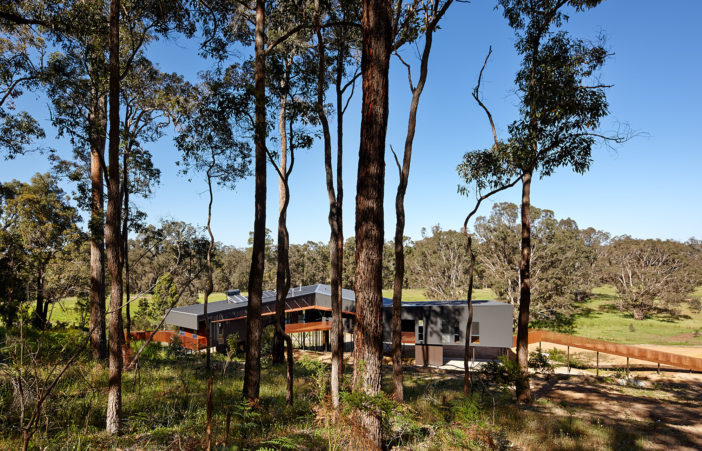 The house is not a mere layout of empty spaces, but carefully built in with durable fabricated materials, that was moved on to the site. It reduced the debris and waste accumulation on the site, and also, the need for clearing the forest ranch for site clearance. Much of the flora and fauna of the site were retained, so as to become an integral part of the holiday home. The transition from the entrance to the main living hall, kitchen, and bedrooms are arranged by providing a corridor that connects one space with another.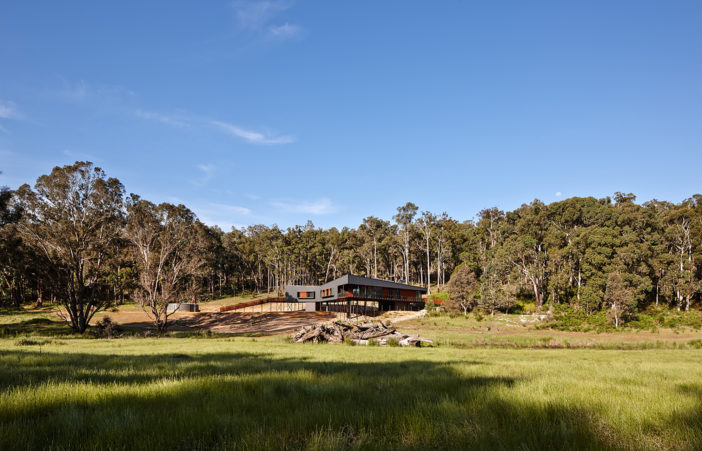 To connect with nature and enjoy the surrounding escapades, the architect has used horizontal and vertical openings with glass and wood that accentuate the look and feel of the house. The raised ramp and house on stilts protect the house from wild animals, and also, give the family splendid views of the forest from a distance. With sustainable design ideas and features built into the home, there is provision made for rainwater harvesting, solar photovoltaic panels, reduced paint finishes and lacquers that allow the wood grains to create natural relief patterns. The holiday home in Australia is a myriad of multi-faceted functions that co-exist within the forest realms, where weekends are a nature buster experience for the family.
Photos By : Peter Bennetts