Recycle step by step is a design initiative by Dom Arquitectura + Asa Studio for the retail store "Sole Rebels," which exhibits a limited edition of recycled shoes, in Barcelona, Spain. These shoes, unique in colour and appearance are fashioned from recycled materials based on the concept of "recycle, reduce, and reuse." Similarly, the décor proposed by the architect resonates with the perception of the "recycle" concept, transforming the undersized butchers shop into an innovative and inspiring retail store.
To begin with, the renovation phase focused on two main constraints, namely, a modest fund and a significantly smaller carpet area, which posed restrictions on the use of materials, and construction techniques. In other words, the proposed décor is an amalgamation of the old and new space, where the architect stripped the existing white tiles from the butchers whilst retaining the white blobs of plaster used to clad the tile to the wall.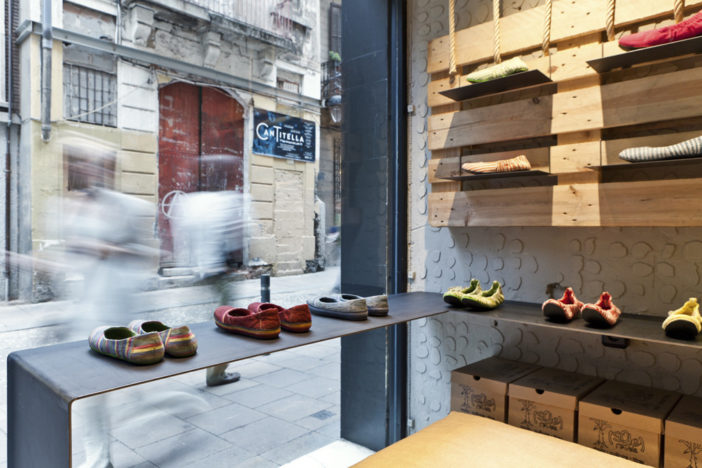 Furthermore, the interior décor of the store is equally unique and resonates with the concept by the use of recycled materials such as sturdy ropes made from long twisted threads, tied to vertically aligned rubber tyres on one end and wooden pallets on the other end of the wall. These additions, of recycled elements, lend a touch of industrial finesse to the décor, to complement the brand identity of the recycled products on display.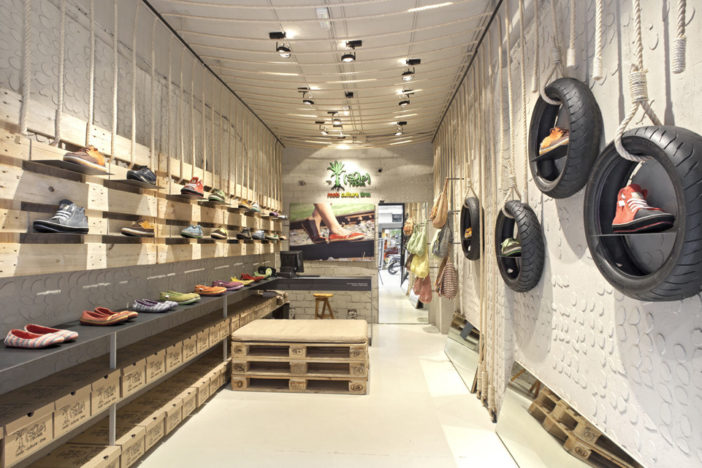 On the other hand, the plaster blobs come alive with a fresh coat of paint, to render a warm texture to the store whilst the pallets and tyres stay hung on either sides of the wall to display the spectacular collection of recycled shoes on board. The other interesting feature of the store is the use of a "U-Shaped" Iron section, which holds the signature collection of recycled shoes, which captures the attention of the passer-by on the street. Above all, everything about this store is innovative, with precision in detail, which bowls over imagination with its vivid colours, choice of materials and creativity towards an attainable vision.
Photos By : Jordi Anguera