We all have that spare guest room in the house we tend to pay little attention to, apart from cleaning it occasionally or before we are expecting someone. But it says a lot about the host if the guest room is painstakingly done up. So, here are some guest bedroom design ideas to achieve the perfect guest room for your home.
1: The perfect bedding –
[Image-West Elm]
Go for fresh and crisp whites, as they wash well and always look classy. Something with a little texture and a dash of muted shades with white look stunning.
2: The dresser –
[Image-CB2]
Simple and useful! Keep it minimal as the guests probably won't have a lot to put in it anyway. Also, this one here is easy to clean out once the guests are gone.
3: Cozy armchair –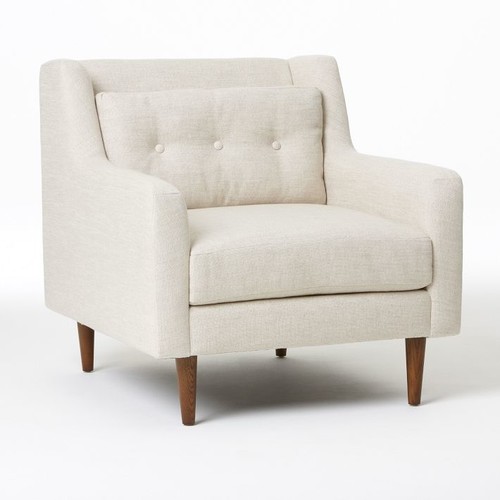 [Image-West Elm]
Something to chill out on! But a comfortable fabric and ample seating space, even if you add cushions, is a must.
4: A bench for the knickknacks –
[Image -Room & Board]
Why not have an easy arrangement for luggage stack up and retrieval of stuff – add a nice sturdy bench for maximum convenience.
5: Storage baskets –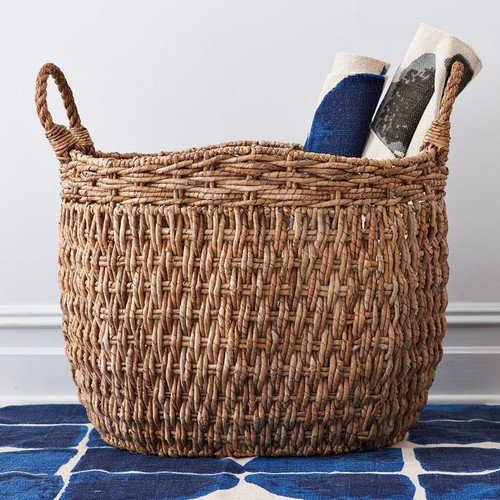 [Image-West Elm]
Why not have a nice wicker or weed basket to stash in spare towels, duvets, or a magazine or two? You actually never have enough of these, they are so cute!
6: The grand mirror –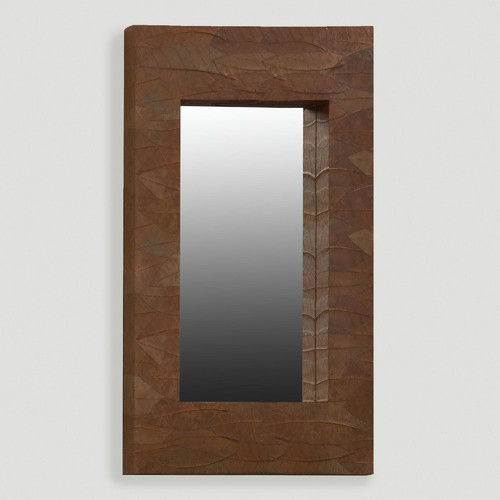 [Image – Cost Plus World Market]
It's always great to have a complete look head to toe once before you are stepping out and so is for your guests. Have an elegant full size mirror for both the room's benefit and the guests'. The room looks bigger too.
7: Lighting –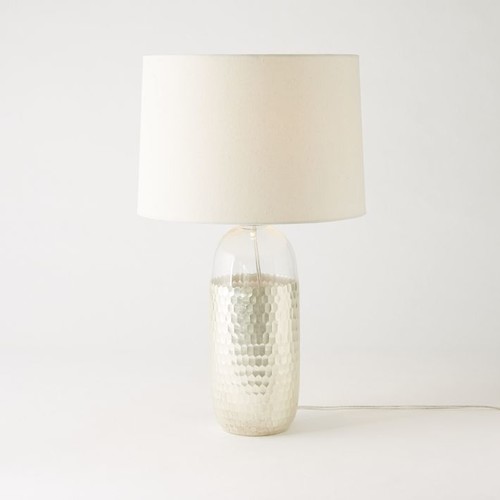 [Image-West Elm]
Instead of the regular overhead lights, have something exquisite. The room can be illuminated with a lamp in pastel cream or white with a metal accent to make it unique and throw some dappled light around.
8: Duvets –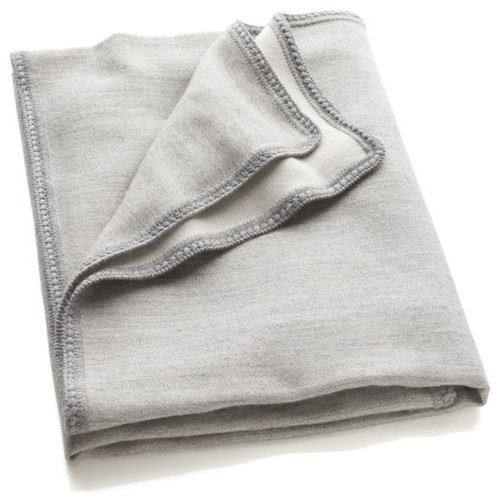 [Images -Crate&Barrel]
An extra duvet doesn't hurt, but being cold does. Keep an extra duvet in the guest room at all times, and keep it accessible.
9: Window dressing –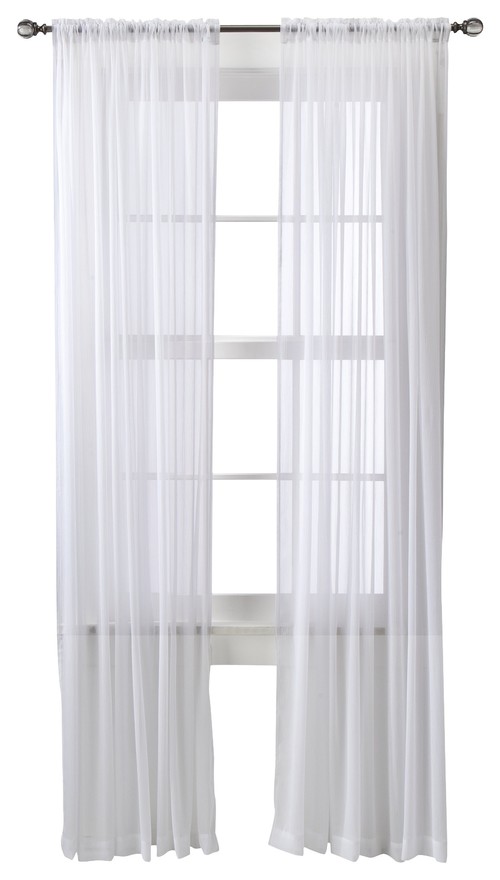 Drape some nice sheer curtains for that breezy feel! The room gets a therapeutic look, and the lightness of it all is relaxing.
[Image- Target]
9: Cushioned comfort –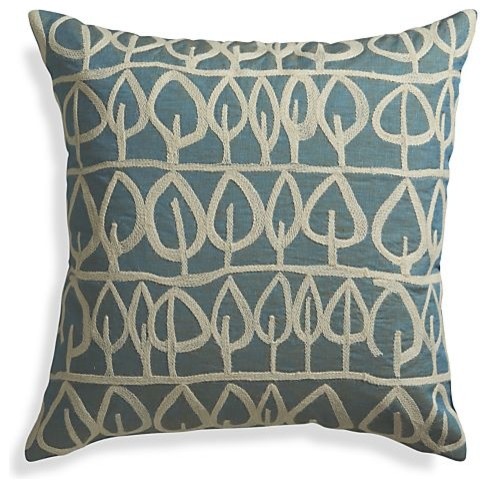 Have a dash of color on the mute interior style of the guest room using cushions. It is safe to play on color with a cushion, as the area is small and the chance of anything going wrong is very less.
[Images -Crate&Barrel]
10: Candles –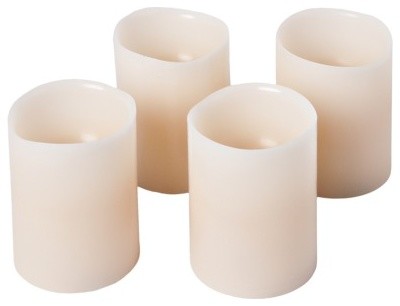 [Image- Target]
Well, real ones need care all the time, so it is best if one goes for an electric version! They are easier to maintain and you don't need to tend to them at all times. Get yourself a set and place them in the guest room.
11: Wood shelf-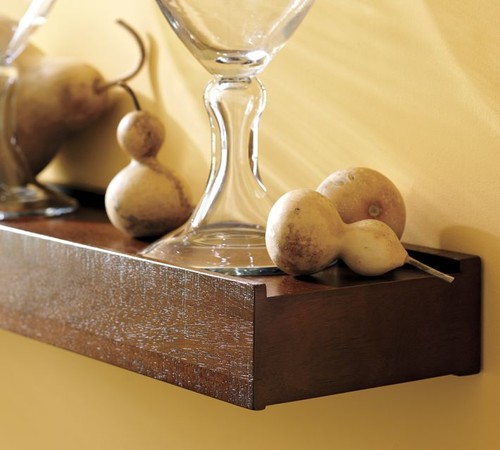 [Image – Pottery Barn]
Having a rustic wooden shelf with clean lines in a guest room not only adds to the utility, but also goes well with the setting. The plain polished wood fixture is easy to procure and install, and can be cleaned easily. The guests will be happy to use it.
12: Miscellaneous –
[Image – Pottery Barn]
[Image- Target]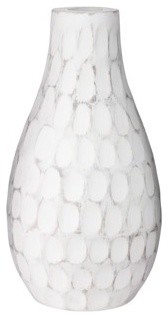 [Image- Target]
This is the interesting part! What all you want in the room for added comfort and look of the room entirely depends on your wish, though it is easy to get carried away in this department. Some home interior design ideas could be a vintage clock, vases, some on-the-table matting or storage items, etc. Take a call depending on other furniture in there.
Decorating becomes simpler if your concept of the room is clear. Always check the room size before putting anything in it; if the size is small, it could get full very soon. Have fun entertaining guests!