The Dwelling Refurbishment in Eindhoven, Netherlands by De Bever Architecten is a refurbished home, originally depicting a classic old villa with a 30s styled interior decorating ideas. It is a home to a young couple with their two children, where internal walls divide the major spatial activities in the ground floor of the villa. An open layout is adopted, which brings about a clean look that connects the floor visually with the existing elements, minus the demolished walls. At the entrance, the wall is retained to contain the existing bathroom and cloak stand, which is hidden from view.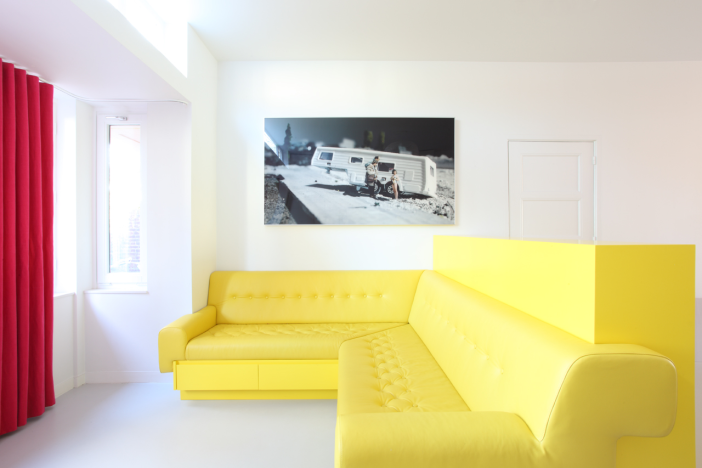 On the inside, the house is elongated towards the rear end with concrete floors and is given a full view through an aluminium sliding door and a skylight that illuminates the portions near the kitchen. As the layout is open, there is ample space for living, dining and cooking, where the family can spend time together with their children. Other aspects of the design are the customised furniture pieces for the kitchen counter, a white leather couch near the dining and the yellow leather couch cum cabinet for the living that speak of some incredible decoration ideas. All of these casework details are multipurpose in use and keep the house from unwanted clutter. There is also a neatly designed wall hung cabinet that is covered with pine wood, and has open cubical shelves for storage at its sides and closed cabinets at the front.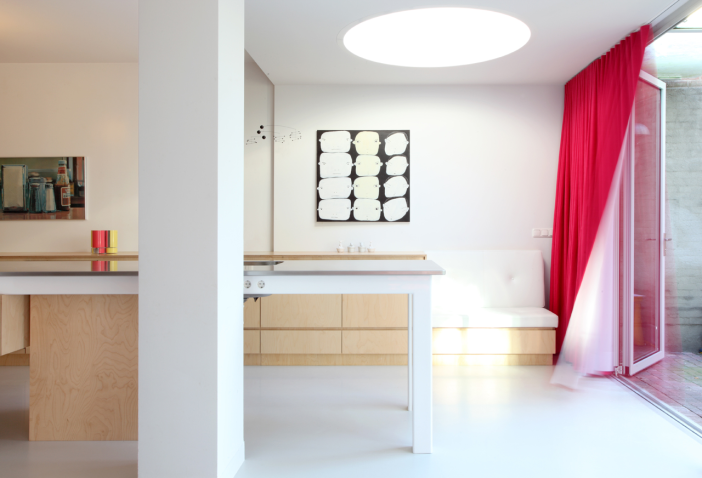 The house is more open and embraces the space without detracting the existing windows or cove bays. It is a simple layout where more emphasis is given to flexible furniture arrangement, where they can move things around the house depending on their future needs. The refurbishment process ends up bringing more light, more room for the children to play around in the house, more family interactive zones and well-defined spatial order for the home.
Photos by :De Bever Architecten