The Hilltop House is a perfect example of find architecture and design with a perfect location and promising luxury elements. Designed by renowned designer Safdie Rabines, this stunning and magnificent home is located in Rancho Santa Fe, California. The main design of the house takes inspiration for offering 360 degree views, thanks to the perfect hilltop where it is located. This large house features eight bathrooms with six huge bedroom suites combined with a library and an office. Of course, there are large number of terraces, a car garage for six cars and a lavish living area.
In the interiors, the ceilings have huge wood beams that complement the perfectly manufactured teak floors that are imported. There are five fireplaces for ensuring warmth, while the automated sun screens bring in shade when essential. Apart from the design elements, the house also runs high on technology with a high end video security system and lighting system installed. The master suite is one of its kinds, and so is the large kitchen that is all about style and functionality. The house is spread on four cascading levels over a space of 10,000 square feet.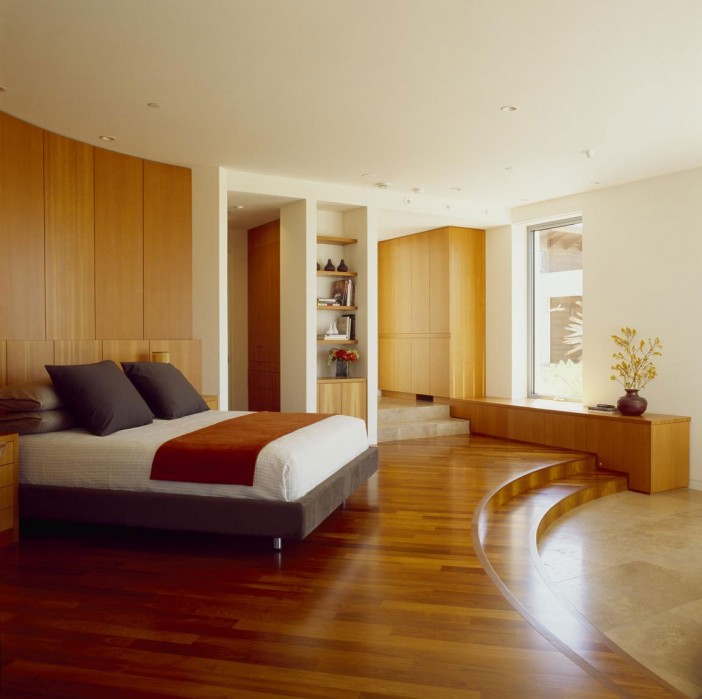 As obvious 360 degree views, the house has large windows along with floor to ceiling walls for maximum looks and sights. The entire design is energy efficient and keeps off the warm air from the interiors. For the furniture, the designs are speckled and mixed but the pomp and show is quite evident. Most of the public areas of the house are open with the patios and terraces bringing in extreme passion for a conversation outdoor. Classy and appealing, this is a home that demands a glance from every corner.
Photos courtesy of Safdie Rabines