The kitchen in the modern home is full of utility appliances, and no matter you use them frequently or not, these are essentials that you just cannot ignore. To set the tones of the designs right, using technological materials can be right as they easily balance with the appliances. However, the problem with the high tech look is the fact that this style is exceptional for large areas but do little for the small kitchens that are common in most homes.
This is where we look for concepts that include technological materials but are traditional in some way. In the next few lines, we will talk about the elements of high-tech kitchen and how you can incorporate the same in your space without compromising on the need for comfort.
The high tech kitchen in the natural tone: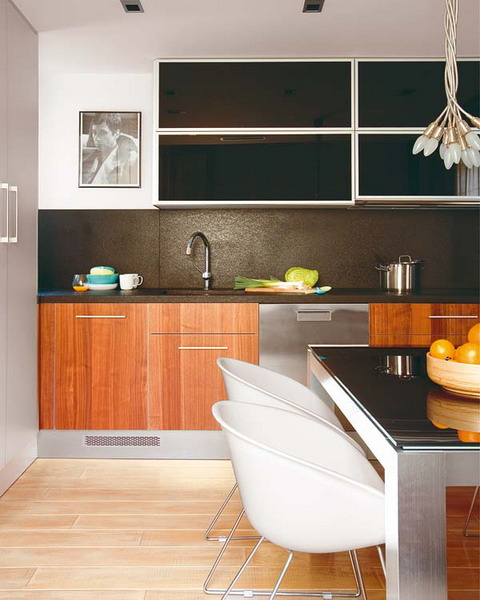 Many people like to retain the beauty of wood and the main and associating colors of the design, and it is quite easy to accommodate these shades in the high tech kitchen. The use of colors like anthracite gray, brown, black, metal and white is obvious, but what is important is the proportion. Since the metallic elements will have the essences of light, and therefore, choosing a few dark neutral shades can be good for the wood and other textures.
The high tech kitchen in the eco tone: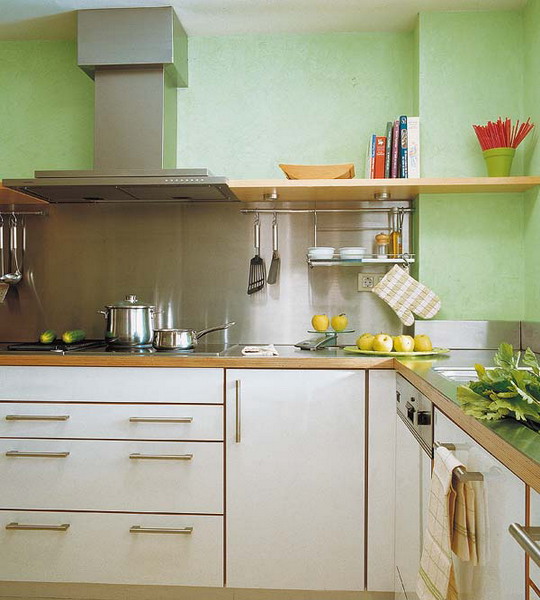 This is a very detailed design that requires caution because technological elements don't exactly jell with the shades of green. The colors to be in focus are not very bright but slightly different, such as mint, olive and pistachio. You can add these colors to some parts of the floor, walls or appliances and let the rest of the high end metal finish do the talking. Using a little of blue and yellow can be good for adding some bright accents to this colorful theme.
The high tech kitchen in bright tone: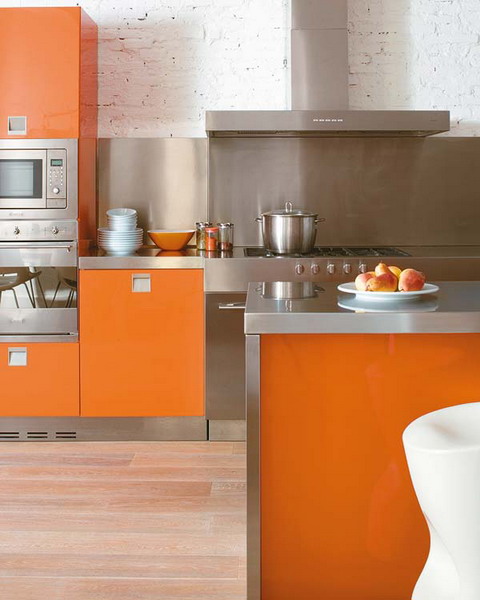 If you love bright shades of the fruits such as colors of lemon, kiwi, strawberry, orange, and cherries, you can aptly use them with the high tech tones of the kitchen. While such colors can be aptly used for the wall and cabinets, the floor looks best when designed in laminated wood tones. Addition of bright tones can be excellent ways to bring the fruity tone in action with essential feel of the metal shades retained.
The high tech kitchen with contrasts: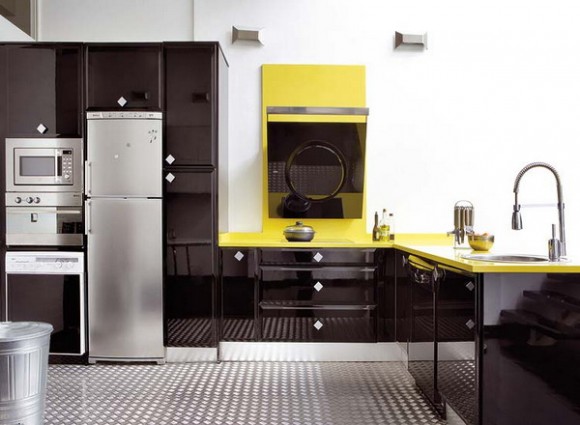 In all of the above themes, we have talked about balancing the high tech tone with colors, but in this one, we just talk of contrasts. Look for shades that are exceptionally bright such as yellow or bright green for bringing the essential contrast with the metallic tones. You don't need to change the entire kitchen but add a few colors, preferably just one color, for a wall, cabinet or just a single appliance. This should also tone down the high glossy shades of the metal elements.