The Ngunguru House designed by Tennent + Brown Architects in New Zealand is a composition of habitable spaces with voids and open wood decks that make use of the natural daylight and air from the sea coast. It is an integration of spaces, which are defined by their activity parameters where the layout forms an obtuse angle facing the sea and oriented towards the North-south for passive ventilation and effective daylight. The layout follows a central corridor with ancillary spaces on either side for the family.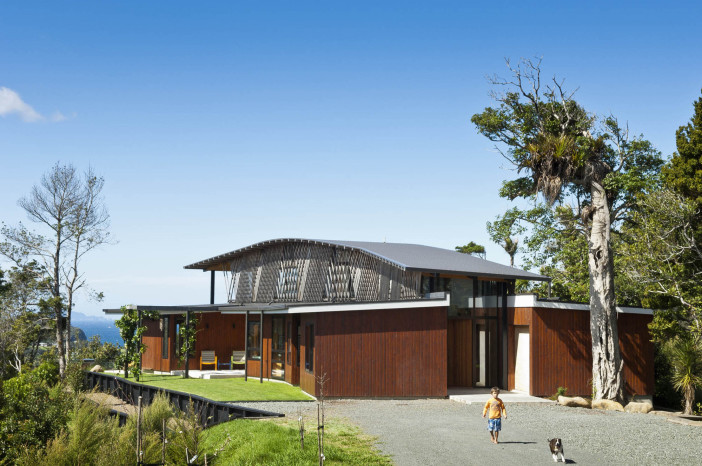 Built on a raised wooden deck supported by steel frames, the entrance of the house is flanked by a guest bedroom and a toy store. It follows up with 2 single bedrooms for the children with a play area in between the wooden deck, and towards the southeast lays the open gallery view fenced by a glass facade. A western deck opens up to take in the warmer rays of the sun into the dining and kitchen at the rear, whereas the living room with sliding open doors is placed in the northwest, to enjoy the views and the low rays of the sun throughout the day.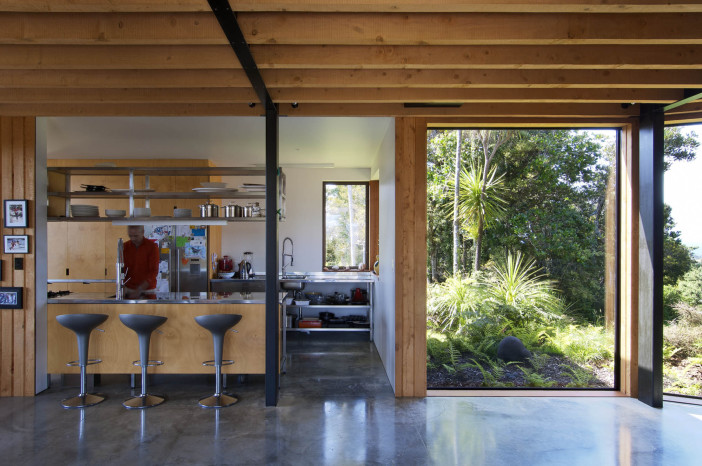 The space above the first floor is reached by a wooden stair near the entrance, which leads to a set of open spaces, covered by a wooden roof and supported with timber trellises. The bedroom, study and void space prove to be a welcoming change rather than facing an enclosed facade. This house has incorporated various bioclimatic concepts linked to passive design, thermal mass insulation, water treatment facilities and heat generators. All of these sustainable interior design features help in reducing the carbon footprint of the house and makes it a better habitable and evolving house for the family.
Photos by: Paul McCredie