The Potts Point Apartment, in Australia, designed by Anthony Gill Architects is a compact space for a young couple with a child, who decided to reform the spatial attributes of their existing home. With the original layout consisting of a medium sized bedroom with bathroom and open kitchen, the living space was reduced to a quarter of the original carpet area of the floor. To start afresh, the couple decided to reduce the bedroom size by allocating a room for their growing daughter and extending the living hall by creating an open shelf wood partition, extending from the one end to the other of the wall, with an opening for the bedroom and the kitchen.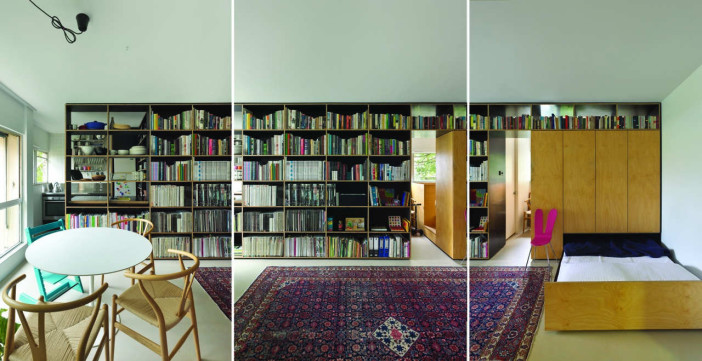 In spaces, such as small as these, it is a wise option to avoid building internal walls as it gives a cramped look to the room. Building an open shelf cabinet as a partition wall, the architects, applying innovative interior design ideas, bring across a see-through between each space from the living hall, and it clearly acts as an extension of the main space. The family makes complete use of the open shelf partition, which acts as a storage space for keeping crockery units, and utensils, whilst books and artefacts, makeup for the rest of the partition wall.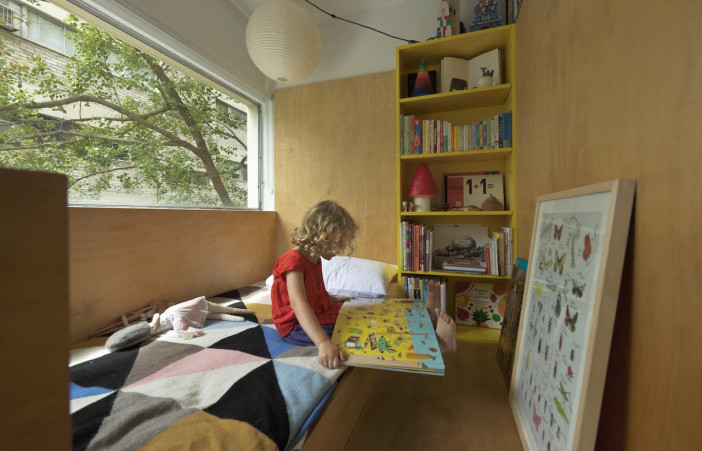 The child's bedroom is designed to be raised at least a foot high above the ground and is reached by a series of wood steps with storage below. At the other end, a pullout bed is comfortably hidden from view that sits right below the child's bedroom. It is a double cot bed that opens onto the living room during the night and can be pushed away from view during the day time, thus making ample space available for the family. On the living side, it is made spacious and is clutter free with enough circulation space for the family to spend during the day time. A very innovative approach, the apartment is small, yet spaciously redesigned for the family.
Photo by: Anthony Gill Architects