Tel Aviv Apartment designed by SFARO Architects is located in Israel and was refurbished completely to make more space for the family. At the onset, the apartment lacked the essential space qualities, poor lighting and hindered air circulation. It made the space look smaller than it originally was, and thus, the architect decided to knock down the internal walls, to create an additional bedroom along with efficient light and air. It is a small apartment to start with, but gradually the space appears enlarged, by introducing a multipurpose free-standing partition cum cabinet wall boasting of some great interior ideas.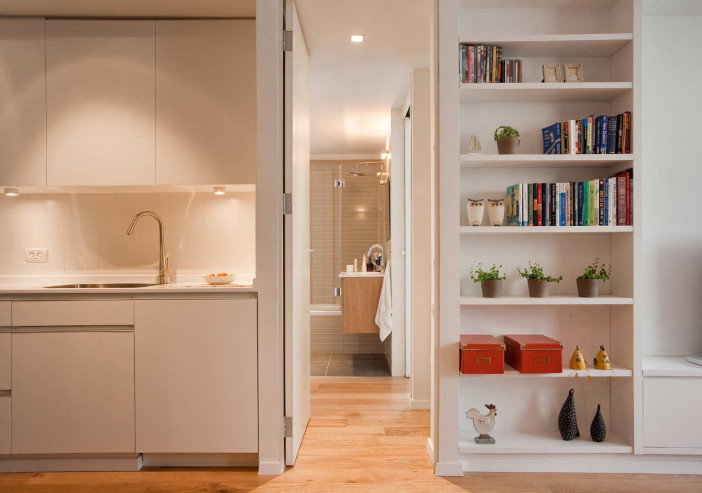 A more rectangular carpet area, the space demanded attention to free away the sides and reduce internal walls. By introducing a free standing partition wall, the layout is divided into 2 separate spaces. The first half of the space is designed to have a living and dining along with a walk in Kitchen, and the second half is divided internally by a bathroom sandwiched between 2 medium sized bedrooms. A very clever idea of saving space is by using sliding doors in the bathroom and is accessible by both the bedrooms.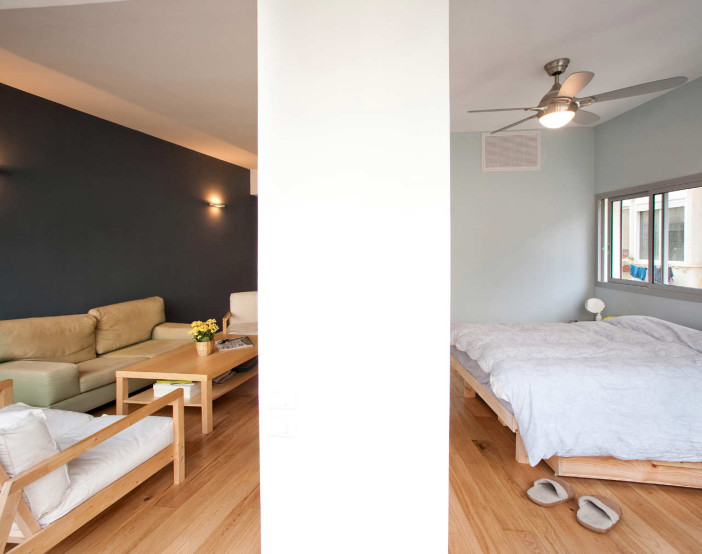 The free standing wall is divided into various compartments, where it serves as a TV console unit and kitchen counter with cabinet at one side and has a multipurpose wardrobe on the other side. A good space saving unit as this would allow light, and air to circulate freely around the house in a 360 degree, thus creating more space for movement and is not restricted by any wall. Clean spaced interiors and the use of cabinets in the free standing wall deliver ample space for the bedroom and also provide a reasonable circulation near the wardrobe. This approach inspires some awesome small bedroom ideas. A completely innovative design solution, a free standing wall is the only casework that unites the house and brings a sense of harmony and balance to the house.
Photo by: SFARO