Vintage lighting is so elite that it makes the room look sophisticated by its simple presence. Just add an ornate vintage light, and you can turn the most minimalistic room into a stylish one. Even though vintage lights almost always make up a part of living room lighting ideas, but the cost becomes a factor that deters many.
It is not entirely unheard of to add some period flavor into your bathroom lighting ideas by using midcentury pendant lights or wall sconces. However, if you are inexperienced about shopping for vintage lights, you are guaranteed to fall for the look before its functionality.
Here are some handy tips that will help you make the right lighting decisions that will satisfy not just your heart but also your pocket.
What are you looking for? Style or Value or both!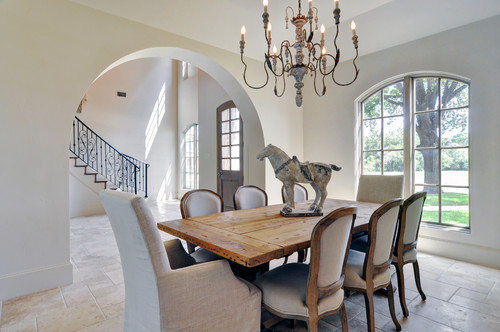 [Braswell Homes Inc]
This pertinent question will help you decide the direction you would like to choose. Are you looking to add a vintage piece as a part of your collection or do you need a fixture to be unique decorative element? If you are an antique enthusiast, then the perfect place for you is to look is credible antique dealers as well as specialty lighting stores. Collector's vintage light requires a trustworthy source of origin, a renowned ancestry and other important details about the fixtures that could justify the price tag.
If your objective is simply aesthetics, then there may be plenty of options down at the flea market, garage sales and online auctions where you can make an affordable purchase. However, be prepared to do some restoration work on your cheap finds. Other than that, you are golden!
Take a Second Opinion
[The Office of Charles de Lisle]
You may have full faith in the lighting retailer, but it never hurts to get a second opinion from someone who knows these things like the back of their hands. This becomes even more important if you are spending a lot of money. A professional appraiser will be able to validate the authenticity of a vintage lamp, its maker, period, materials used, etc. Their written documentation will also help you with insurance later if required.
Check the electrical wiring
It is always a good idea to check the wiring of the chandelier, sconces and other pieces of lighting. So take a licensed electrician with you at the time of purchase to certify the quality of wiring. The pieces that go back four to five decades will not be compatible with today's safety standards, and it is possible that the carry frayed cables can be a serious electrocution risk. It is recommended to take proper precautions when you get vintage lights home.
Take note of the wattage and bulb size
[Felhandler/ Steeneken Architects]
If you are roping in an electrician, it is better to seek their opinion about the type of bulb and wattage most appropriate for your lighting fixture. It is possible that the bulbs available today may not fit into it. It is always recommended to ask if you would require an adapter or a specialty version that is only available through antique parts dealer.
Locate a reliable supplier for parts
Now that you have the perfect vintage lamp, the one you have been looking for all this while, but there is a small flaw that you are sure you can fix. What if the shade on a beautiful lamp base is stained? You need a fit that will adorn your lamp perfectly that can only be found at an antique supplier store. Imagine a chandelier that you want is available for a hefty discount due to missing crystals? All these things can be easily found at an antique store supplier.  So, you need to have one at hand any time you are going vintage light shopping.
Maintain and Take Proper Care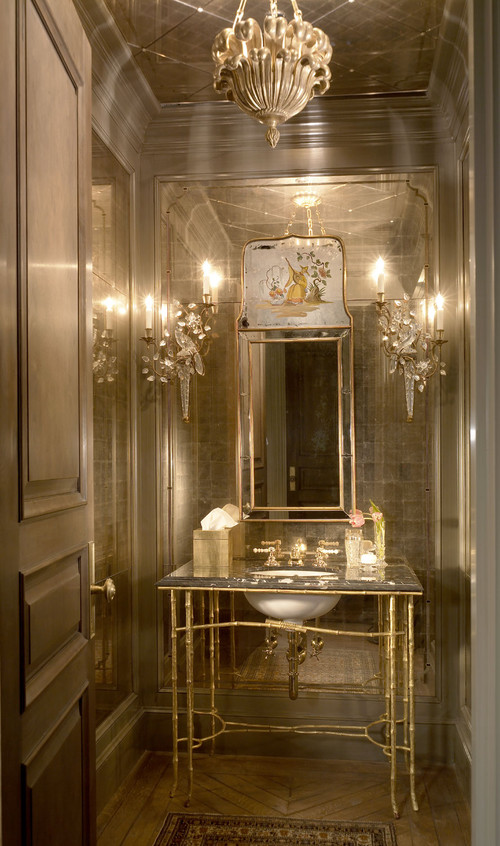 [Traditional ]
Buying an expensive collectible and adding it to your expansive collection will not alone make the cut. You need to care for it and maintain it. You can check with the dealer about cleaning advice. The natural patina acquired by certain materials such as Bronze is actually desirable and removing it can ruin the value of your fixture. Even if you own the most valuable piece, make sure that you check about its cleaning methods and products to be used so that you can prevent any damage. Sometimes your pieces may even require professional restoration to bring them back to life.
You don't always have to buy an authentic vintage lighting if you are limited by your budget. Instead, you buy cheaper reproductions that are easier to maintain, look equally good, and of course, are more pocket-friendly.
These are just some of the tips that will help you get your vintage lights right. Bringing in a bit of antiquity home is a great way to introduce old world charm. These tips will certainly help you in making the right buying decision.