Home theatre systems are not just a thing for making your media experience better but also providing your home with a sophisticated look. Their sleek appearance can be blended into your home décor to get a more finished and urbane form. You can use your home theatre system to meet variety of purposes like hosting a movie night or keeping the kids engaged on an off day. If you are going to use the entertainment system, might as well do it in style! Use these 10 interior decor ideas and suggestions to make the best of your home entertainment.
Combine your living room and home theatre experience
[Image: O'Brien Hi-Fi]
If you are one of those people, who do not have the luxury of additional space, then you can go the old school way and incorporate the home theatre system into your living room.       This will not only make your living area appear more chic but also create a space for cinematic experience. However, the only word of caution here is to find a way that can conveniently integrate the two features without compromising the existing décor of your room.
You can choose to mount the screen on a wall instead of placing on a cabinet. This will make your TV screen unobtrusive and can blend naturally into everything else in the room.
Provide a separate room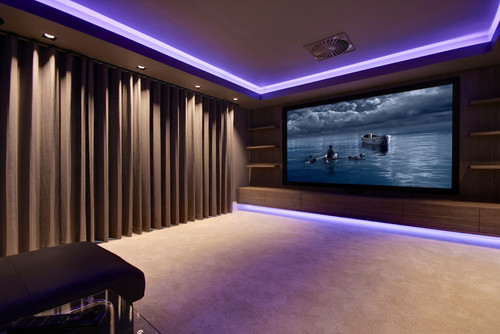 [Image: Bespoke Home Cinemas]
If you have a lot of rooms in your house and manage to spare one for home theatre system, then do not think twice. Nothing is better than having a separate room dedicated for movie marathons in your own house. Make the movie nights a luxurious and unforgettable experience for yourself and your guests. Don't be amazed if you are the one hosting all the movie nights henceforth!
Amplify with 7.1 Surround Sound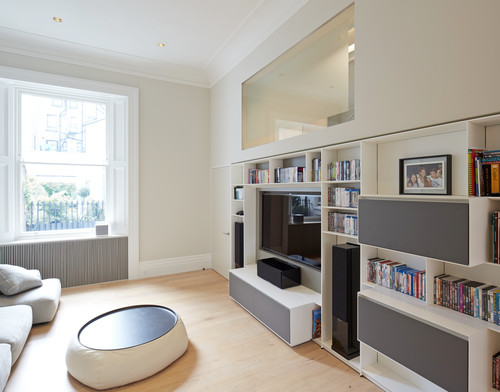 [Image: Hill Mitchell Berry Architects]
The in-surround sound technology comes equipped with 8 audio outputs that can completely drown the viewers in its surround sound and enhance the movie viewing experience. You can either make the speakers as the highlight of the room or mask them. It is up to you how you want the surround sound to complete the home theatre system.
There are also manufacturers of speakers that understand this predicament. They have many product offerings that are both beautiful and have amazing sound quality. It can come with wood panelling that blends into the room's design while providing amazing acoustics and visual appeal. But before you get enamoured by the beauty of the speakers, do consider the wiring option. No matter how classy the speakers are, a black mass of entangled cables is always an eyesore.
Add them to the ceiling  
[Image: Inspired Dwellings]
If you do not enjoy the sight of speakers hanging from various parts of the room, then you can also have it completely hidden from a line of sight by integrating them into the ceiling. You cannot only remove the speakers from view but also ensure high-fi audio. Not to mention all the space that you can save from this arrangement.
When you are watching a thriller movie, the audio from above their heads will make them feel like they are part of all this action.
Remove the projector from plain sight
[Image: Hill Mitchell Berry Architects]
You can use the projector lift for hiding the projector when it is not in use. There are also products available that allow you to operate this lift by your Smartphone app.
The projector can either be sealed in a tabletop or a ceiling. However, when the movie mood strikes, you can instantly transform your kitchen or living room into a cinema, with a touch of a button.
When you plan to get a motorized lift for your projector, make sure that it does not squeak when going up or down and the motor should not be loud.
Complete the look with lighting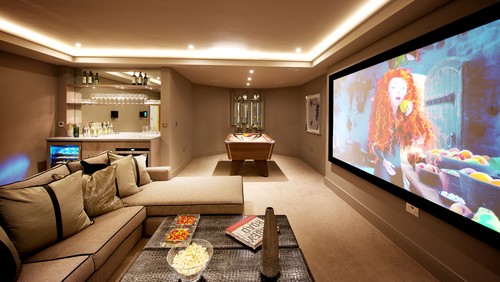 [Image: Adept Integrated Systems Ltd]
You can create cinematic experience, right inside your homes by adding special finishing touches like extra lights, surround sound, comfortable seating, etc. Thanks to the technological advancements, there are also LED lights available that can automatically become softer as soon as the movie starts. The lights also come back on when the movie is paused.
Proper lighting plays a very important role in the whole movie watching experience. By using a little creativity and thinking and checking some awesome lighting ideas, the host can create a perfect atmosphere with the help of effective lighting.
Seating arrangement
[Image: Finite Solutions]
A home cinema is incomplete if the seats are not comfortable or reminiscent of a cinema. You can use the latest technology to add fancy seats that vibrate and thunder as per the movie action sequence.
You can also add an additional feature of sound proofing, which is necessary to avoid any disturbance outside while you are hosting a movie marathon for the kids at home.
You can also hide the screen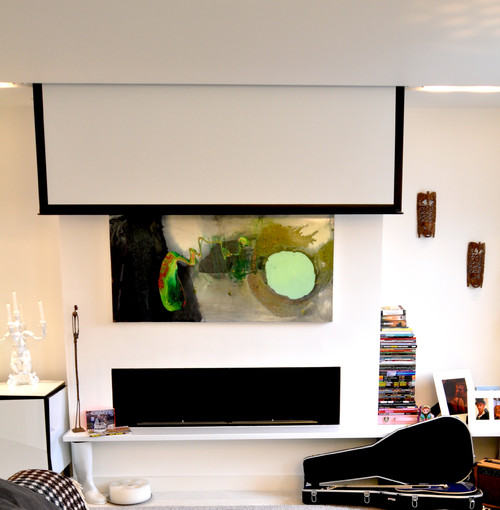 [Image: Kia Designs]
You cannot only conceal the projector but also the screen. Combine the greatness of motorized projector lift with projector screen that can drop down and ceiling integrated speakers to create a magical movie room when required. This space can be otherwise used in whichever way you please, during the day.
Link all the screens of the house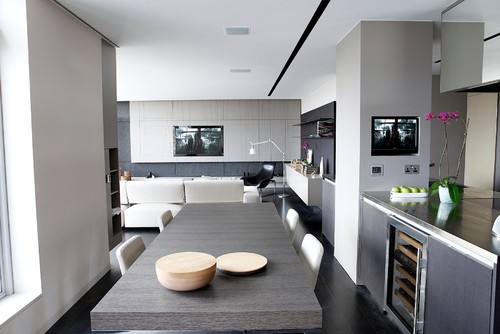 [Image: M.E.G.A. AV Installations Ltd]
If you have too many screens in the house, then you can have the same content playing across all these screens if you want. Some years back, this arrangement meant installing complicated wires and set-top boxes, but thanks to the centralized TV system, you can now do this without too much effort and get more elegant solution. You would be able to send the content to multiple screens across the house seamlessly. No need to miss your favourite movie anymore while you are cooking.
Tucking the TV too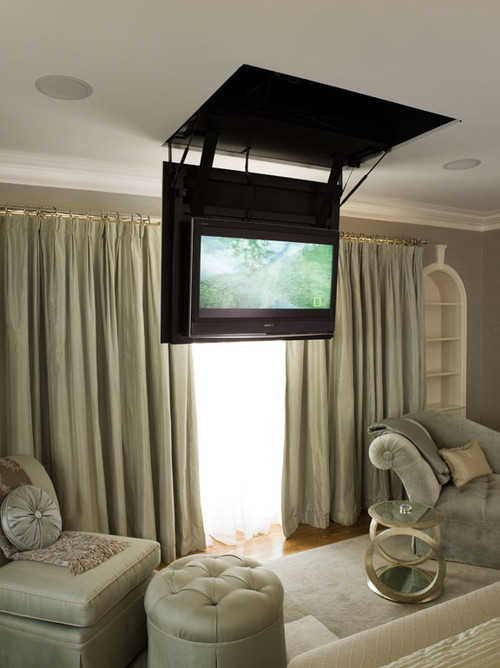 [Image: Dijeau Poage Construction]
Technology has made huge leaps in all these years and comes with fantastic solutions for people that are pressed for space. You cannot only hide the projector and projection screen but also an entire TV. Regardless of its size and weight, an experienced professional is all it takes to mount the TV wherever in the house you want.
This is a classic way of transitioning from diner talk to a comfy night of the movie watching when you have talked enough at the dining table. Just relax and let the movie do all the talking.
Home theatre system is a must have these days and with so many options; it only becomes much easier to incorporate it into your home's existing style and design. Just be creative and think of innovative design ideas and ways to use this technology in the most stylish way.