Don't you just love calling people over for dinners and meals? Is the food not one of the most important things for you? Are you not the perfect hostess ever? Well then, it is time your dining room said as much about your persona as you do. Create the perfect space for having a meal with friends, family or colleagues – create the perfectly welcoming and attractive dining area in the abode of your existence. Here are 10 decor ideas to do so and they can be the ideal weekend plan for the home. Take a look:
Couch fun: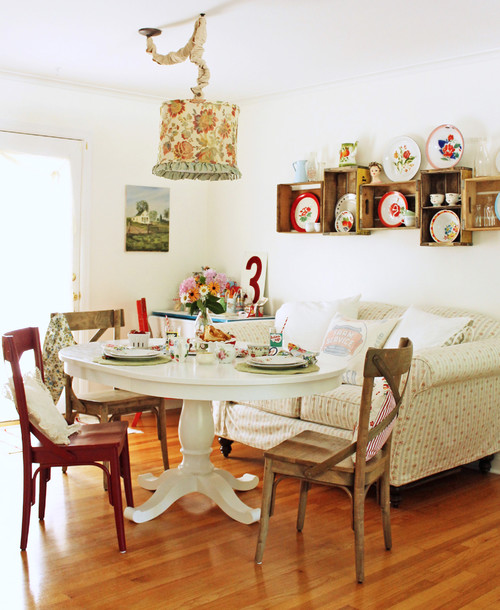 (Image – Cottage Industry)
For an English country like feel and somewhere comfortable to sit in the dining room apart from the dining chairs, pull-up a couch in the room. Some upholstered cosiness definitely puts everyone more at ease and makes the room not just beautiful and functional, but also very comfortable. Sit around having a jolly tea party while snacks are on the dining table and you could sit for hours!
Yellow curtain sunshine: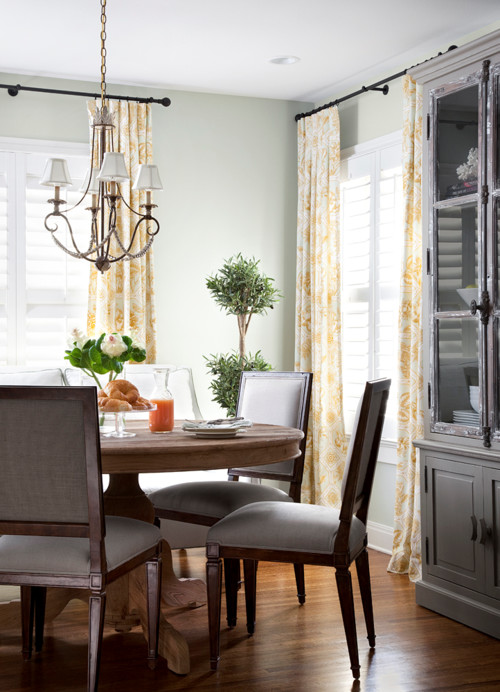 (Image – Heather Scott Home and design)
If there is not much sun in the dining room, it's no reason to leave the room gloomy or dull. A simple pair of bright yellow or orange curtains can simulate the sunny cheerfulness happily! Let the smiles spread.
Rug Magic:
(Image – Adrienne DeRosa)
A soft rug can transform the aura of the room so much! Lay a nice rug in a warm colour underneath the table, for attaining the ideal balance between the hard edges and soft fabric layer. The hard furniture seems more welcoming when soft elements counterbalance the stiffness. Choose something which is coloured in between the floor and the furniture. If walls are the better focal point in the room, go for something in a complimentary shade.
Make a large space look warm using a warm colour: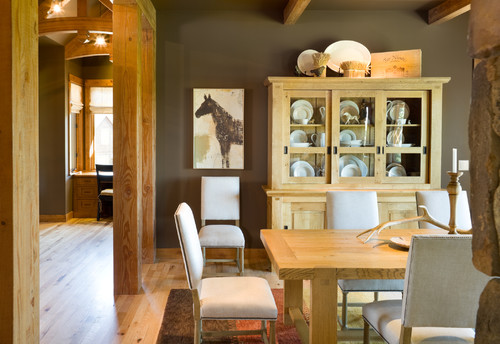 (Image: Alan Mascord Design associates)
One of the nicest interior ideas is to make the room look cosier with a nice warm colour on the walls. This not just makes it look bright and fun, but also makes the room's size less dominating over all other elements. Use beautiful chocolate browns, yellows and other war hues for a more welcoming look.
Window seat: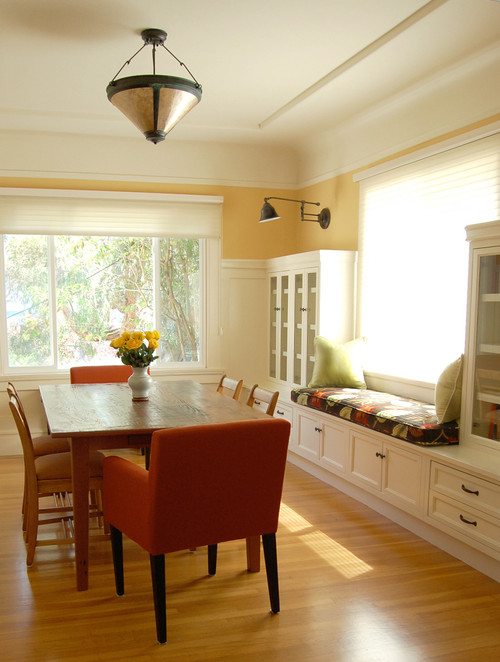 (Image: Niche Interiors)
If your lovely dining room has a window which lets the sun in beautifully, make hay while the sun shines! Literally! Add a comfy window seat on the window and sip your teas up on a little perch while everyone has a meal on the dining table. A fun way to start the day too! Let the amazing sunshine pour itself all over you!
Box with stripes:
(Image: Emily A Clark)
If your plain room is too small for anything, don't lose heart! You can still experiment with paint styles. A small room can be made to look larger and more attractive by painting horizontal stripes on the walls. But beware of the combinations you use – there should only be a subtle shade difference between the two stripe colours.
Have a fireplace: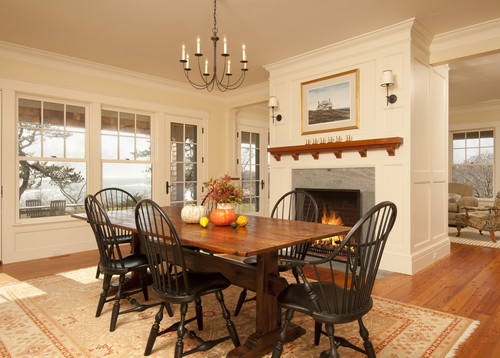 (Image: Siemasko Verbridge)
If you cannot have it right there in the dining room, take the dining room where there is a fireplace. Nothing quite beats the luxury of having your meals next to the warmth of a crackling fire. It is the most beautiful way to entertain guests. If it does not work for you, you can take things back where they were.
Simulate a fire: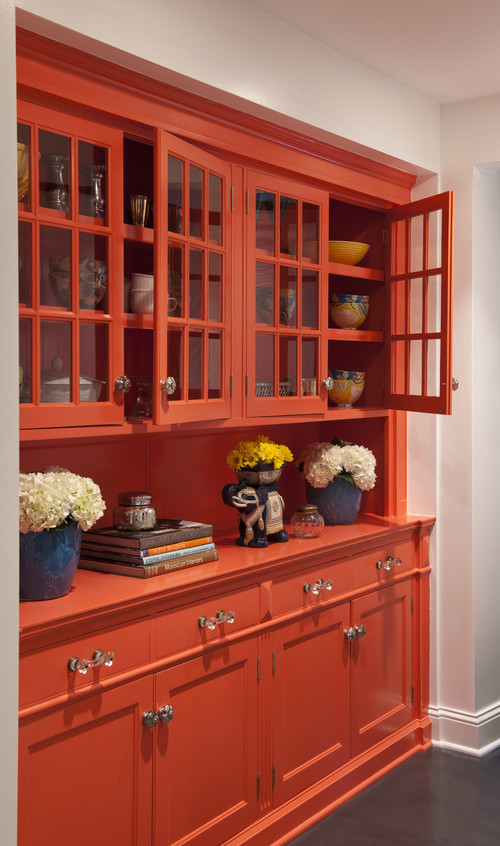 (Lucy Interior design)
As most homes do not have a fireplace or culture of having a fire burning in the home, this hollowness can be filled using a flame coloured furniture piece in the eating area. Bright orange, crimson or yellow cupboard can do the needful.
Cabinet design: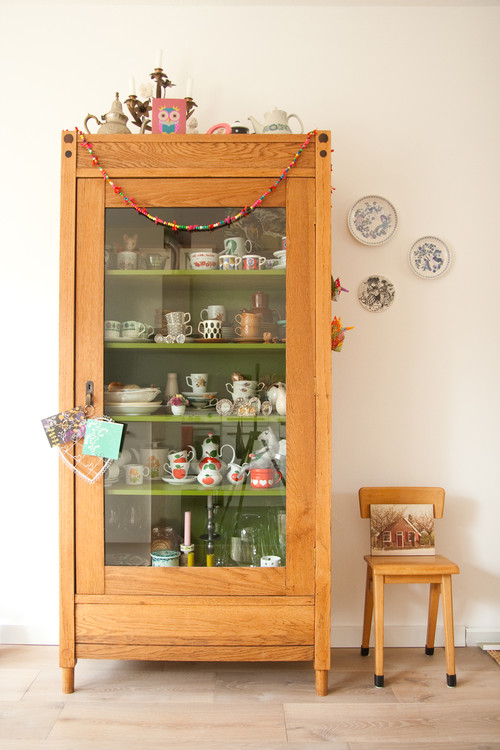 (Image: Planet fur)
To make the room look full of character and have your personal impression in design, add a simple glass case full of small or large memorabilia, personal items of interest and travel souvenirs in it, which will not only reflect your persona, but also add life and warmth to the otherwise plain and boring dining space.
Pin-board full of delight: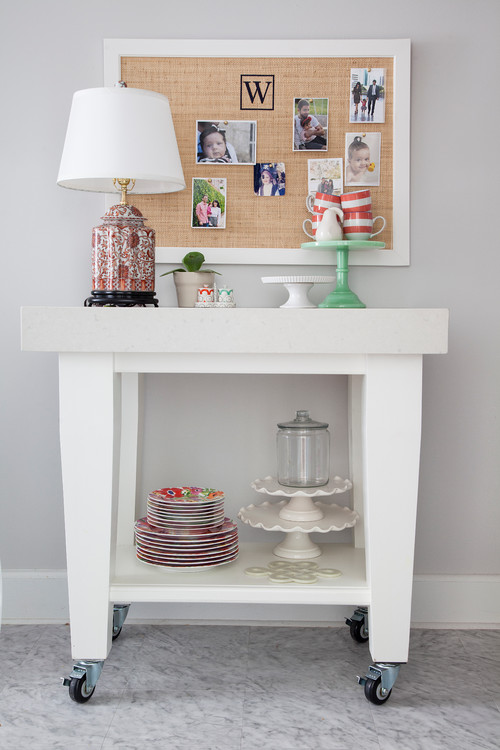 (Caitlin Wilson)
How about a nice character boost to the dining area in the form of a pin-board – it is surprising, fun and a nice way to add a personal touch to the plain dining room. The freshness of this idea is so awe-inspiring that one can expect a lot of compliments, and also, instant ice-breaking!
To round off, these simple design ideas and ways are so easy to follow and use that you can immediately set off to employee them for your room! Have a fun time redecorating!