If you have picked out a house far away from the city, there is a possibility you might not get enough lighting in your house. If your lovely abode is surrounded by trees, and it doesn't get enough sunlight, you cannot cut down the trees. You can work the other way round and add some incredible bright lights within the house. You must maximize the lighting in your house with some of these tips:
Add windows and lights: –



Source: Smith & Vansant Architects PC
In all the important rooms, you can add rectangular windows so there is some light coming in at all times and strategically place the lights too. If you have an area, which needs a ton of bright lighting, you can use hanging ceiling lamps right in front of the window portion so that you maximise the brightness in that area. Like you can see in the picture, the kitchen has windows and a combination of ceiling lights too. If you want kitchen lighting ideas, this is one of the best ones to enhance the kitchen!
Use skylights: –



Source: Velux
You must have spotted skylights in several offices, but these are great editions in the house too. They are usually fixed in the ceiling and roof of the room. Skylights are found in various shapes and sizes; you can use them in every room. For instance, in the above picture, you can see how one skylight made such a huge different to the bathroom. Such bathroom lighting ideas can help you save money as you will just require one huge light in your entire bathroom space.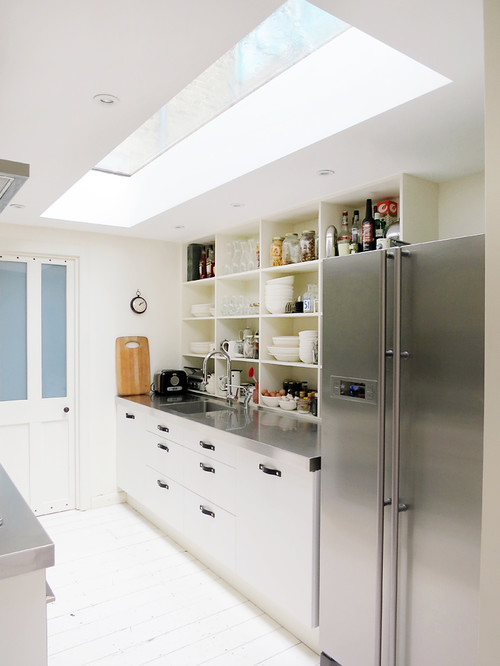 Source: Made About Your House
Another advantage of skylights is that they are quite bright. You can pick a large rectangular one for each room, and you don't need extra fancy lighting anywhere around. They go with any theme set up too. They do generate a little heat, but if you live in a cold environment at all times, this is worth the money. You can see how well this light is working in the kitchen space. There is no requirement for any other extra lights around.
Add glass and lights: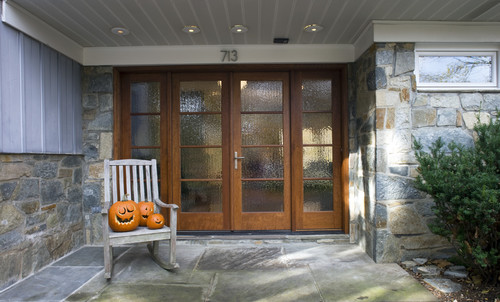 Source: Brennan + Company Architects
Adding glass doors is always a good idea as some light will reflect inside the house. With this, if you want full-proof outdoor lighting ideas, you should place the lights right near the doors. There should be spotlights just above your door, so when you are sitting in your outdoor space, you always have the lights. You might not get sunlight after a certain time in the afternoon too if you live in a secluded area, or you have too many trees around the house. The best way to mimic sunlight is to add huge spotlights near the glass doors. You can see in the above picture that there are tiny spotlights added to enhance the outdoor space and also for lighting purpose.
Use focus lights: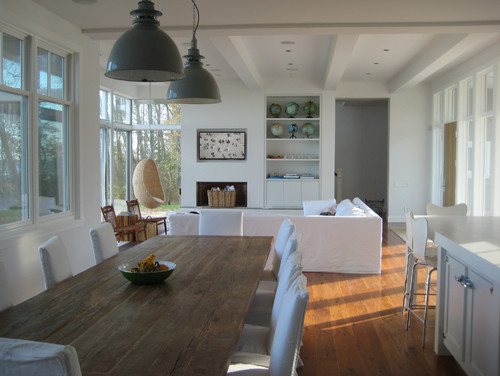 Source: SearlLamaster Howe Architects
Since you have less natural light in the house, you need to double up your focus lighting. Focus lighting is used in certain portions of the house, which are used a lot like the dining table. You need some incredible dining room lighting ideas to add charisma to your dining room. Like seen in the picture, there are two ceiling lamps used instead of one. Whether your dining room is small or big, you need to add enough focus lights at the main area, which is the dining table to brighten the whole room. If you fail to do this, it will look extremely dull once you have no natural light coming in.
These few tips can help you bring in more light into your house and make it look homely!