Every single one of us secretly harbours a bohemian under our skin. We would like to embody the free spirited nature of being a boho and letting the madness be a part of our lives.
If you cannot dress like bohemian for whatever reasons, you can get the theme into your homes and feel the pulse and energy of no strings attached. Bohemian as interior design ideas would mean that your décor is insanely eclectic, but for some reason, it still binds with one another because of the common flow of energy. It has components of being shabby yet chic, eclectic yet sorted, mixed with artistic vibe and feeling flamboyant with no loyalty to a single trend. It is all about being witty, quirky and reflective of the person that you really are, deep down inside. It may seem like a burst of too many designs and a style faux pas but underneath it is all about creativity, travel, art, adventure and above all freedom from any kind of rules.
The bedrooms are our personal space and that is where we lay our heads down to rest or being wild, in short, being ourselves. So, if you have a bohemian trapped inside your body waiting to be unleashed, then your bedroom will be the best place to start.
Don't think fashion when thinking bohemian       
[Image: Rikki Snyder]
The one thing about bohos is that they do not think the way the crowd thinks. They have the courage to go against the flow and do what they think is perfect. When you get this spirit inside your home, then know that there are no trends in a bohemian décor. There is no point in thinking about Victorian interiors or countryside furniture. It is all about following the taste that you can connect with and feel for. Boho is all about chasing the state of mind you have that is wild and free. Use these simple 10 steps guide to carve the boho inside of you and get them into your bedroom décor.
Follow the footsteps of famous bohemians
[Image: Seldin Design Studios]
Read all there is to read about the bohemian lifestyle and learn about the creative people that lived that kind of life. This will give you a fresh perspective about things, which can be used into interiors. You can try to connect with them at a level like if you share their love for adventure or do you follow their insane creative streak. You can also hang the portraits of your favourite bohos to get design inspiration.
Install Different Forms of Art in your Bedroom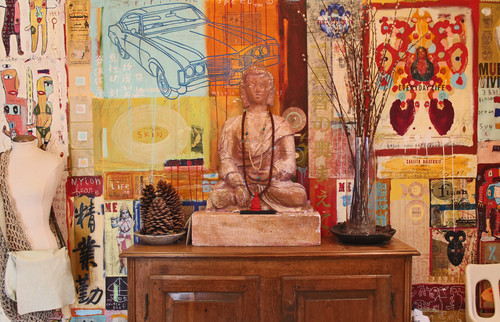 [Image: Laura Garner]
Bohemianism has always been about people that are creative like musicians, writers, designers, artists, etc. A true boho will never like to have a wall that is blank; it will be a source of constant annoyance to them. For them, the walls are like an empty canvas and need different forms of art to cover them. It is common for us to use our best art in the room that receives maximum viewers. However, you can also use some of it in your bedroom too so that you can appreciate and connect with them in your personal space.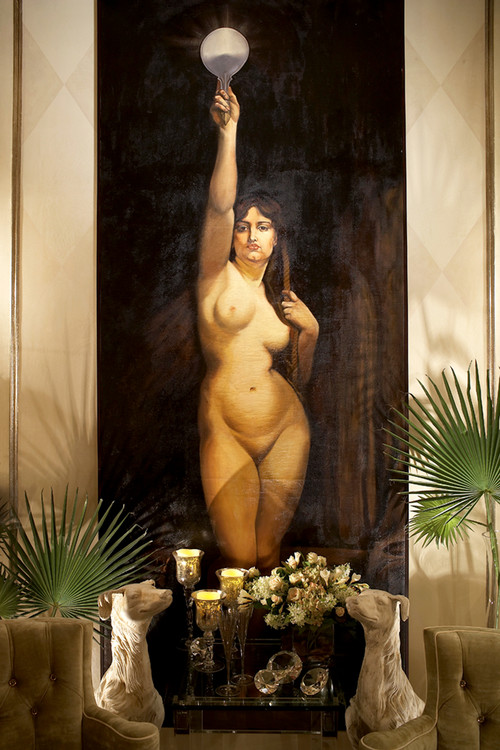 [Image: Timothy & Associates Interior Design]
The bedroom is a place that is personal and intimate. This is where you can celebrate the human body art in its creative form. You can add elements of sensuality by using aesthetic nudity. You can find some famous bohemian nude posters online that can be printed and used as an artwork in your bedroom.
[Image: Annette Tatum]
Colours are glorious and always have a way of supporting when placed with one another. Design analysts may feel differently about colours as there have been scientific explanations about using certain shades that induce sleep. However, if you want your room to be less science and more you and then you should definitely follow your heart.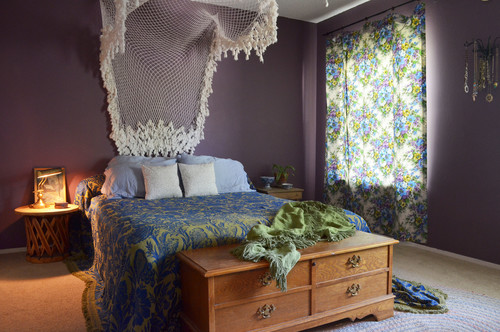 [Image: Sarah Greenman]
Using wild colour combinations such as green, purple and blue may not really fit the rule book of shades, but it has a sense of freeness and easiness to its palette. These colours fall in absolute harmony with one another and look perfect against the aubergine wall. The white lace on the wall adds a touch of bohemia with its loose structure and design.
Mix patterns and textures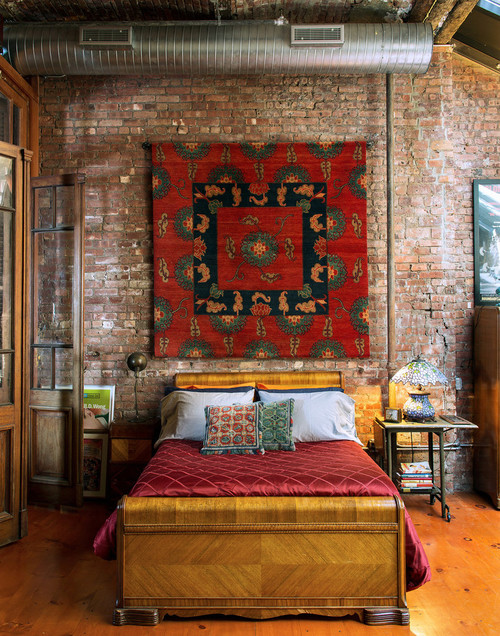 [Image: Ralo (Tibet Carpet)]
In this room, one can see a variety of textures and colourfulness that gives it its unique personality. Starting from the exposed industrial ducting followed by a Tibetan rug hung on a bare brick wall speaks volumes about the rawness of this room. However, a sharp contrast can be seen through a satin bedspread, soft antique brass with wooden flooring. This room is able to support so many textures and patterns because of its high ceiling.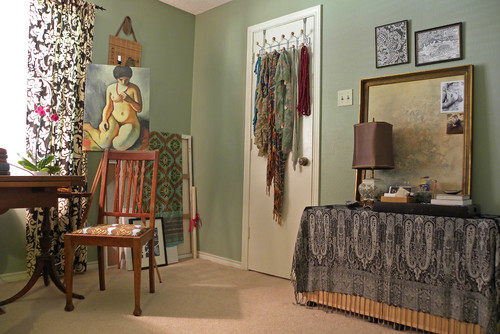 [Image: Sarah Greenman]
The best thing to do is to put a number of patterns together in the same space so that they complement each other rather than deflecting attention. In this image, one can see an artistic air with a casual and cool effect because of so many assorted patterns. The look has been linked together by using the same earthy tones across all patterns so that although they are different, the room still looks like naturally holding it together.
Unleash your personal creative style in your Bedroom
[Image: French Larkspur]
This is your space and no one else is allowed to breach the sanctity of your room unless you allow them to. You can add a spot to write or paint or whatever you require to get those creative juices flowing. You can keep any form of eclectic art or fabric or embroidery that can give you design inspirations.
Make your Bed not just comfortable but also artistic
[Image: High Fashion Homes]
Your bed is not just a place to sleep, but it can be an artwork in itself. You can think out of the box and think of reasons that may you want to stay in bed and still be creatively productive. In this room, the vibrant nature of the room is complemented by using too many cushions along with a rustic bed as well as cabinets that offer a textural point of interest to the bedroom. Also, notice the interesting hand seat, which contrasts well with the traditional Moroccan furnishings and fixtures offering some great some furniture ideas!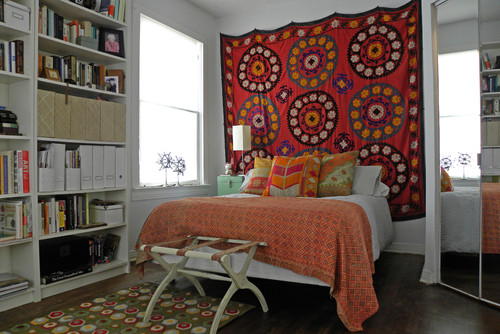 [Image: Sarah Greenman]
A real bohemian soul will never think within the box and this is why you will perhaps never find a tufted or a matching headboard in a bohemian room. Their backdrop will be unconventional and exotic, needless to say. In this room, the background has been decorated with suzani rug made in vibrant colours that help light up the room to an all new level. You can also use other things such as a bamboo screen or a beaded curtain and even a heirloom quilt to make up for an interesting backdrop.
[Image: Tierra Del Lagarto]
There is nothing that dresses up a room the way lighting does. Add indirect and soft lighting to your bedroom so that it leaves a flickering and filtered impact. You can get this look by using filigree lanterns and candles in coloured glass holders. You can also use vintage lampshades to diffuse light.
You can Mix but don't Stress about Matching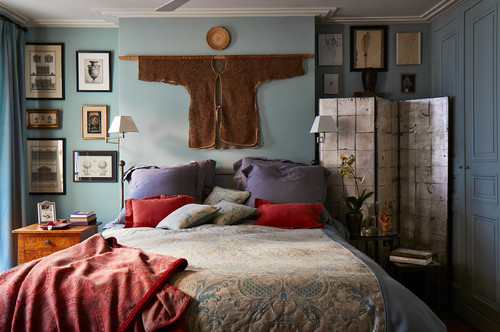 [Image: A+B KASHA Designs]
The thing about vintage and interesting finds is that you may not find them with their better half. However, this is where your artistic side comes into play when you can mix the designs without fearing about them matching. In this bedroom, one side table is wooden while another is glass and they still fit well together in the same space.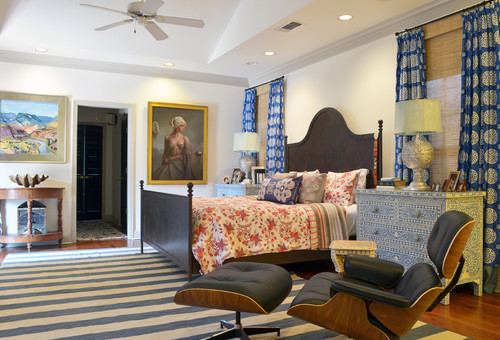 [Image: Sarah Greenman]
In this bedroom, there are too many patterns, styles and designs, but still it is in complete symphony. It is a comfortable yet exciting play of modern as well as traditional furnishings to give it its current persona. Lounge chair is definitely contemporary, but it has been dared to sit with an eclectic wooden chest along with traditional Moroccan fixtures that complete the room.
Let your furniture be storytellers
[Image: Katie Leede]
Hand painted antique furniture has a statement of its own and is able to add character and lots of depth to the room's décor. You can mix the antique nature of the cupboard with other furniture and give your room an unconventional period look.
[Image: Katie Leede]
In this image, an artistic armoire has been placed that has been hand painted and looks every bit bohemian.
[Image: Artistic Designs for Living, Tineke Triggs]
You can also customize the whole look by telling your own tit-bits on a revived piece of furniture.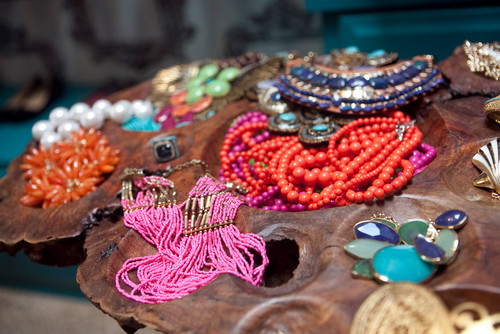 [Image: Nicole Norris Design Studio, Inc.]
Bohemians are never too shy to reveal even their most garish pieces. You can pull out all your vivid bling collection and display it around the room like it's a part of the décor. Place them where they can complement and add to the room's design without being too out of the place.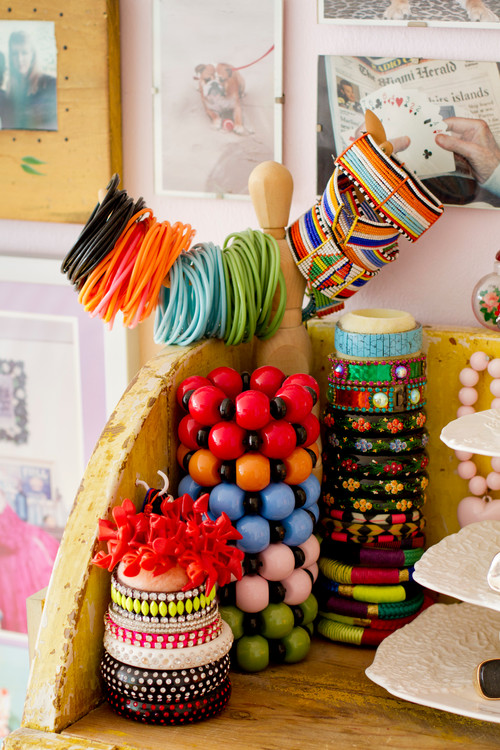 [Image: Apartmentjeanie]
A creative mind that is rich with a bohemian spirit will be able to find enough colour and points of interest to make their room look unconventional and free spirited. In this image, an old wooden figure has been used to display colourful jewellery in a fashionable way.
You can also use old dressmakers to showcase your accessories, hats, scarves and other statement pieces that not only add to the décor, but also act as a quirky storage space.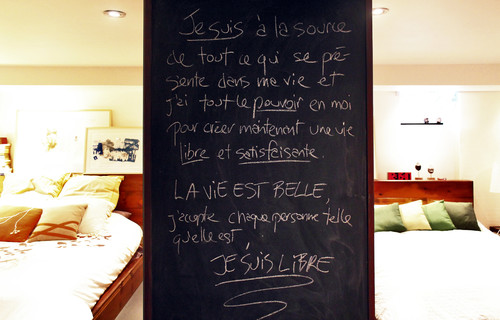 [Image: Laura Garner]
In this image, the bohemian philosophy has been clearly stated as being free and accepting things the way they are. This is the essence of your décor if you want to design your room in a bohemian spirit.
We are all unique in our own ways and this is what a bohemian styled room should display. You would not be able to find another room designed the same way. Incorporate these simple design ideas and rules and get your very own eclectic and interesting personal haven.