It is always fun to decorate your house be it a new one or a facelift of the old one you have been using for ages. However, while it is definitely fun, it can be challenging and also be a costly experience, which can cause a serious dent in your budget. Before you even start a project, you need to know what style works for best and whether you should hire a professional to do the job. Apart from these potent questions, you also need to know the budget that you would be allocating to the whole project. You need to ensure that you take the right decisions all along the process to get best results.
Here are some design ideas and tips to help you get started from the scratch in the entire process of decorating your house and doing so effectively. It will help you from choosing the right colours to shopping for the perfect furniture, where you need to splurge and where can you save. These little tips would come in handy when you decide to trim your décor.
Take a look around your house
[Image – Katherine Robertson Photography]
When you take a critical look around your home, you would see so many things that need a change or a replacement. There will also be things that you like which can be a painting or a fabric or a chair that is very comforting. You should start with the things that you like as you can repeat them in your new design and get rid of the things that you don't like. This should give your project a kick start.
Create a wish list
[Image – Peninsula Custom Homes]
You should create a wish list that will record all the things that you would like to do to your home if money was not a restraint. After the list is done, look down at the times that you can do and the things that you can't. You should also prioritize these items as per your preference about things that have to be done now and on priority at that.
Gather pictures of Rooms that you like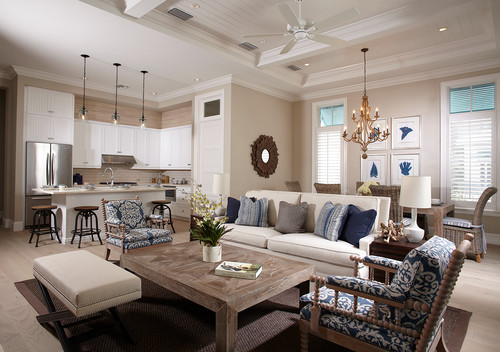 [Image – Kukk Architecture & Design P.A.]
You can flip through magazines and start collecting pictures of the rooms you think you would like to replicate in some way. If you are hiring a designer, it will help them put your tastes into perspective and give them something to start work on. Give yourself ample of time to do the research, be it online or through magazines, but collect the ones that resonate with your idea and taste the most.
Take Help from your Partner
[Image – Landry & Arcari]
Even though, you may be an active one taking the decisions about designing a house, it is advisable to involve your partner in the process. They may say they don't have an opinion, however, they will as soon as you start buying things for the house. You should spend at least an hour or two each day while looking at things so that you can get them involved too. You can also propose collecting images independently that you can compare later and see what the other has got. This can be a good exercise to get your partner's active participation.
Allow collected photos to reveal your taste
[Image – David Robertson Design, LLC]
You may find it difficult to tell in words what you are looking for. This is when the pictures that you have collected over a period of time will come in handy. Look for a pattern in all the pictures that you have collected so far which includes furnishings, colour palettes, materials, patterns, how much furniture you want, etc. When you sense a similarity in all pictures you collected, you would know your taste more clearly. It is always better to trust your instincts and allow them to guide your aesthetic sense. It is one thing to enjoy minimalism from a distance, but that may not be your idea of a perfect home if you like something more ornate.
Take a final look at your home
[Image – Jeni Lee]
Now that you have a much clearer picture of the house you want, you should start sifting through the existing items and keep the ones you want while discarding the ones you don't. Don't worry about the furniture that your grandparents gave you if the fabric doesn't match. It can always be reupholstered and you can still retain that precious memory. Don't hold on to things you don't like in your house. Give it a fresh look and a fresh start.
Decide the work process
[Image – Anthony Baratta LLC]
If you have the budget to start with everything at the same time, then you can plan the remodelling of your house in a single run. However, if you are pressed for budget and don't mind if the project delays, then it is advisable to take it up in stages rather than doing it all at once. There is no harm in picking up projects around the house, one at a time. You can also wait for you to have a budget, and then, do all the work at once. It is completely a matter of personal choice how you would like to commission the work in your house.
The best place to start is the living room as it receives the maximum footfall of outsiders. You can then gradually move towards other sections of the house.
To redecorate your house needs planning and lot of research before you can actually zero in on a design that you like and would finally like to go with. It is better to use help of the professionals for innovative design ideas, wherever required so that you can get an expert opinion about your idea. Don't be afraid to experiment and give your house a new look.