A nice room means different to everybody. Why not find what you like the best for the dining room – a little ignored and less taken care of the room, as your family prefers all their meals to be had in the kitchen or the living room, in front of the entertainment center. To make sure the room is used more, as well as improving on the looks and style, check following dining room design ideas and methods and ensure more fun in the dining room!
1: Flexibility –
(Corynne Pless)
Figure out the need of your dining space in terms of the number of people, which can be accommodated. Usually in daily routine, you only need enough space for the family members, but occasionally, you may throw dinner parties where more number of people are invited, and thus need more space to seat them all. The dining table and the chairs must be so; even if more people arrive they should be able to be seated. The ideal way to do this it by combining chairs with benches and getting spare chairs in other rooms, which are optimal for the table.
2: Track your ideas –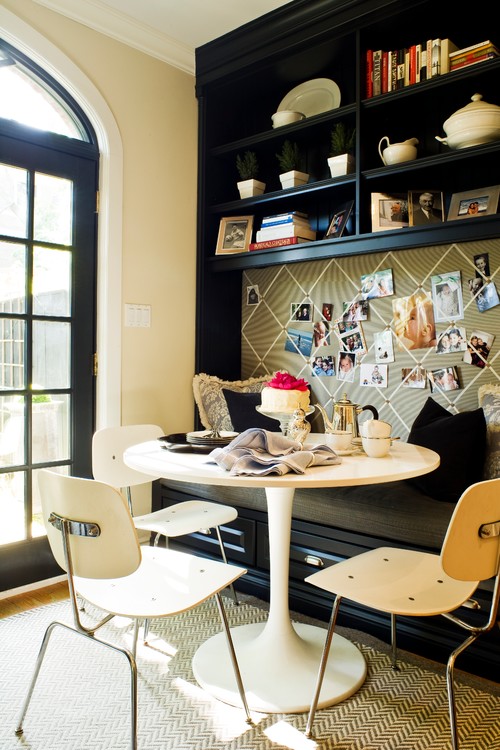 (McGill Design Group Inc.)
You may be encountering many ideas throughout magazines, websites and blogs. You must also be maintaining a record of all such ideas you had from the various sources. If not, it is a good practice to have a scrapbook or idea book, organized and set for the day you need to do up the interior of that particular room. This will not just help you form opinions, but also make it easier to search for those items or objects in the local markets.
3: Have a vision –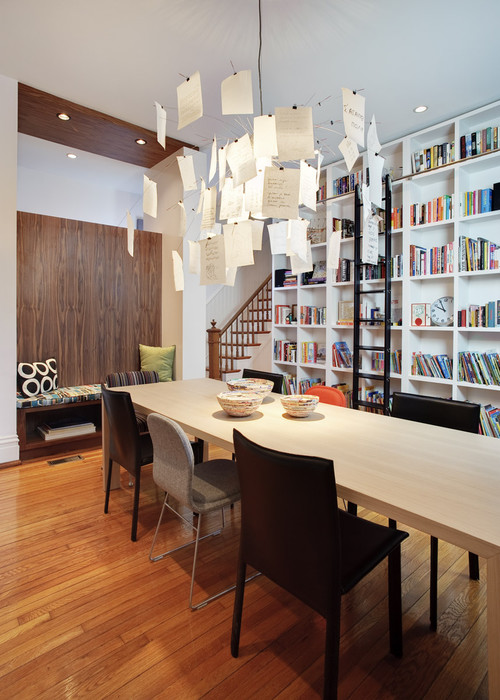 (Visible Proof)
How do you imagine the room should ideally look? What all do you want in there? Open up your eye to aesthetics and plan. The plan should be operable, practical and do justice with the shape and size of your room. Have you tried visualizing your best loved idea for a room? If not, start now. It will also help the interior decorator or your architect to realize your vision for a room.
4: Wall usage –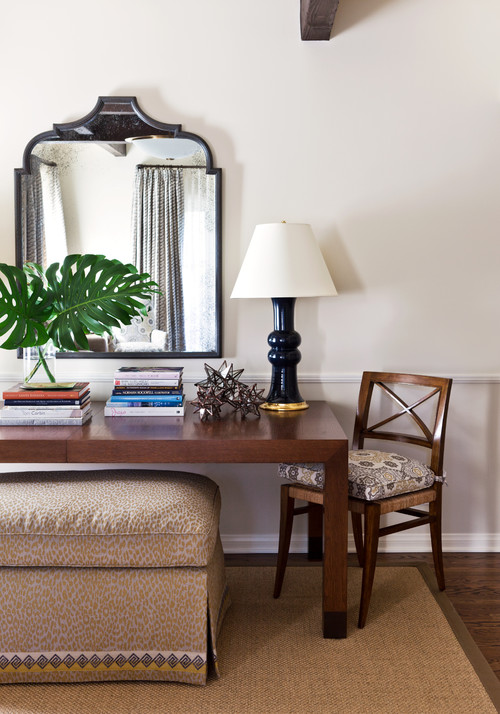 (Caitlin Moran Interiors)
The wall next to the dining table is an important interior structure. It can be put to multiple uses. If the room is small and congested, it can sport a mirror for a broadening effect. If you want the table to be multipurpose, add a small cabinet and make it a crafting table cum dining table. It is all really in your hands!
5: Formal or casual? –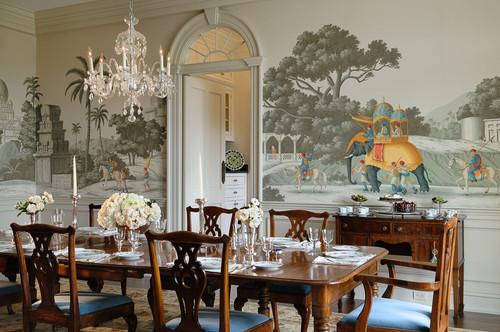 (Crisp Architects)
Much depends on the style of dining and hosting you prefer. The dining room will be where your guests shall spend almost half of the time they are at your place for meals. It should thus be according to your vision of hosting. Also, for your own use, you may consider having an ideal formal sit down dinner or a casual family time. You choose the style and then begin looking for interior decor ideas to decorate the room.
6: Pick a color scheme –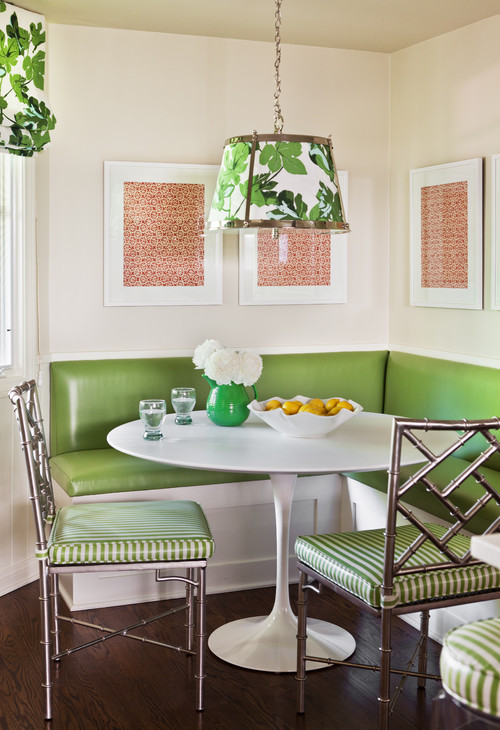 (Caitlin Moran Interiors)
Depending on the choice of color you would want in the room, the style and setting can be arranged for. If there is a strong color opinion in your mind, express it and it can be easily implied in the room's décor. This lovely forest green theme is the dominating element in the decoration of this room. The accessories are all matching the theme and this method of decorating is also very helpful as it is easy to zero down on the things to be used in the room.
7: Fix your limits –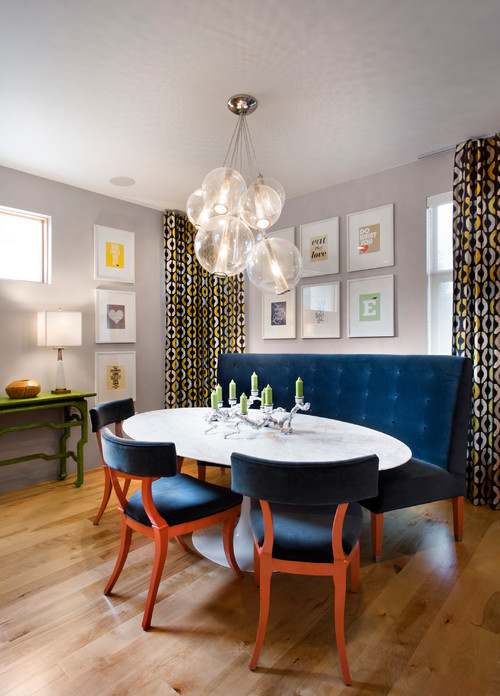 (Andrea Schumacher Interiors)
It is a good idea to have a fixed leeway with dimensions, as well as the expenditure you will be putting in the room. It becomes easier to spot the perfect furniture and interior fixtures if your prices and sizes are already planned. Remember, you can like a lot of things, but not all may be good for the room in question.
8: The time period –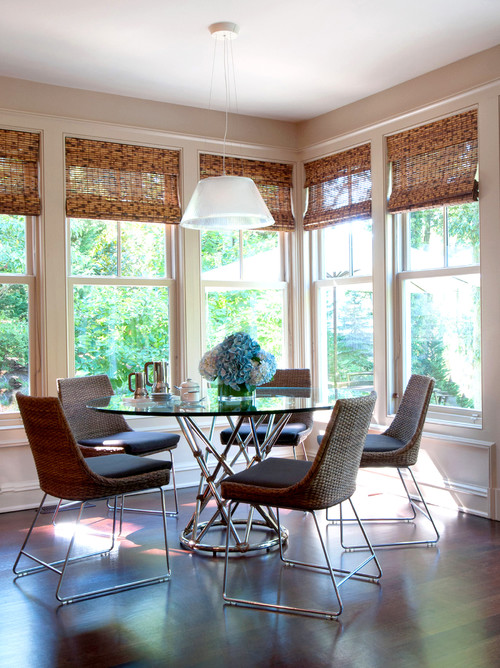 (Roughan Interior designs)
By when do you want your room to be done? Is that fixed in your mind? If not, have a deadline in mind. This helps in deciding the extent of a makeover you will conduct. If you want to finish it up sooner, do not go for top to bottom makeover; rather change the key elements to achieving a change in the look.
9: Use it up –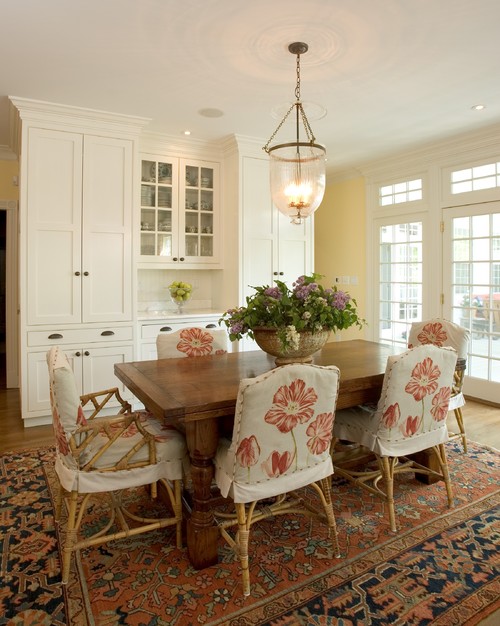 (Denison and Dampier Interior design)
Instead of getting new things and throwing out everything you own already, it is advised to look for makeover inspirations from the stuff you already own. How about repainting that set of chairs and getting new fabric on the seats? How about taking off the top of the table but still use the legs? It is a nice way to use up old things, and moreover, are the budget-friendly design ideas.
The plan should be solid – have a main plan of action and also a fully thought about plan B to make the renovation work well. Your dining room need not be akin a restaurant dining area, but should go well with the theme of your house and the style you prefer. Have a lovely time dining with family or friends in your new dining room!