If you have a small bathroom that isn't appearing as pretty as you have wanted, it is not very tough to change a few things to make the smaller area appear larger. Here, in a series of posts, we would talk of the nifty bathroom design ideas that can help you in making the small bathroom more practical with better space.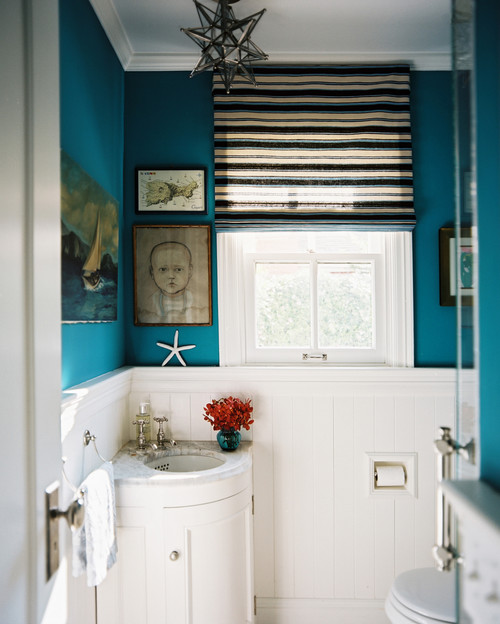 [Image – Hillary Thomas Designs]
Place the sink on the corner: A sink on entering the bathroom may end up using a good amount of moving space, and the best choice is to look for a corner sink. You cannot only use the space that is idle on the corner, but can also make space for the shower enclosure door to open easily.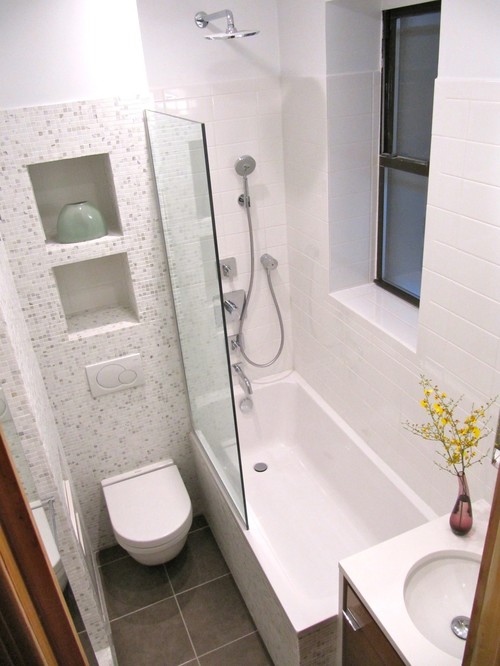 [Image – Wagner Studio Architecture]
 Get rid of the shower door: Most of the shower door is not needed, especially when you are the only one using the bathroom. Shower doors in the opening style take quite an amount of space and don't have any practical use unless you are using steam. Check for sliding bathroom shower doors if you can find.
[Image – Michael Goodsmith Design]
 Use towel bar on door: The space on the walls may be too small to have the towel bar. You can simply attach the towel bar to the shower door, from where it is not just easy to fetch the towel after a bath but also looks classy enough. Also, if the bar is large enough, you can let the towel dry there itself.
[Image – Design Cube Inc.]
Choose narrow sinks: There are trough sinks that are narrow and add a lot of style to the modern small bathrooms. These are generally mounted on the wall like a wall shelve and leave a lot of foot room to be used freely. Place a basket or even the dustbin under it!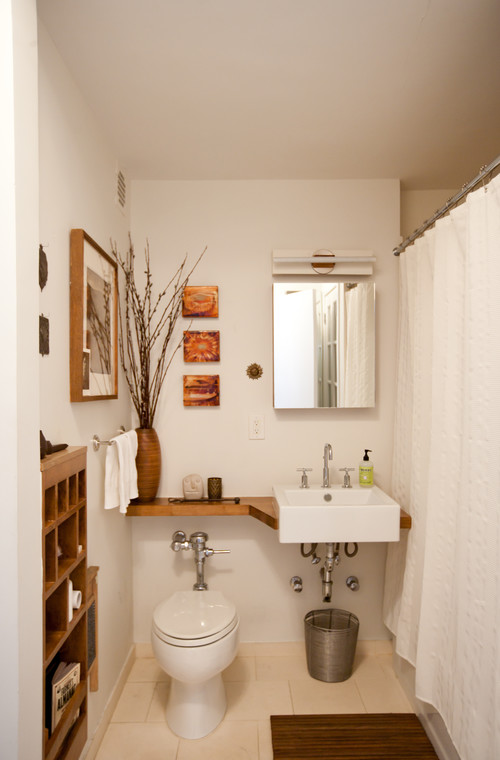 [Image – Chris A. Dorsey]
Use the space over toilet: The space over the toilet seat is often ignored and left idle, and this is the perfect choice to place the counter or a wall shelf for placing a few decorative and essential items. While the bar needs to be placed well on a functional height, you must see that that toilet seating area isn't affected.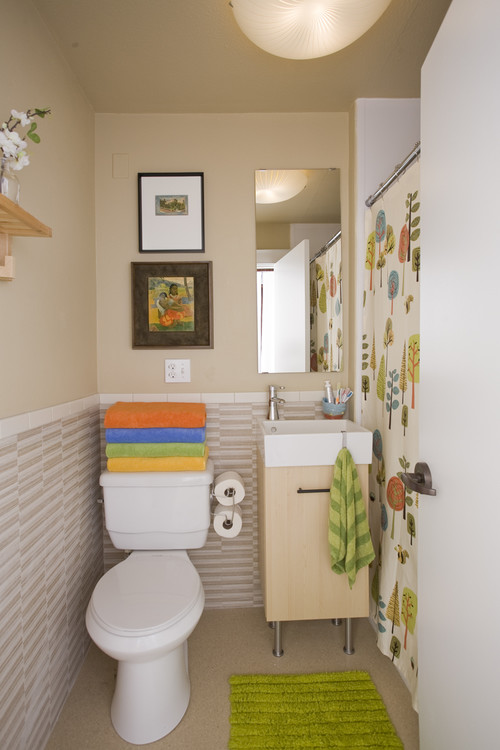 [Image – Scott Neste | Minor Details Interior Design]
Buy a shower curtain: Shower doors, as mentioned above, is all about style and less about functionality, especially for a small bathroom. To replace the same, you can have a large shower curtain with some stunning and visually appealing design that makes the most impact.
[Image – Chic Decor & Design, Margarida Oliveira]
A large extended mirror: You can have a mirror that covers most of the area on a wall, which is the best option to increase the space visually. Make sure that you look for mirrors that come with a nice framing as the colors and textures can often add more value.
[Image – Jordan Parnass Digital Architecture]
Use space under vanity: The space under the vanity is often left unattended, where you can choose to add a wooden storage space with a polish for style and functionality. You don't need a wardrobe or closet anymore in the bathroom because the towels can be stacked rightly in organization.
[Image- Dunlap Design Group, LLC]
Style walls with bold stripes: You can now paint the walls of the bathroom with bold stripes and can ensure better visual space like that of a giant bathroom, thanks to stunning pattern. Try looking for colors that have sense of luxury attached to them and can bring in versatility in the bathroom areas, which are otherwise quite monotonous.
Take inspiration from these incredible bathroom remodeling ideas, and start planning now!