A smart home is the sign of a person with taste. Let your home shout out your love for classy fashion accessories like stoles, scarves, shoes and bags – display and store them in style. Not just the style quotient, these decor ideas to apply in your home are practical enough for using on a daily basis. Why not make your day in and day out fashion wear all the more well-organized and fun to use? Look at these inspirations for a lovely closet idea:
1: Hats and scarves –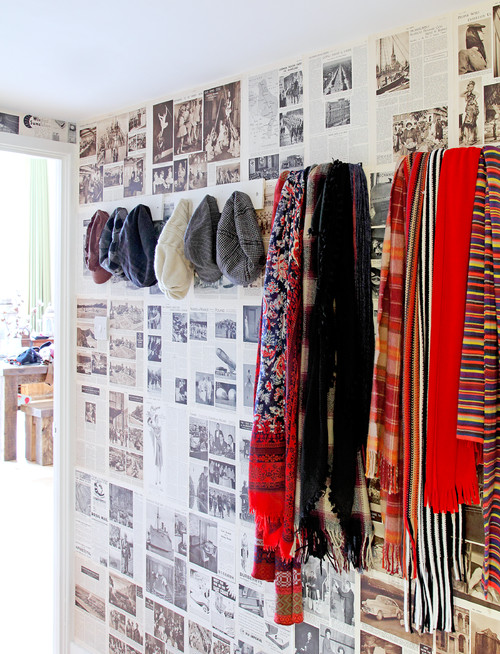 [Image – Avocado Sweets Interior Design Studio]
Use pegs in a row against a bright and graphic wall to hang up the variety of hats, scarves and stoles you may have for easy access, as well as, a decorative display for the wall. Just pull off and you are ready to go! This arrangement also makes for a lovely hallway display.
2: Bags on pegs –
[Image – apartmentjeanie]
Pegs work superb for bags, as well. Instead of cramming those inside the wardrobe and struggling to find the right one when needed, choose a small wall and get nice pegs fitted for displaying bags, as well as, using them in rotation. You can have a patterned wall behind the bags for a designer look.
3: Heads over heels –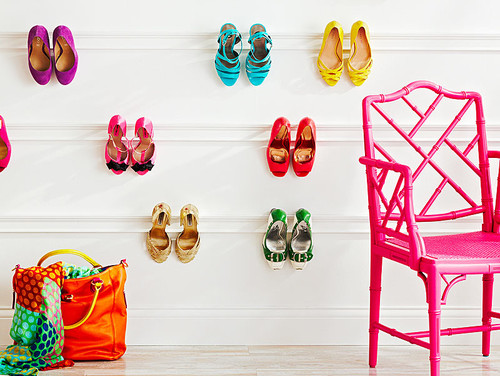 [Image – Lowe's Home Improvement]
For an eccentric, but attractive display of heels on the wall, get some crown moulding in parallel lines on the wall of choice, one below the other and set your loved heels on the moulding. The wall should ideally be in nude or plain colour for enhancing the shoe colours.
4: Flat fun –
[Image – Mark Hickman Homes]
For your flats, flip flops and low sandals, have these intelligent shelves in the room or outside of the closet and store them easy. The sloping shelves allow for clear display of the shoes, as well as, airing them is not another effort. Store them easy and fun!
5: Decorated closet shelves –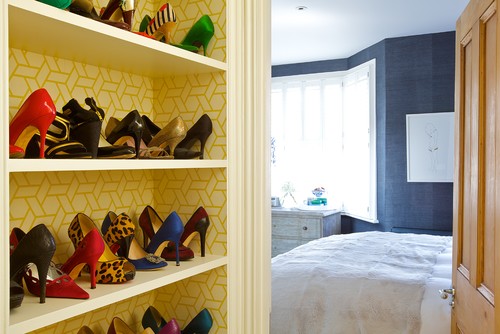 [Image – Turner Pocock]
For the total shoe lover, the shoe display needs to be as attractive as anything else. Decorate the shelf with attractive wallpaper and nicely display the shoes, heels and sandals. This arrangement also works well if you need space for your jewellery trays and boxes of hair accessories.
6: The haute sophistication –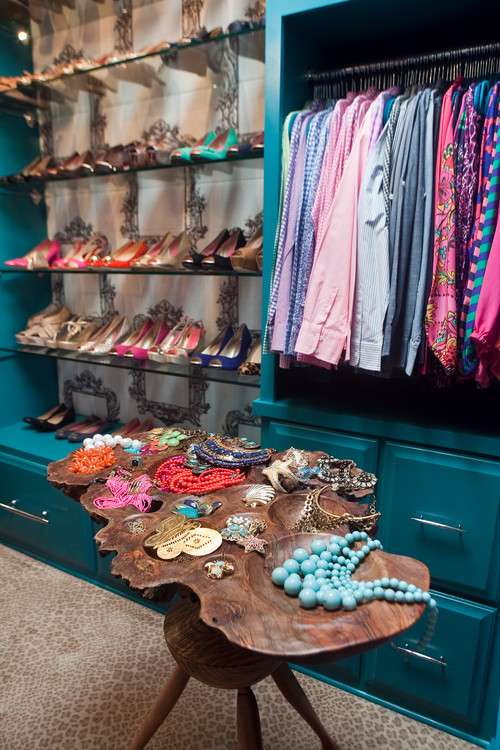 [Image – Nicole Norris Design Studio, Inc.]
Why not go for a plush space instead of the regular closet for your clothes, shoes and jewellery? Hang up the clothes in an open rail, set glass shelves for the shoes and get a creative wooden tray with dips for the jewellery. You can also get legs for this tray and make it into a table for more fun!
7: Special jewellery display trays –
[Image – apartmentjeanie]
The markets are full of items to satisfy your craving for a nice, organized and fashionable display of your dear jewellery accessories like bangles, bracelets and pendants. Get one matching the interior décor of your room and display the items creatively on it. But do not forget to keep rearranging and cleaning the tray as such items accumulate dust quickly and can get damaged easily.
8: The accessories frame –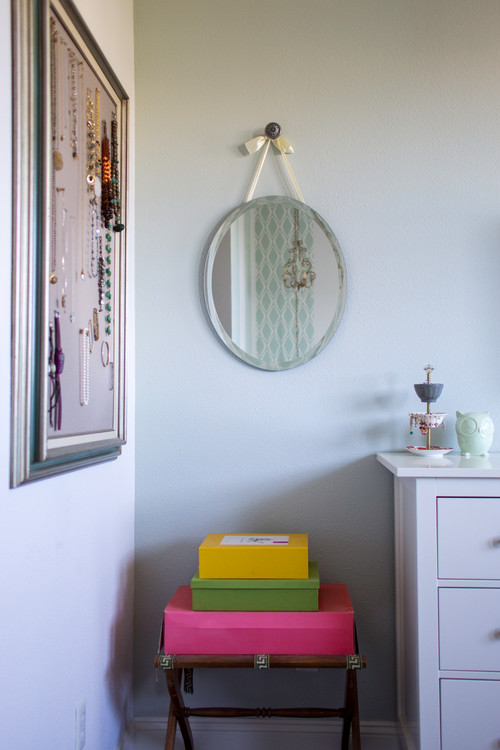 [Image – Hoi Ning Wong]
Get a soft-board framed to match the room's décor and fitted with a fabric of choice for convenient and lovely storage cum display of your favourite jewellery. Use pearl headed pins, board pins and other decorative pins to attach them on the soft board. Enjoy an innovative space, where you can also put them in a pattern. No risk of losing them too!
9: The rustic simplicity –
[Image – NURIT GEFFEN-BATIM STUDIO]
Get a nice ladder and prop it against the wall or make one from bamboo and light wood by tying rungs using a durable, but natural rope for an individualistic look. Your favourite clothes can go up on there or the next day's attire can be taken out and kept ready. This is a simple and charming way of displaying the cloth items.
10: The princess' clove –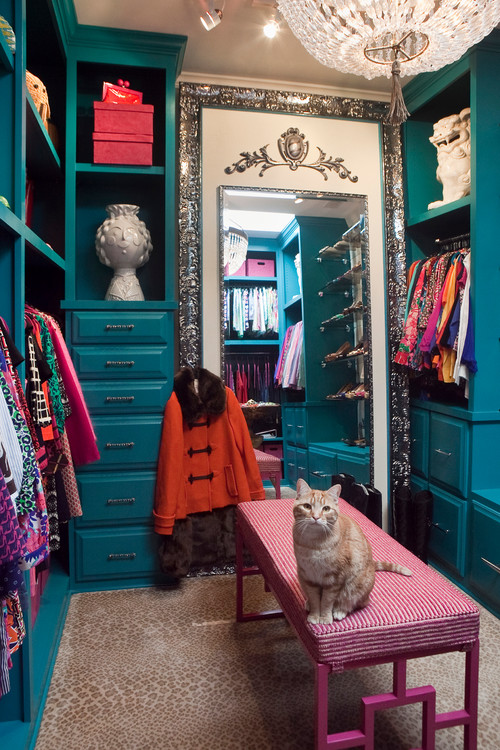 [Image – Nicole Norris Design Studio, Inc.]
Give your closet a nice up-do; paint it in a rich shade, add a seating and most importantly, add a full length mirror and lighting feature for extra glitter. Your closet space will look richer, bigger and you could spend so much more time in there without any hassle!
11: The budget friendly charm –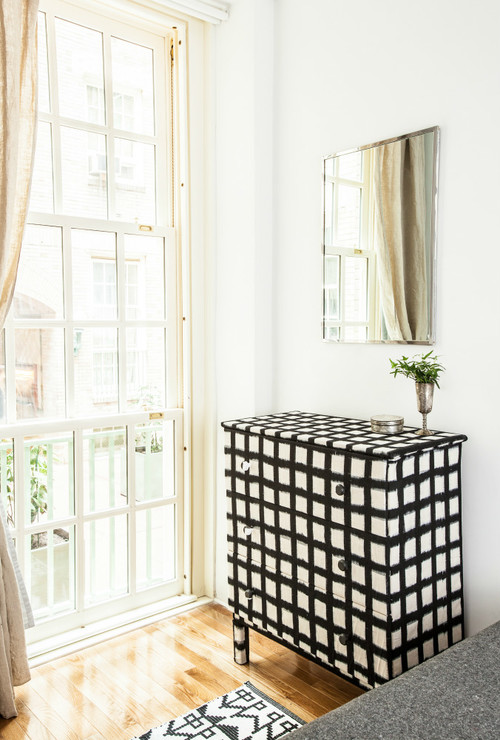 [Image – The New Design Project]
Get something as low cost and basic as a shelf or chest of drawers and modify it into the ultimate fashion friendly chest by covering it up in a trendy fabric matching or contrasting the room's style. Stow away all your fashion knickknacks into it and pull out a drawer whenever you need something. Organized, cheap and very trendy decor idea!
The fashion accessories need as much attention as you, so give them the space they deserve and make their storage area a fun place for you and them, as well!