You may have kept your fine vintage China collection and must have been preserving it for years if you inherited it from your grandmother. However, some people are also collectors and keep increasing their collection of second-hand china until it becomes completely uncontrollable. You may not be aware, but China can be used more creatively than bringing it out only when it is teatime.
China cups and plates have fine craftsmanship written all over it. Their vintage style patterns and eclectic mix of colors make them such a valuable possession. While it is fun to collect all these pieces, the problem is how much can you use in a lifetime? It can make your home look seriously cluttered if you do not do something with all this China you have been hoarding for years.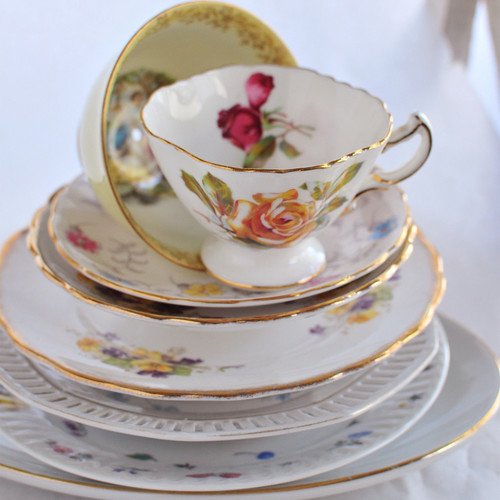 [Image: Go Make Me]
Although, has it ever occurred to you that every design is special in its own way and can be used for a far greater purpose than just serving tea? You can group them as vignettes or also use them as an elegant solution for storage. Here are some great décor ideas to incorporate your china collection into something more quirky and worthwhile.
Use them as Candle Holders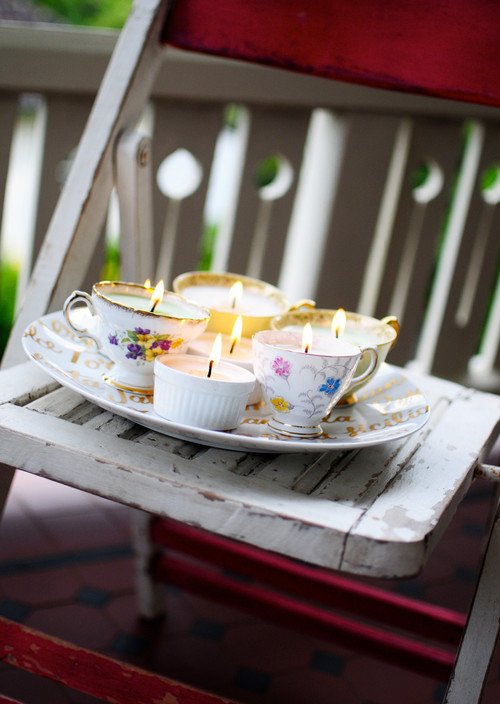 [Image: Go Make Me]
If you have nothing better to do on a weekend, the project DIY will keep you suitably busy. Use mismatched teacups and make them into pretty candles. You can also just drop a tea light into the cup if you do not want to create candles from the scratch. They will be your instant votive candle collection.
Use them to store jewelry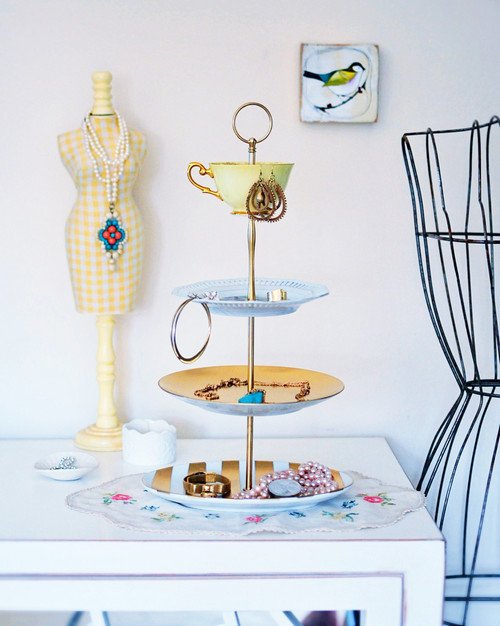 [Image: Go Make Me]
You can use these cups and plates to store your jewelry or also for its display. This cake stand has been converted into a jewelry tower, which is not only beautiful but also a practical design. Multiple levels make the sorting of the pieces easy and also accessible. No more frantically looking for those earrings through the drawers when you need it the most.
Make it into a planter 
[Image: Go Make Me]
You can use these teacups to plant small herbs and colorful plants for a creative display. You can also make them into a kitchen sill garden at your window or also group these pieces together for a better looking display.
Utilize Shadow Boxes for Display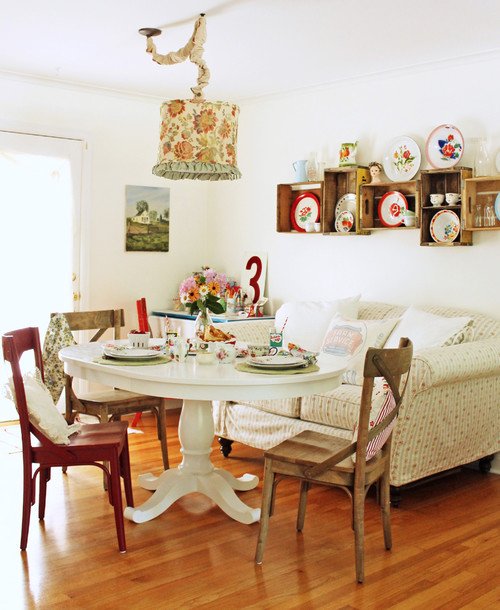 [Image: Cottage Industry]
Do you have old wooden crates that are lying around the house? You can use them to make shelving and prop them onto the wall. The repurposed wooden crates can be dressed using delicate china, which makes a great display in cottage theme.
Make a China Flower
[Image: Julie Ranee Photography]
You can also transform China into beautiful garden flowers at virtually no additional cost! Use the one you have at your house or pick some eclectic pieces on garage sale to create your own garden of China flowers.
Create a Mosaic Display
[Image: Tracey Stephens Interior Design Inc]
Don't worry if you broke an expensive plate. You can use its shards to create a beautiful backdrop in mosaic style. This backsplash created using broken China can be a great focal point in your kitchen. You can also see a teacup pencil holder in this image, which is a gorgeous and innovative use of a broken cup.
Bring your Courtyard to Life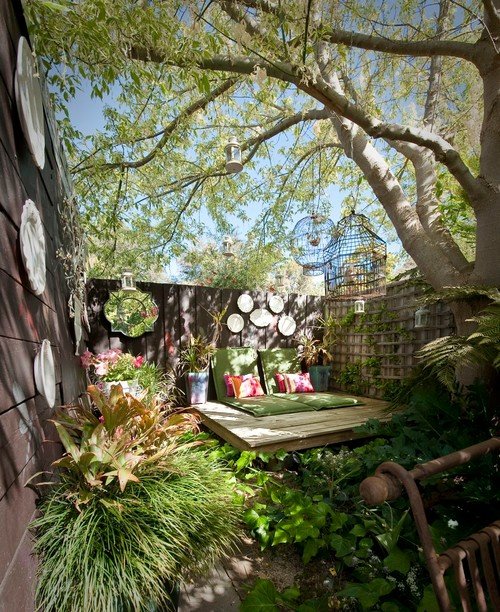 [Image: Compagnie D]
Don't restrict your beautiful China for indoor use only. It may not be such a good idea to display you family heirloom china outside, but it can certainly be a good choice for pieces you picked up in a garage sale. Adding art to your garden wall will create an interesting feature to your backyard.
Accent Wall of China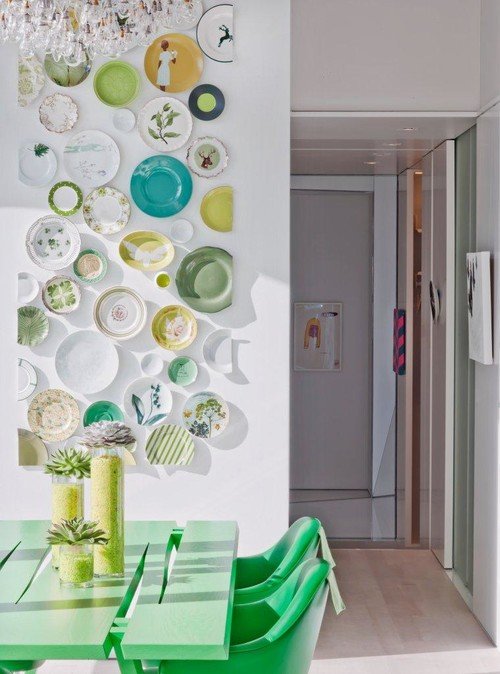 [Image: Ghislaine Vinas Interior Design]
Use all the old and new pieces of China and make them into a wall feature. The trick, however, is to stick to the color palette for a tied look. The assorted plates in green and yellow in different shapes and sizes make a fun display.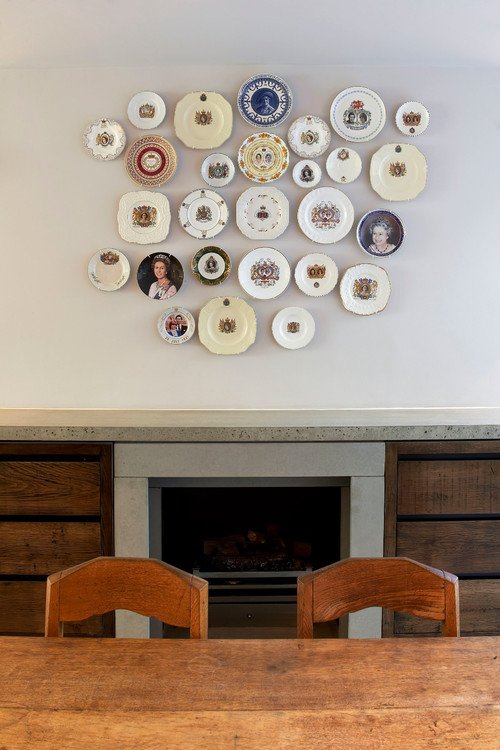 [Image: Found Associates]
If you are an ardent collector, now is the time to display your most favorite wares in a brilliant and yet effective way. In this image, the collection has been propped onto a wall which creates a unique feature without demanding too much.
[Image: Sarah Bates]
You can also group all the salvaged pieces and group them together for an eclectic look. In this image, farmhouse look has been achieved using vintage suitcases for storage and dining plates on the wall as a feature.
[Image: cottage and vine]
You can also keep it simple by grouping white plates and dishes in various shapes and sizes. White China plates have a quality of being timeless and can be purchased easily at a charity shop. It has a much greater impact when the wall is colored.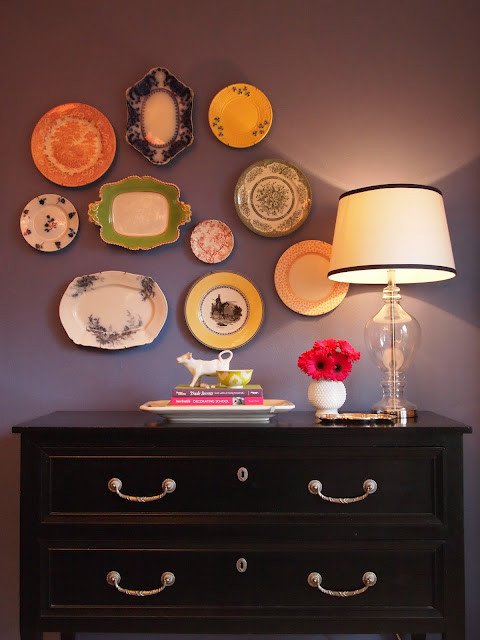 [Image: Little Black Door]
You can also take colorful and patterned plates and then group them together for a cheerful accent with a pop of color. You can enhance this feature by adding a lamp for a more dramatic look. If you really want to highlight your China, you can also add a spotlight.
China does not have to be used only for the conventional purpose of serving tea. You can use in far more ways if you employ your creative bend of mind in the right direction. Use these creative interior decoration ideas to get a fair idea on how to get started with your next DIY project. Feel free to use your imagination too!