When you want to pick a table lamp, for some reason it becomes harder than you thought. You cannot let your bedroom lighting ideas take a backseat. Table lamps are a crucial accessory for lighting your rooms and must be treated with much more respect than just an afterthought. If you think your table vignette lacks a lamp, then what you need is a glass lamp base that not only looks sleek and elegant but also requires much less attention. They also work wonders in providing functional lighting without compromising the visual aesthetics.
Highlight the Artwork
[garrisonhullinger.com]
If you don't want your side lamps to steal all the limelight and distract attention from the artwork hanging above your bed, then you definitely need glass design. They give you necessary reading light without taking away all the glory. Even though the art remains a focal point, you would still be able to read comfortably.
Artwork Above Side Tables
[Toby Zack Designs]
You can apply the same principle above bedside tables too. Even though the shade may act a little disruptive, the glass base will keep directing your vision back to the art instead of focusing on the lamp base.
Functional Lighting Highlighting Artwork
[Joel Kelly Design]
In this image also, you can see how the glass lamps are helpful in providing functional lighting while giving the artwork its due. The beauty of glass lamp base lies in the very fact that it does not demand attention for itself. In fact, it enhances the pieces that it is paired with, not to mention the soft glow that emanates from the lamps can also sometimes double up as mood lighting.
Neutral Palette Rooms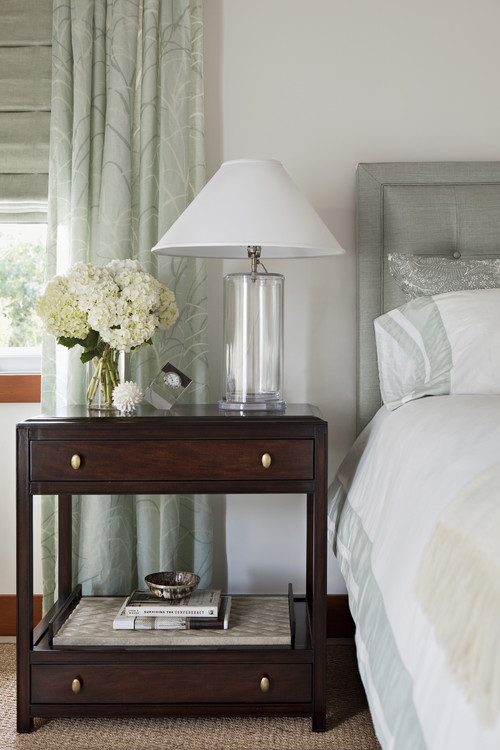 [Annette English]
Is your room designed in neutral shades? Then you don't need any hard colors to rob your room of its peace. What you need is a softness of transparent glass, its subtle grays, whites, and taupe in your room. In itself, they demand very little attention but can still dress up the spot in so many ways.
Striped Dresser
[garrisonhullinger.com]
While the dresser in itself is quite attractive, it is made appropriately functional with a small glass lamp without losing its individual essence.
Redirect the focus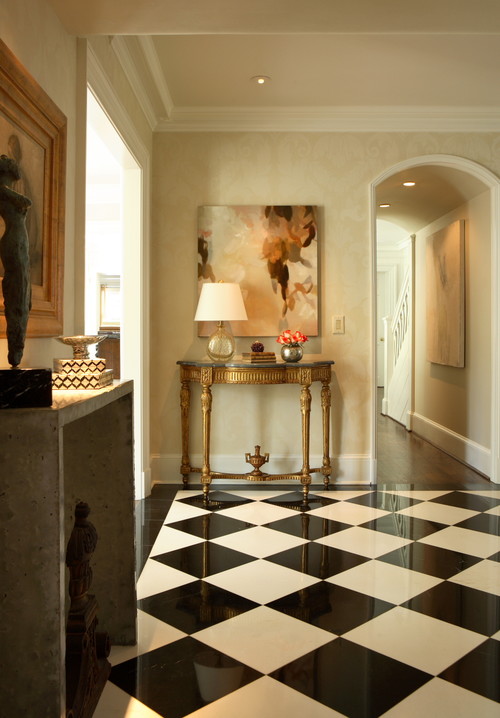 [Dillard Pierce Design Associates]
Is your table styled heavily? Then the last thing you want is an opulent lamp to take the eye away from the table. Use a glass lamp to light the area and still keep the table as the main point of focus, as you intended it to be. A delicate lamp will also restore the balance between the two.
Let the Light Guide You In
[Rachel Reider Interiors]
If you want more light in your bedroom, don't just depend on a table lamp. Sometimes bulky lamp shades can block the flow of light in the room. Using a glass lamp will allow the uninhibited flow of light shine through.
Work Up the Table Top Elements
[centsationalgirl.com]
A lamp design made in glass can also contribute to the enhancement of tabletop elements. If you are using a glass tabletop, a glass based lamp will create semblance between the two pieces and tie them together in a single design.
Keep Small Surface Clutter Free
[rachelreider.com]
If you have a small surface to work with, don't overload it with a heavy duty lamp base. Instead, go for glass lamps in a narrow design. Its clear presence takes the visual bulk out of sight, and narrow design allows the more things to be put on its surface.
If you're working with a small surface, don't visually overload it; consider a glass lamp in a narrow design. The clear presence removes visual bulk while the narrow design leaves room for a clock and/or a book.
Accessorize with Glass Lamps
[Heather Garrett Interior design]
When we are talking about vignettes, nothing makes better accessories than glass lamps. In addition to the artful arrangement, they can really complement the small collectibles with its soft light without asking for too much attention.
Beach House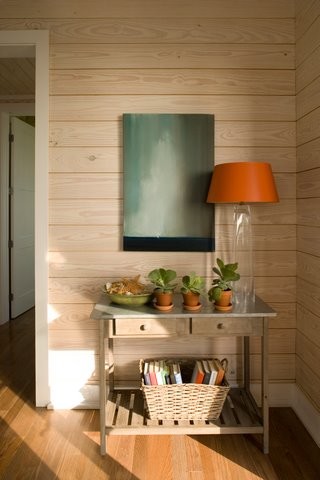 [Tracery Interiors]
If you think that your vignette is lacking something, you can add a pop of color to the lamp. The orange shade on this lamp offers a dash of bright color that complements plants and artwork on the table. However, its slender and clear design also unites the vignette as a whole.
Standing Glass Lamp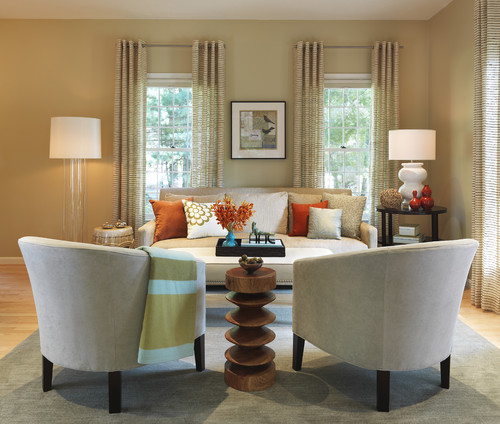 [rachelreider.com]
Sometimes our furnishing does not support the use of a typical lamp. In this case, you can light your room's setting with a chic, yet subtle standing lamp. This dynamic piece gives a coordinated look and keeps the attention on the room rather than taking it away.
A Full Room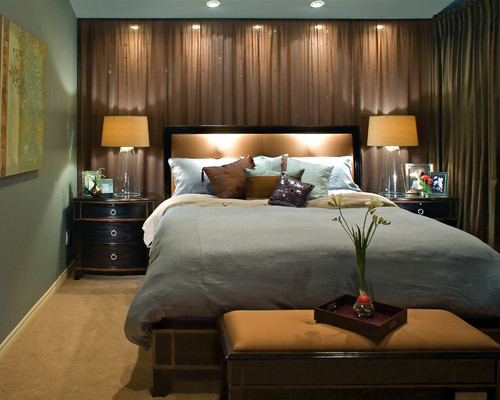 [Robeson Design]
Don't think that glass lamps can only function best in an open room. You can also pair one in a room that is full of color and texture. All you need is a simple lamp with a classic shade to complete the look instead of going overboard with a bulky lampshade.
Room with a Chandelier
[Chris Kauffman]
In a room, certain fixtures, such as chandeliers require all the attention. However, you may still have a corner in your room that requires light. In this case, a glass lamp will give ample lighting source without distracting you from the main fixture overhead.
Check out some of the shapes of glass lamps to enhance your décor!
Harriet Glass Table Lamp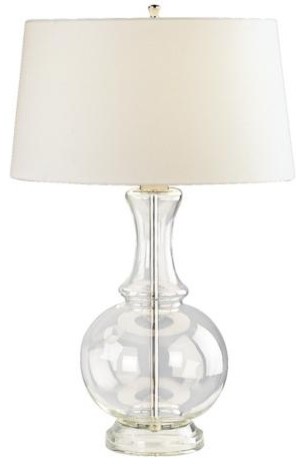 [Lamps Plus]
Mix and match this lamp made of conventional base coupled with modern shade.
Square Glass Lamps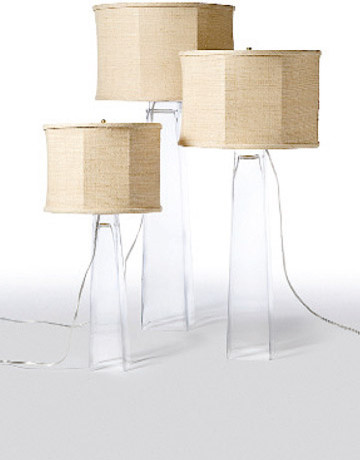 [Greige]
Use these to dress up small surface areas in a room.
Glass Lamp with Unique shape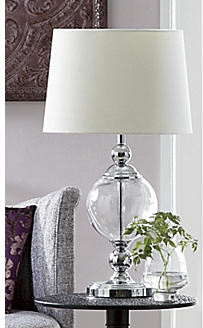 [Seventh Avenue]
These subtle lamps are great to add an extra layer of style and functionality.
Textured Lamps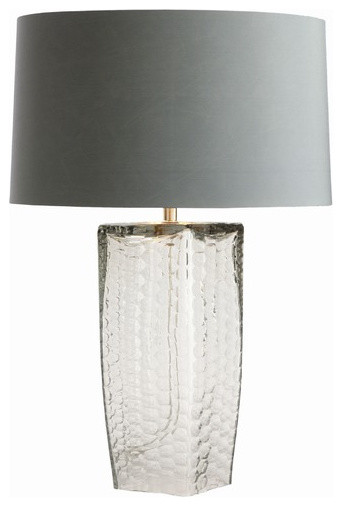 [stores.advancedinteriordesigns.com]
Don't be afraid to experiment with something textured. If you want to step away from smooth looking glass, you can choose a design such as this one to complete your room's décor.
Glass lamps are very décor friendly and when used the right way, they can also be highly functional too. These lighting ideas and tips will help you plant your next glass lamp the right way.