People buy eclectic things as a memory of their travel or just to bring home something unique without truly knowing where you will put them. Now you hold these things dear, all the vintage frames, bottles and other artwork from around the world without knowing what to do with it, but you also don't want to throw them away.
You may not exactly be running into these things all the time or they may not be falling over one another to make room for themselves. However, if they do take your precious space and it leaves you in doubt if you really need them at all is when these tricks will come in handy.
Designate a wall for storage  
[Image: David Jensen Photography]
This one is a bit tricky to pull off as it requires planning and a tad more investment but is one of the best storage ideas. Although, the wall once built is something you can have forever. You can make an interesting jigsaw pattern for a visual interest and these cubby holds can store your books, ceramics, photos and other collection as well.
For this wall to make design sense, you will need a professional to get the best configuration. You can color it all white so that your things can throw in their own colors for a bound look.
Under the bed area
[Image: Chris Snook]
We all know where to stash all our old newspapers, books, CDS and the likes, under the bed! If this is where you store all your useless stuff then perhaps it is time you invested in some storage boxes. You can consider slim pull out drawers so that you can put all the things in one place rather than watch them spill on the floor every time you need something from under your bed.
You can buy the transparent acrylic ones for storage as they are cheap and also allow visibility or go for custom made wooden boxes to match your bed.
Basket, Boxes and Bins
[Image: Clare Gaskin]
Investing in sturdy fabric bins and baskets can be the best thing you can do to all your stuff. They make perfect sense in the bathroom where you need a lot of storage to stash clean laundry, washcloths, hand towels, etc.
You can pick from wicker variety and also rattan for their durability. Make them look pretty by adding soft white lining of cotton fabric. They are easy to maintain as they can be washed and kept in perfect order. You can place all the loose items in your house in these baskets and give yourself an organized treat! Find matching slim trays made of wicker or deep storage bins as per your requirement.
Get a Chest for holding Linen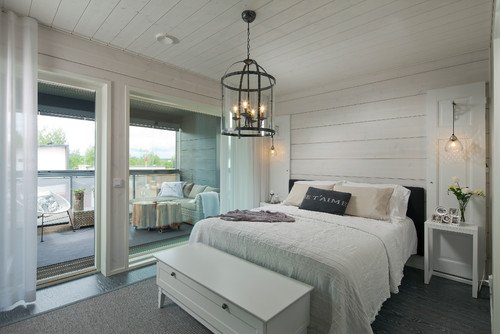 [Image: Honka UK Limited]
People who like to collect things, linen closet works like a charm. This box can be filled with all your vintage collection of embroidered pillow cases and duvet covers. You can place this box in your bedroom or even your bathroom which can be used to pile colorful linen for greater impact and works as one of the wondrous storage ideas for bedroom.
Stack your shoes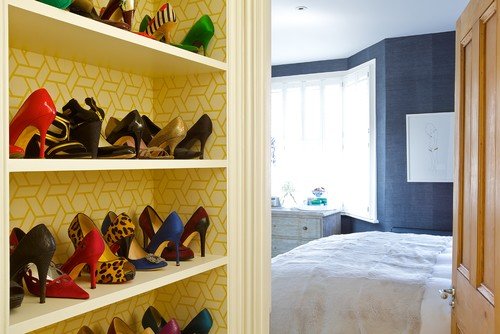 [Image: Turner Pocock]
We all have at least a dozen pair of shoes, slippers, and the likes that find room within your room. Instead of allowing them be littered everywhere, you can stack some floating shelves in one part of the house that you don't use all that much.
It is always a dream come true for any woman to have a custom closet made for shoes, but this alternative is far more pocket-friendly than the former. Not to mention that the colorful shoes will add a level of interest in that boring nook.
To add another striking feature, you can also add some decorative paper on the walls to give a beautiful backdrop for your shoes.
Create a board to pin your memories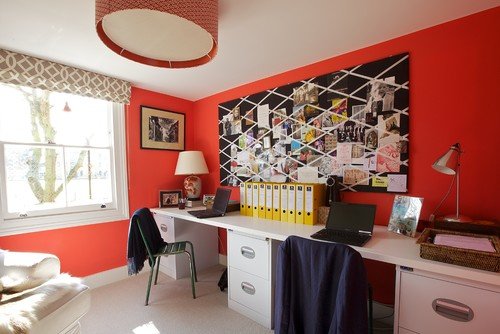 [Image: Turner Pocock]
It is so much fun to collect old ticket stubs and photographs as they bring back so many memories from the past. The problem, however, is always with their storage.
Use a large pin board and use it to stick all these memories together. They are very easy to make and once you have the board that you need, it is only a matter of time when you will be able to document your special moments creatively. All you need is fabric that you will stick across the board using a staple gun. With the help of ribbons, you can create the slots to pin all these photos and other memorabilia on the board.
Flaunt your collection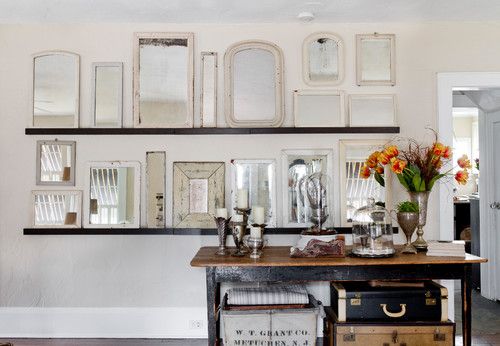 [Image: Rikki Snyder]
If some pieces that you acquired are display-worthy then that is what you should do. In this image, an eclectic mix of white mirror frames in various shapes and sizes has been used to create an amazing wall art. Placed on two slim shelves, they make a wonderful display with one another.
You can do the same with your old suitcases that can be stacked on top of one another for an eccentric display. These boxes can also be used to hold other items that you don't use all that much.
Allow your collection a fresh perspective. Shift their location from one room to another and keep adding new finds to your repository. However, before you buy, make sure you have a spot for it in your mind. The things that you grow tired of, just donate them to charity
Under stair space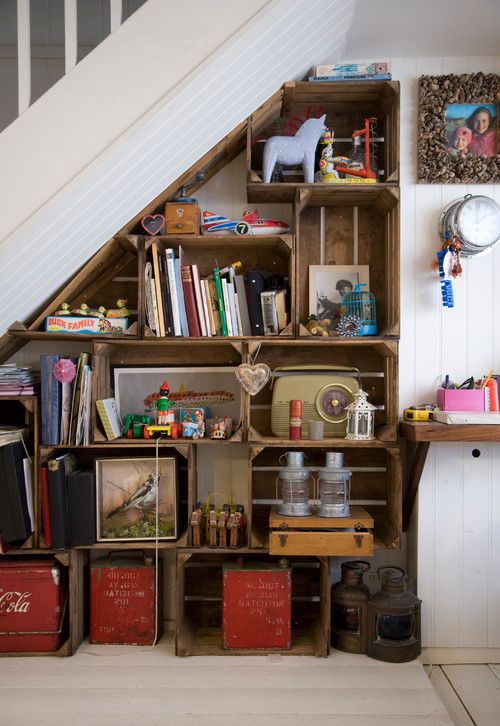 [Image: Juliette Byrne]
If you are lucky to have some spare space under the staircase but can't afford to make a customized storage space, then these ideas will come in handy. Use old crates or boxes and turn them on their sides for an interesting storage space. Together they will make an eclectic display of your things and also bring a wasted space to use.
If this look is too unpolished for your comfort, then you can also add some paint to suit your taste or line them with wallpapers.
Sometimes some things have to go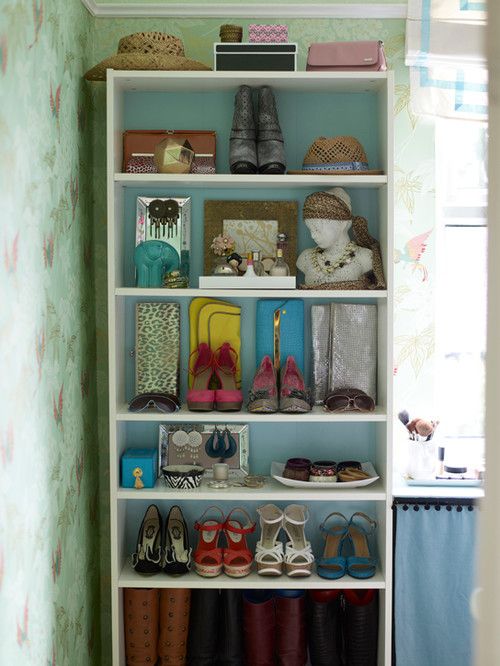 [Image: Joanna Thornhill Interiors]
There are some things that we hold on to far too long even when they have no purpose anymore. The sentiments are all fun and games till you have a huge with space constraints. However, you need to take out all the stuff like shoes, scarves, belts, bags, etc. that have not seen a light of day for ages. You can donate these pieces to a charity or can even sell some of these pieces online.
When your collection becomes manageable, you can create a much interesting display of your prized possessions. Use a shelving unit to stack them and also display them. You can also paint the shelves for more color but preferably let your things make a statement.
These storage ideas may appear run of the mill, but they certainly have their own appeal and the way they suddenly make so much space available is so charming. Use these ideas to creatively use all your items and also store them in a much-organized way.