Keeping the designs of forests house unique and simple, this unique Tower House blends with the environment that surrounds it. Conceived and designed by Gluck+, this house is located in the beautiful and stunning Upstate New York. What is unique to the house is amazing use of glass panels on the exteriors that seem to be reflecting the trees and vegetation around, making the house look extremely natural. The entire house has a large number of windows on all sides, ensuring there is enough natural in every room.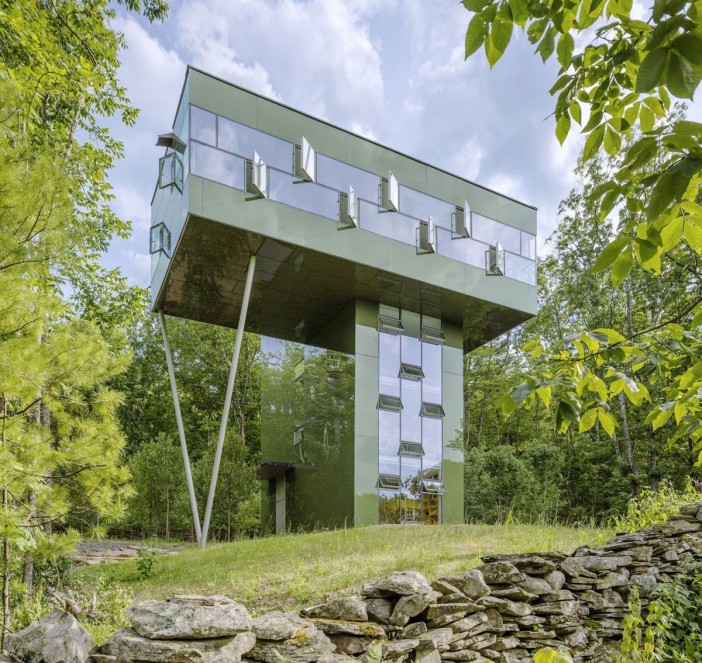 While some portions of the exteriors are designed in reflective glasses, the other parts are in clear class, adding extremely value to the interiors and exteriors alike. From the rooms, one can check the panoramic views of the mountains around without even opening the windows, while from the exteriors, the beautiful yellow staircase looks a complete stunner. In fact, the attractive staircase is quite bright enough to be seen from far off and makes the simple exteriors look far more fascinating.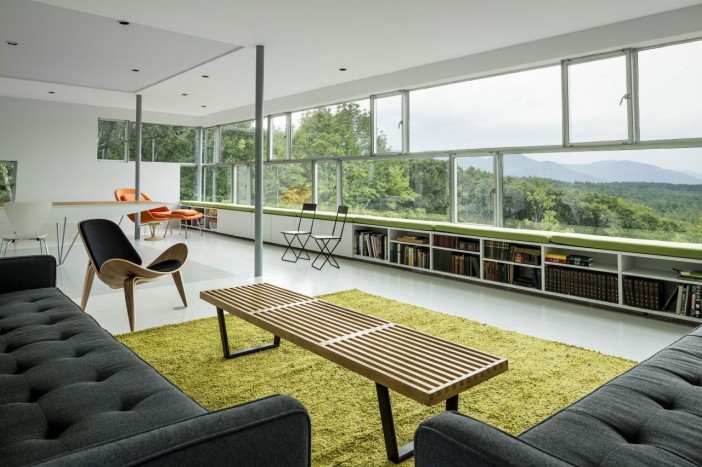 In the interiors, the views are picture perfect with the glass walls, and so are the small elements that make living more functional. Simple furniture in the modern style with modest geometrical lines has been used for the dining and living area, while kitchen has decent number of cabinets completed in a light finish of wood. The lighting is mostly in the ceiling and complements well with the white walls. The flooring of the house is mostly in white marble with rugs and carpets used wherever needed. Perfectly in tone with the natural settings, this is a home that looks amazing with exteriors and interiors designed with utter sincerity.
Photos by: Paul Warchol & courtesy of Gluck+