Located in the district of Nagano in Kitasaku in Japan, this home is a master work of ARTechnic Architects and has been named as the Shell Villa. The design is unique for architecture and sophistication and the area of the house spreads to 3,500 sq ft. The house looks more like spaceship in the jungle, thanks to the use of curved concrete structures. While being shielded from the nature, the house is essentially a part of the surroundings and offers the owners a sense of privacy. The design studio has worked hard on the structure, so that the high humidity level of the climate can be dealt with.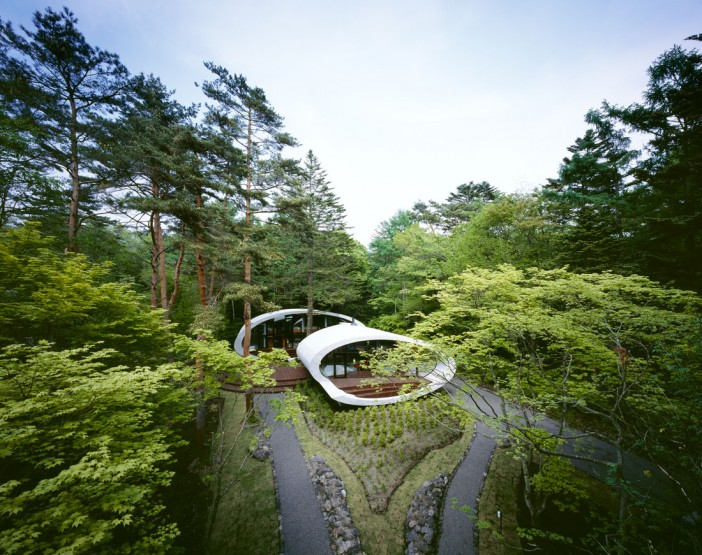 The interiors of the house have been designed with the needs of good air in mind and an in-floor heating system has been used. The entire system works when the temperature is below the regular levels and the home needs anti-freezing. In spite of the odd shape, the interiors of the house are neatly designed with rooms created with concrete walls. Keeping the woods around in consideration, most of the floors and sections of walls have been designed in timber in natural shades.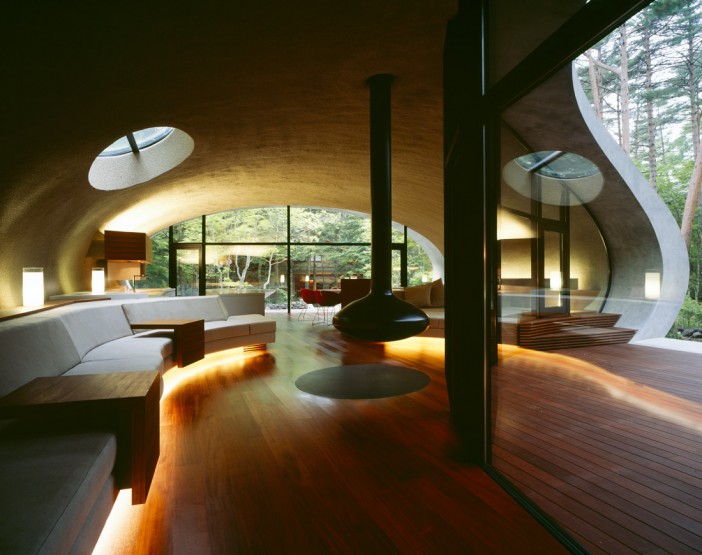 Many parts of the house has customized cabinets that match the other wooden work, while there is an extensive use of readymade furniture with color accents for style and design needs. Although there are plenty of windows and ventilation that offers natural lighting, the need for additional lighting is essential for the location concerned. From lighting in the consoles to ceiling and wall mounted lamps, the perfect choices make the home glow by night. Classic home in the woods, this is more of a cocoon and shelter with a unique design.
Photos by: Nacasa & Partners Inc