With holidays just round the corner, it is customary for the people to go over one another's home for a sleepover. This can be a reason for a lot of stress for the homeowners, especially if they have a space crunch. However, these novel interior ideas will help you in getting started and making your home welcoming for the upcoming holiday season. Just explore the options from air mattresses to daybeds, trundles to bunks and see what options are best for your home.
Sleeper sofa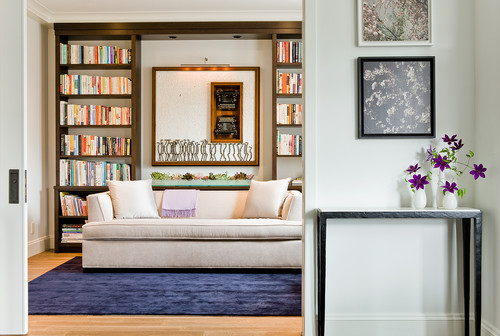 [Image: David Sharff Architect, P.C.]
A simple market research will bring you across some interesting options in sleeper sofas that can be ideal for your home. They can fit right into the décor without demanding too much space and can easily accommodate one guest who is staying over for a night cap. If you have a den or family room, you can place one in either area instead of a sleeping room to give them more privacy.
[Image: Tobi Fairley Interior Design]
If you do not have a separate den or a family room, then you can also place sofa bed in the living area. However, be sure to install a screen, especially if you do not have a door to offer the privacy. It can be a good option to offer them the solitude by giving them a screen door that shuts. By the evening, you can set up a bed for your guests and position the folding screen in the sleeping area so that they are not disturbed because of your movements in the morning.
Equip master bedroom with slim sleeper sofa
[Image: MuseInteriors]
If you have a lot of space in the master bedroom, then you can easily accommodate a sleeper sofa that is small in size. This can be a good addition instead of a chaise lounge or a chair in the bedroom and make up for a sleeping surface for the guests. If your visitors are small families accompanied with a child, then offer them the master bedroom and accommodate in the guest bed for the night.
Makeshift guest room behind barn doors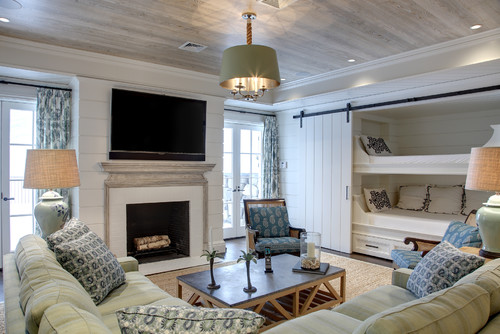 [Image: Douglas VanderHorn Architects]
This is a very smart option for a house with less space but spacious living rooms. You can hide a set of bunk beds behind the barn doors to offer a private sleeping room to the guests without compromising their privacy. These beds are cleverly tucked behind the barn doors that can remain closed during the day.
Sectional sofa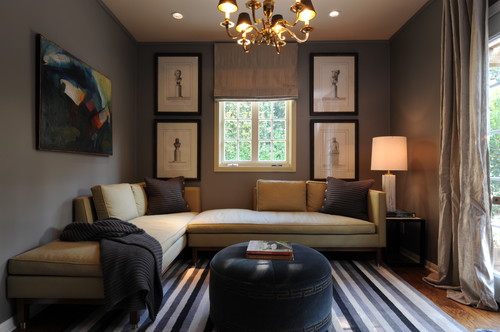 [Image: Kenneth Brown Design]
Don't make your family members sleep on a small couch as they can be very uncomfortable. Instead, you can use huge sectional sofa with chaise parts that allow for a comfortable place to sleep for the guests. It can accommodate two people or even kids easily.
Air Mattress
If you want them to have complete comfort for the night, install air mattresses in den or family room at night, which will be the best option. This will not only make sure that your guests sleep well at night but will also give them the privacy. You can set the bed upon their arrival so that they can relax and be ready for the next day after a long day of the journey.
Bunks behind curtains
[Image: Diane Bergeron Interiors]
Bunk beds are the best option for homes with less space and families that receive a lot of guests. They can easily accommodate 3-4 people, depending upon the bedding and take up very small space. Just add a set of curtains to give them the privacy. If you want more overnighters to comfortably bunk in your house, then you can also add trundles underneath the beds.
Queen sized bunk beds
[Image: Vinci| Hamp Architects]
Queen sized beds are perfect for the adult couples to sleep together in a comfortable bedding. They are also equally appealing to the children that wouldn't really mind bunking in queen sized quarters.
[Image: Erica Islas/ EMI Interior Design, Inc.]
One of the amazing kids bedroom ideas is to experiment with queen size bunk beds. Install full sized beds on the bottom bunk and small twin beds on the upper bunk. While the space taken for this design is almost the same, it just appears more spacious and can be easily added in your children's room to make up as a makeshift guest bedroom.
Change your closet into a bunk room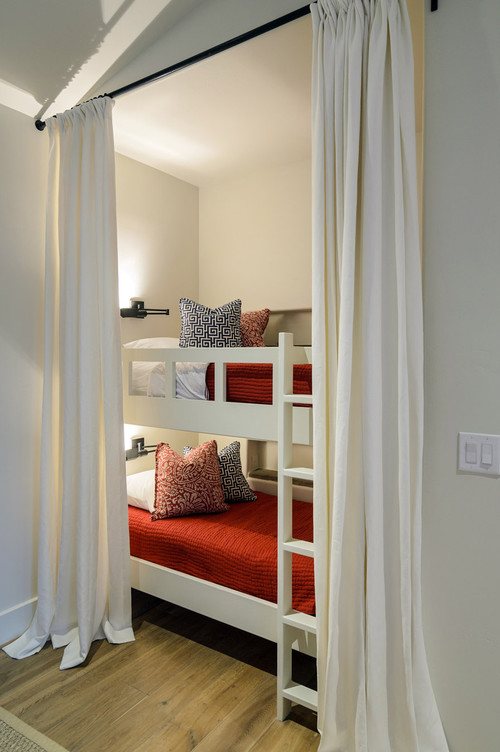 [Image: Design Visions of Austin]
If you have a closet room in your house that is sitting empty, then you can add a bunk room with curtains to make a small sleeping area for the visiting guests. You can also add a curtain to create private enclosure for solitude. Check the size of your closet and have a carpenter install the bed as per the dimensions of the closet. You can also add a wall sconce to provide reading light and create an ambience.
Murphy beds for home office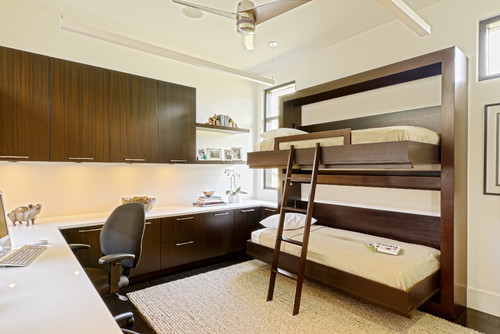 [Image: Caden Design Group]
The vertical Murphy beds are a common design. However, the horizontal ones can be used to make two levels of bed that can be closed shut when not in use. It can be a very smart idea to save space and be used in the home office for the guests to sleep in when they are visiting your home.
[Image: Kelly & Co.]
If you have a narrow barn loft, you can also add triple Murphy beds at a single level that can accommodate three guests for the night.
Add a trundle to Day bed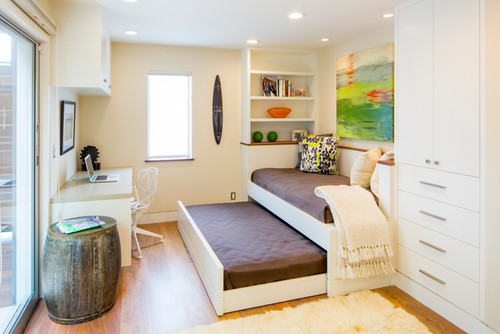 [Image: Tamalpais Construction Company]
The day bed looks like a sofa during the day and can open up in the night to make it look like a bed by the night. Depending upon the number of guests you want to sleep in that room, you can get a trundle bed that pops up to the level of the day bed and make a double bed. However, you can also leave it at the bottom and give to separate sleeping surfaces to the guests.
Bed on the Loft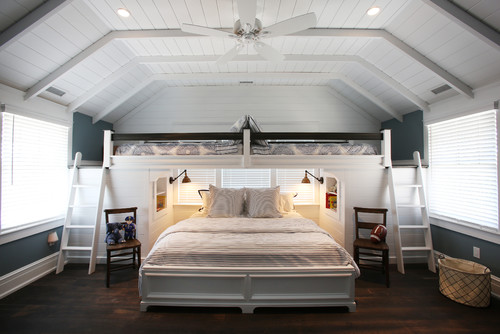 [Image: Beach Dwellings]
One of the excellent guest bedroom ideas is if the room has a high ceiling, then you can add a partition between the bed and the ceiling to make an extra sleeping surface. You can leave it open or add a wall to partially close it for more privacy.
These bed options use the least space and offer maximum comfort to your guests. You can install the ones that suit the design of your home perfectly and match the needs of your regular guests.