Located in New York City, this stunning townhouse is one of the most inventive architecture designs that one can come across. The house spreads over five-floors and has conceived and designed by renowned NYC architectural firm named as GLUCK+ in 2009. Unlike most of the row houses in the city, this one is more about private spaces without compromising with the needs of the light.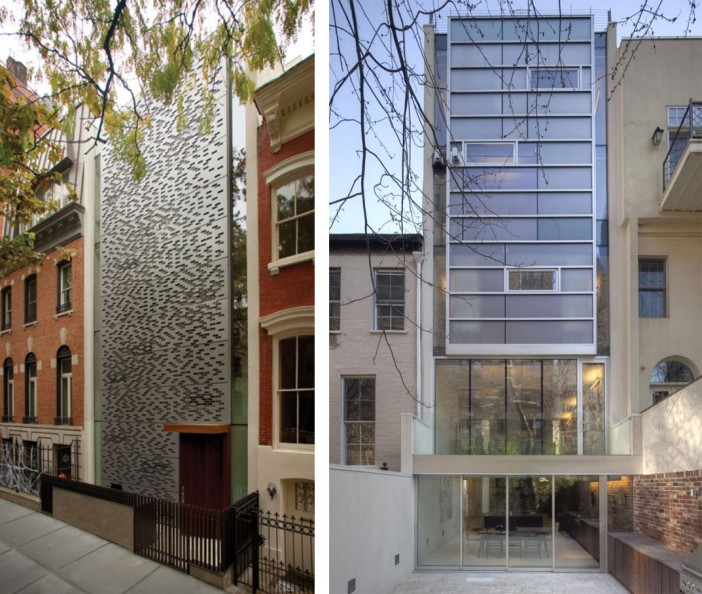 The exteriors feature aluminum rain screen that has distinctive and smartly designed water-cut brick-shaped openings for letting the people on the road know the beauty of the house. On the rear side of the house, the design is full of glass with unique large full length curtains used to bring in the natural light. Inside the house, the entire theme is balanced with wood and glossy marble used in a perfect blend. There are portions of the wall designed in the stone and brick style, while rest walls are designed in white.
The faultlessly designed wooden staircase leads to the upper areas of the house and has hanging style lights for a unique feel. For making most of the space, an open book shelf has been added close the staircase. The furniture choices are selected keeping the modern living in mind in simple designs and shapes. Some portions of the house has marble flooring, while satisfying the cozy needs of the bedroom, wood has been used. Using some amazing hanging and pendant lights in cluster, this townhouse becomes the flawless point of design and style by the night. Modest and functional, this is a unique modern home where style and sophistication comes in the smallest of sizes, making it worth a check!
Photos by: Erik Freeland