We all have old and probably inherited stuff like old chests, full of redundant objects and things we do not use anymore. Why not make use of those seemingly useless chests that can be transformed into beautiful bedside tables and enhance the look of the bedroom in addition to being very useful and practical! Following are some bedroom décor ideas and inspirations: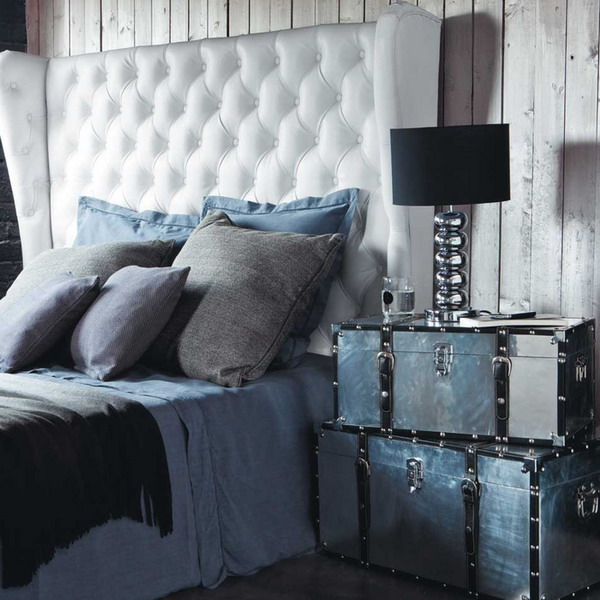 Asymmetric stacks: Make it look casual and strewn; unplanned, little messy – such haute and chic look! Paint the chests in a similar tone as the room is, or if not very sure of the shade, go for neutral off white, white or light camel. Stack two or three carelessly over each other, at slightly different angles, complete with a wooden bedside lamp and some books and voila! The perfect vintage look is here for you!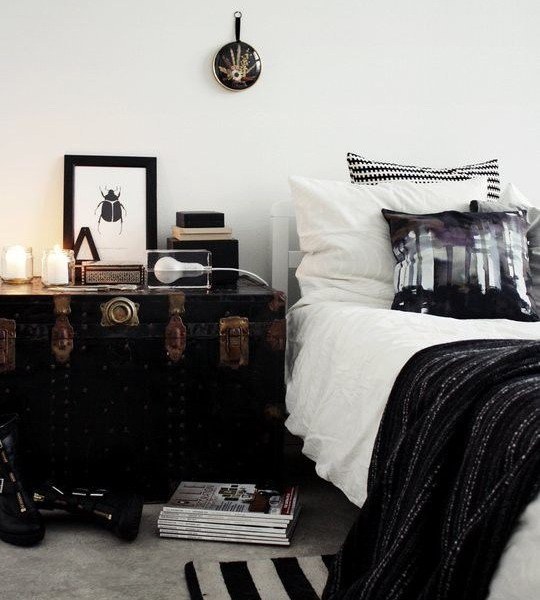 The royal chest: Grab hold of a huge and chunky piece, or if possible, get one converted by attaching add-on fittings; this look is completely feudal and lends a real aura to the room. The chunky brass fittings will make it look bold and beautiful. And you can also store extra linen, pillows or cushions and duvets when not using them on the bed. Remember to keep the surface clutter free if this is the use for you. Ideal for a room without much storage!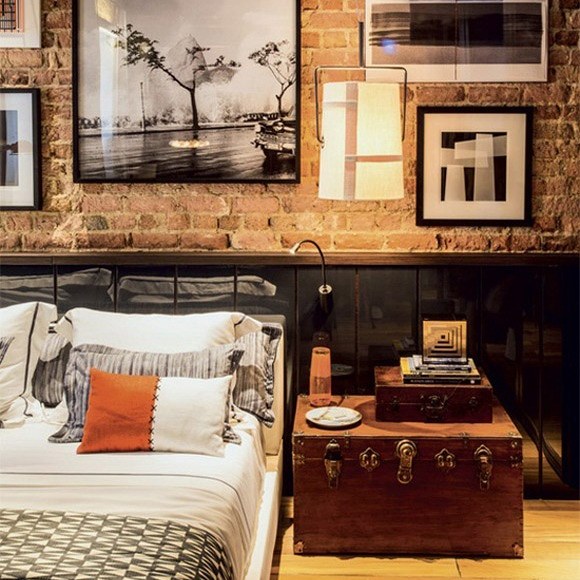 All wood wonder: Choose one in solid wood: Make the bedroom look country style and organic. It works superb on wooden flooring or with wood paneling on the walls. Keep the fixtures minimal and raw. The unprocessed look of the chest makes it unique and attractive. Convert it into storage by getting the front panel work like a hinged door with concealed openers. Indeed, true vintage style storage Ideas!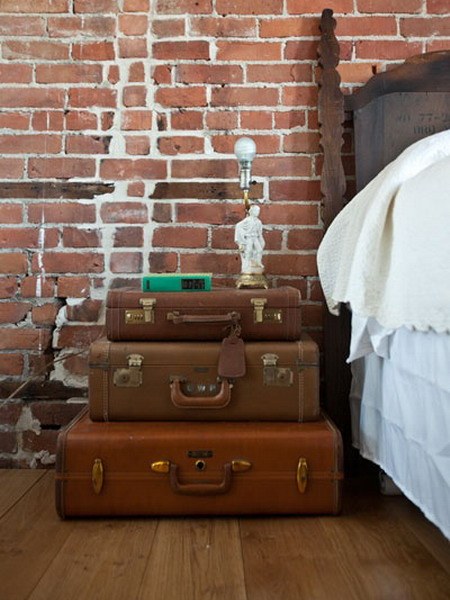 Decreasing order pyramid style: Stack three, or if thin enough, four of the old ones one on top of the other – the largest on the bottom and the smallest on top. If you want the structure to be sturdy, nail them to each other. The structure is completely functional as a table.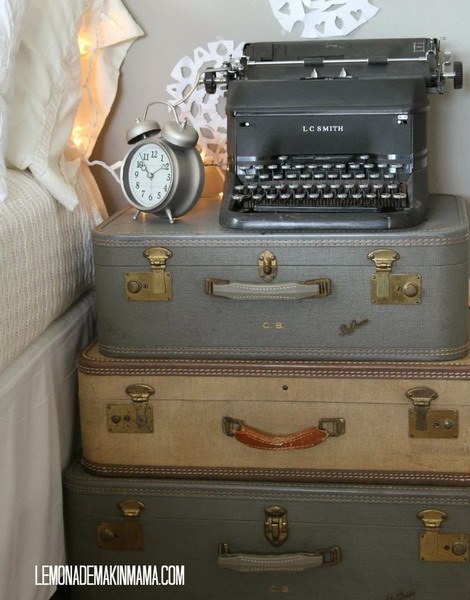 Alternating colors: Excellent if you have laid hands on three similar sized ones, but one in a different color than the other two. This makes for a brilliant pattern contrast and looks beautiful!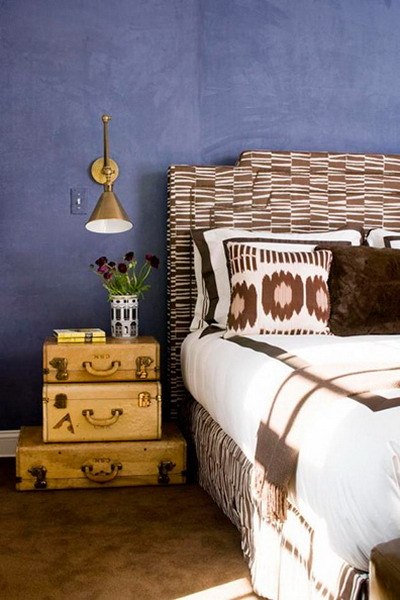 Size contrast: Two in the same size and one larger; this too makes for a great arrangement. It looks like a table with a broad base and narrow top. The topmost suitcase can be used for storage when its upper flat surface being used as a tabletop is clutter free.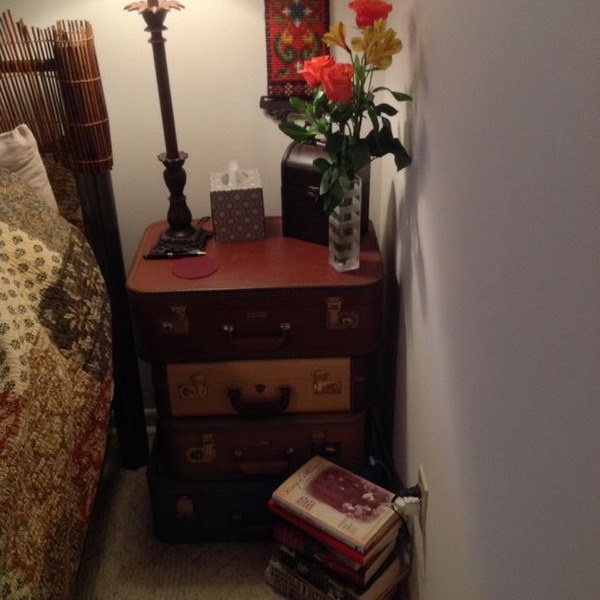 Uneven stack: Just stack the cases over each other, size or color hierarchy does not matter. Gives a rugged, carefree look to the room and makes it look completely natural. This boho look needs to be completed by other accessories too, like a patchwork duvet on the bed or book stacks on the floor. The entire feel is completely random, uncoordinated and the free spirit will love this look.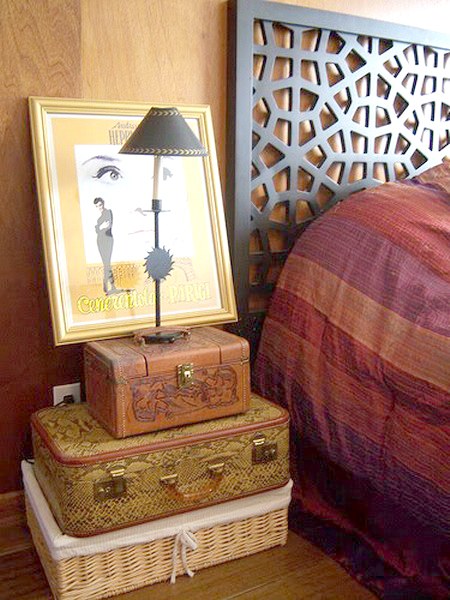 Wicker basket and chest: Assorted selection of the wicker basket with chests will make a stunning piece for the bedside area. Just combine varying size chests with lidded wicker basket and assemble them. There it is! Your own bedside table!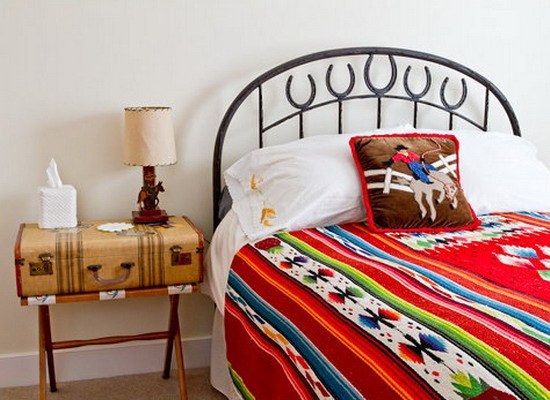 Legged suitcases: Attach pretty legs under your abandoned suitcase and what do you have? A bedside table! This smart method makes the bedside table both sleek and storage friendly. Use the space in the suitcase and only one will do!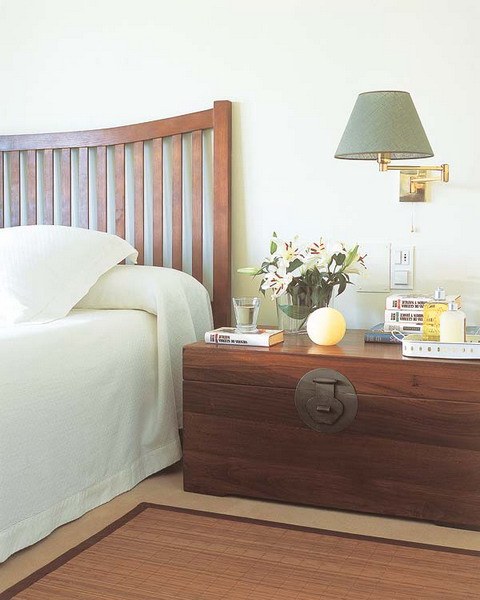 Matching headboard: A foolproof method to use a chest or suitcase, in the case, you are not very experimental. This method matches the headboard with the chest or suitcase. The look is coordinated and does not have the scope to go wrong anywhere. Add other elements without disturbing the continuity of the coordination.
Note on usage of old chests and suitcases: Try and choose old chests and suitcases which are in a good, usable condition. Anything rusting or wasting won't serve any purpose. If the top surfaces have caved in, or are too soft to be of ant table use, fix a glass piece over the top, or attach the frame with dimensional edges, so that there is some structure to the entire set up, as well as, the knickknacks kept on top do not drop. A small wooden box can be the topmost addition if the room has been done up in country style.
Reuse and have fun! These little treasures make way for low cost decoration and the look is never compromised. Check out the abovementioned artistic décor ideas and makeup your mind!