Regardless of the size of the kitchen, there is always a much larger purpose that the space has to deliver in terms of its function. You may have the most awkwardly designed kitchen, but these tricks can help you fight that issue and make use of even the tiniest corners and make them functional. These kitchen design ideas and tips are centered on getting more for less and making your kitchen not only more usable but also appear uncluttered.
Take the storage higher
[Image: RoundHouse]
If you need to increase storage in your kitchen, the best way is to utilize the space high up on the wall. In this image, the homeowner built a tall storage over a seating spot which is a clever use of space and has multi-functionality.
If you want a more modern finish, you can install push latches in your cupboards. This removes the need for extra hardware and gives a much neater and seamless look that alternatively creates an illusion of space. Strategically hide a ladder that can be used to reach the top cabinets.
Display in Open Storage
[Image: Thibaut and Thewood]
If your kitchen is very small but belongs to an open plan, you can consider using an island with built-in shelves for storage and display. By adding separate storage area for the dishes, you can easily separate the prep work area from the cooking one and get easy access to the dishes when required. To make your open display more attractive, you can invest in some quality tableware and cookbooks for a pleasing visual effect.
Integrate Kitchen Appliances into your Design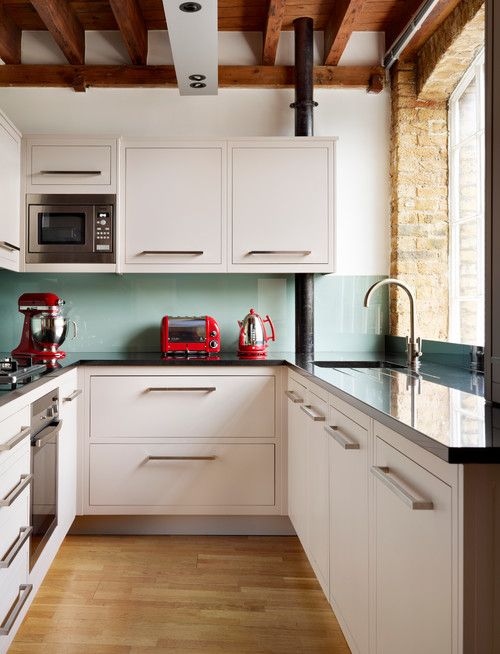 [Image: Harvey Jones Kitchen]
You can shop for the kitchen appliances that are space saving and use design techniques to integrate it into your kitchen's décor. The result will offer you a much-sorted look and take far less lateral space.
For instance, the dishwashers are available with pullout drawers and can also be paired with a storage drawer that has the same look and finish. Together, they create a fuss free finish. Use the wall cupboards to hold your microwave so that you can free up the countertop for other necessary items.
Customize your Pantry
[Image: Holme Design]
When your storage is well planned, it helps you to use your space more efficiently and also help you keep your kitchen organized. If you are lucky to be designing your kitchen from the scratch then consider a pantry that is fully customized as per your requirement. Use storage baskets for as shelves and on the cupboard doors, you can add rail bars and baskets to increase more space.
This pantry is very useful for storing everything from kitchen equipment to food. The best thing is that you can put away the sight of these things as you close the doors.
Make room for eating spots
[Image: Maxwell & Company Architects]
If you can add a space in the kitchen that allows eating and sitting, it invariably increases its functionality and makes the room appear more significant.
You can think of adding a breakfast/dinner bar, which can double up as eating surface as well as additional space to work in the kitchen when someone is not using it while eating. You can save more space by adding bar tools that can be neatly tucked under the table when not in use. Give an identity of its own to this table and accessorize it with bright artwork and ambient lighting.
If you have a serious space crunch, you can also consider a foldout option for a small kitchen.
Industrial Design
[Image: deVOL KIcthens]
The kitchens must be utility based to make the most of a small kitchen. It resonates with the older styles and its visual aesthetics will provide design finish along with functionality. You can combine industrial fittings with subway tiles and shaker style cabinets to bind the look together and get maximum utility from the available space.
Minimal Design with High-End Approach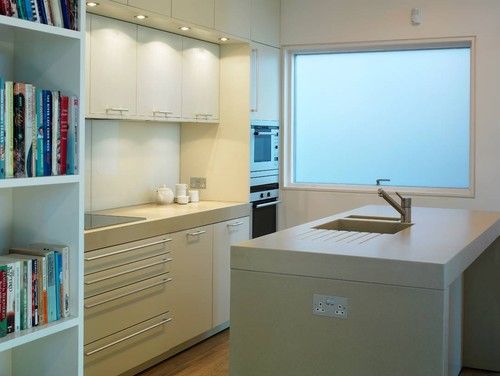 [Image: David Churchill – Architectural Photographer]
Your kitchen may be small in size but that does not mean that it also has to compromise on high-end style. You can make your compact kitchen appear more sophisticated by using minimal design and high-end hardware and fixtures.
Choose from innovative handles, state of the art appliances integrated into your kitchen, fashionable fixtures and molds on the draining board may be features of a large kitchen but are also applicable to a small one.
Use color generously
[Image: Brian O'Tuama Architects]
If you have a small space and need to add that edge to your kitchen, then vivid colors will work like a charm. They make a bold presence even in the smallest kitchen.
Use pure white background and allow the neon colors to make a statement and add visual appeal. Use these color combinations to highlight specific design features that have the most character. You can also color the cabinets in different shades to highlight the drawers. This will not only add the design appeal but also provide catchy contrasts.
The only tip in this scheme of design is to stay true to a color palette and keep the clutter stored away to make your kitchen look more organized and pretty.
Kitchen is one of the most important areas in the house and by using simple design tricks and tips you cannot only make more space available but also enhance the visual appeal. Feel free to experiment with your own styles. Everything can work as far as it is functional and design-oriented.