It has become a common for the newspaper printers to move to the online trend and have significantly shrunken their printing regime. This is perhaps the reason why newspapers are being preserved by homeowners in all forms of art around their home. Even when the newspapers may die an unnatural death at the hands of web media, these home décor ideas and style statements will keep the legend alive for years to come.
Unique styling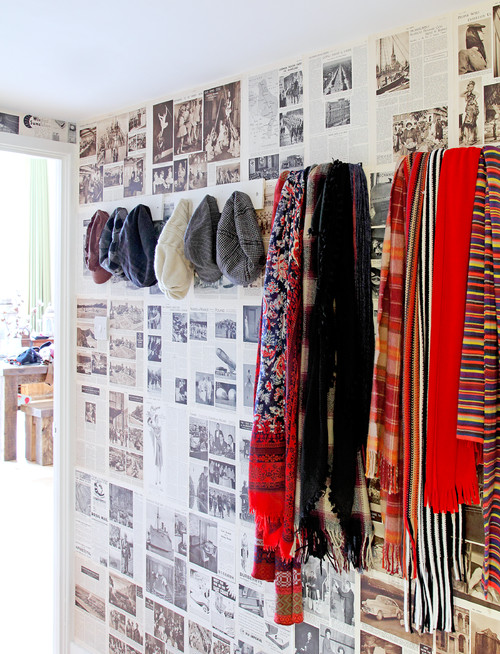 [Image: Avocado Sweets Interior Design Studio]
If you are looking to add more volume to the texture, you can also consider using vintage newspapers or magazines that have large photos. Although, the pattern may be much stronger, they still make a comprehensive background for your clothing accessories like scarves or hats in various colours.
Dress up an all white room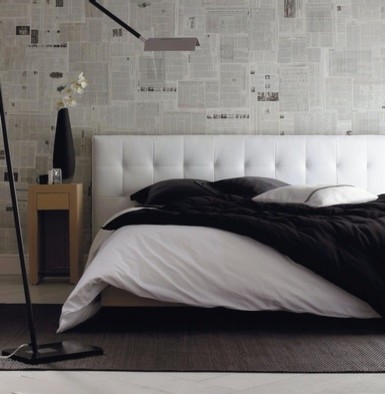 [Image: Bella Life Style]
This kind of style and bedroom design idea is perfect for someone who is looking for an abstract design or is naturally attracted to a newspaper stand for its monochromatic colour theme. The texture of the newsprint wallpaper in this image complements the white tufted upholstery beautifully. This simple addition of wallpaper converted an ordinary looking room into an extra depth and more visual interest.
You can also use actual newspapers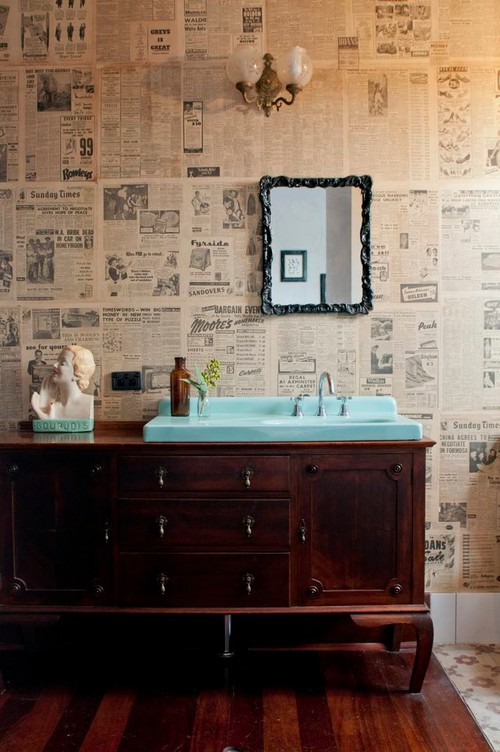 [Image: Etica Studio]
While the easiest thing to do would be to choose readymade wallpapers made in old newspapers theme, but there are also some designers that opt for actual sheets of newspaper to cover a wall. In this image, the bathroom wall has been covered in real newspaper sheets for a dramatic effect.
Use the yellowed paper to up the vintage quotient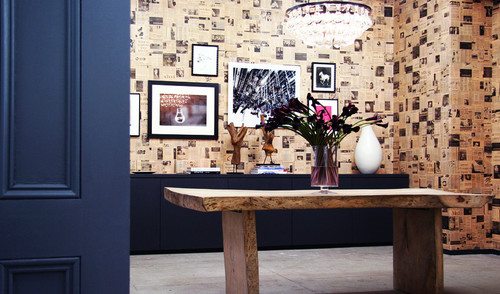 [Image: ILevel]
There is nothing that says vintage the way old yellowed newspaper does. As the time progresses, newspapers or magazine papers get sepia toned which gives conventional aged look. You can add a dash of vintage aura to a contemporary space.
Accented Prints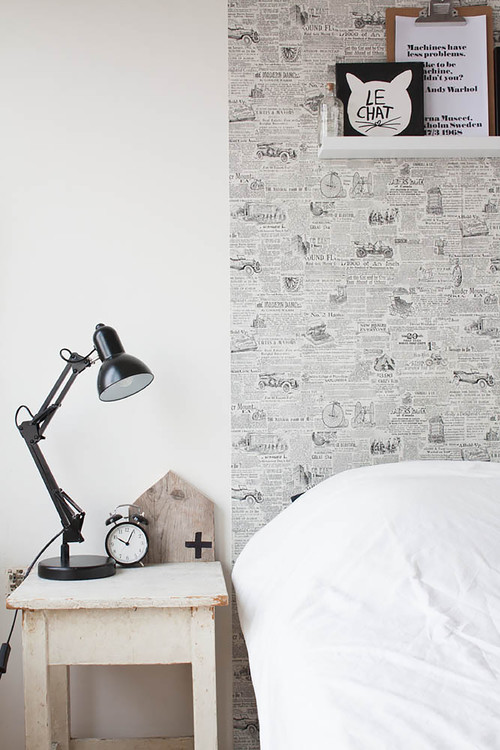 [Image: Louise de Miranda]
In this home in Netherlands, the homeowners created an accent wall with newspaper prints by using just two strips as the headboard. You can get same or perhaps more profound effect with keeping a single tone wall mixed with sheets of newspaper.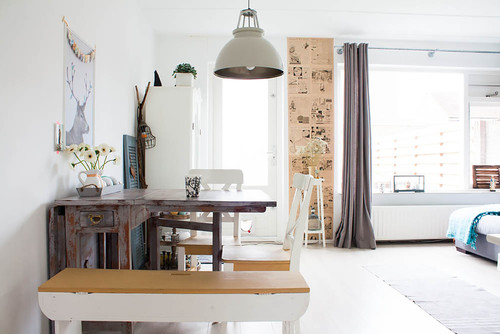 [Image: Louise de Miranda]
In another home, the designer took the same concept of creating an accented wall but did that in a much smaller area. These newspapers were picked up from the flea market that were naturally aged and add a visual interest to this otherwise rustic décor.
Make the message Obscure 
[Image: Designer Premier]
There is an all new wave of using recycled newspapers and magazines as used by the designers to create an authentic yet function look. The paper has been sliced into strips, which leave the message indiscernible but create a great texture. This home in Denver has an entire wall that has been surrounded by woven recycled magazine and newspapers.
[Image: S.B. Long Interiors]
The wall in this room has been done up with something called Newsworthy which has been positioned in the world of designing as an alternative to grass cloth.
Not so permanent solution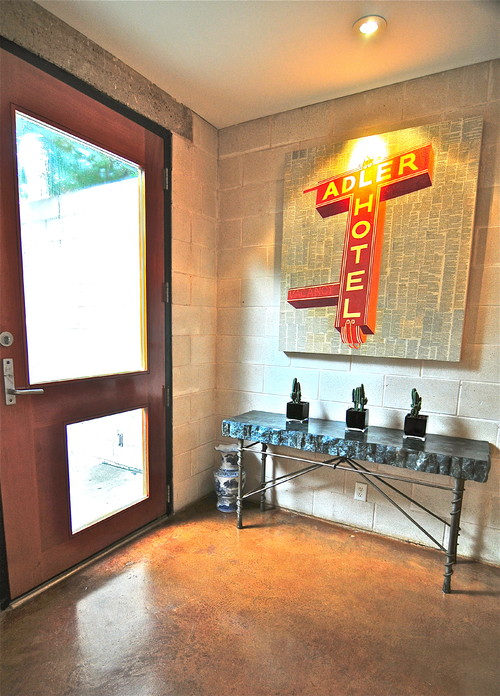 [Image: Valerie McCaskill Dickman]
Permanent has a finality to it which can be intimidating to some people. If you shy away from anything that has a long term implication, then this design will serve you well. You can use a newspaper motif that can be mounted as an artwork. This piece of work has been installed in the entryway of this Dallas townhouse.
Take it to the countertop
[Image: Christopher Hoover – Environmental Design Services]
It is not just the wallpaper manufacturers that have taken keen interest in the use of old newspapers and magazines to create interesting artwork for your homes. This has been further manifested into countertop surface where small strips of catalogue pages have been carefully inserted into resin to create an amazing surface.
Take paperless approach
[Image: Imagine Living]
Another interesting way of doing this is to take the newspaper print onto upholstery. In this room, the chair design inspiration has been taken from the  book strips.
Take it off the walls
[Image: P2 Design]
Don't just limit your design ideas to the wall. You can also take this look to other pieces of furniture and cabinets. In this home, a kitchen island has been done up in the sheets of paper.
Loose Sheets of Paper
[Image: Sarah Greenman]
There are endless opportunities as to what you can do with papers to your walls. People also use manuals or books to create a unique look, like in this room. The designer used the pages from old books found in the house. The pages have been stuck onto the wall by using a stapler.
Take the headlines
[Image: Tyner Construction Co Inc]
No need to stick to a disciplined alignment. In this powder room, the pictures have been taken out of magazines and have been applied to the wall with an artistic bend of mind.
Collage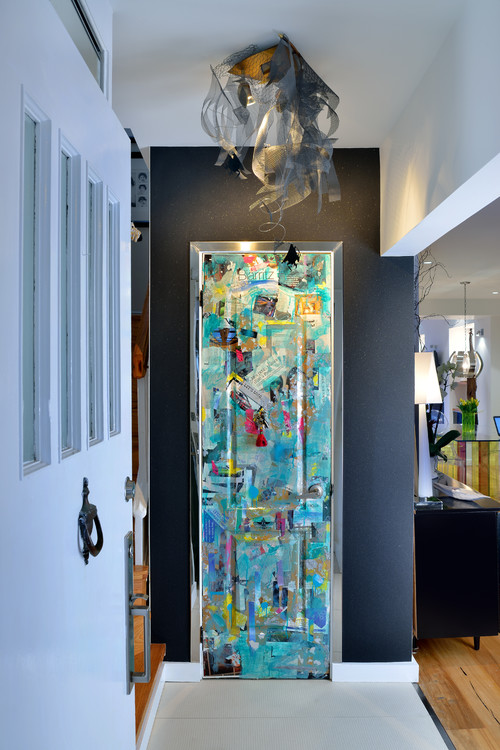 [Image: Upside Development]
The artist in the house used a plain white door as her canvas, and with the decoupage technique, glued several images from a French Newspaper to the door. It was further painted in teal to create a bound and finished look.
Upside-Down Pages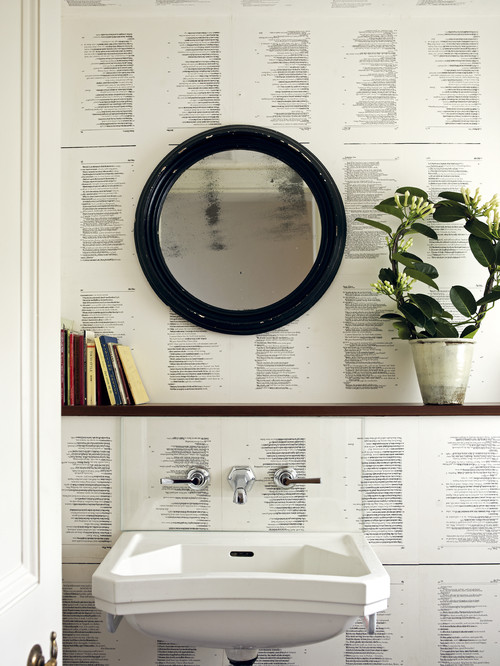 [Images: Ryland Peters & Small I CICO Books]
This bathroom wall has been papered using pages of a book but has been tacked upside down. The text of the papers is not all that important as all that matters is the pattern and the feelings that the words exude through their columns and the placement.
Newspapers may become history every day, but they sure do make an immortal style statement in interior décor if used wisely and creatively. This is the reason why so many new methods have emerged to use the printed material for the designing of the house.