Black is an exquisite color that can add charm to almost room. Whether it is the kitchen or the bedroom, black can work wonders effortlessly, unless being used in the kid's room. The only thing that is needed for introducing black in the interior is the right balance. The right amount of black and the place where it is used is what that defines the beauty of the color.
Mistakes to avoid in the kitchen
Adding too much of black is the main problem, and that too when it is scattered all over the kitchen. Often people don't like kitchen to have black as it is not too much of a poise color, but the mistake is not in the color but in the way it is used. Rather than scattering the use of black all over, it is best to use it one pane or space, such as floors and kitchen cabinets.
The size of the kitchen is important in deciding the level of black that one needs to use. Things that often look classy and elegant in the catalogue and designer homes may look superfluous in small spaces when overlooked.
Since black absorbs lights to a great extent, it is extremely important to increase the light sources of the kitchen to strike a balance. In kitchens, where black has been used extensively as the master base, it is important to add local light sources to highlight black. For kitchens that have decent number of windows, it is best to look for natural lighting for the day time.
If the solid black seems scary, using wood in panels with a blackish finish can be smart and nifty idea to add the color to the kitchen. Black wood has been used by designers for varied kitchens for incorporating the dark themes, and it can be a quick fix to avoid the plain and solid black.
The color choices:
The most standard choice with black is white. With the panels, frontal doors and cabinets in black, the rest of the design, mainly the walls, can be in white. Ideal for homes where other colors are not suitable!
Black also works great with natural tones of wood, ensuring both of them are in a contrasting pattern. Natural shades of walnut wood and oak can look totally classy and ravishing with black in combo.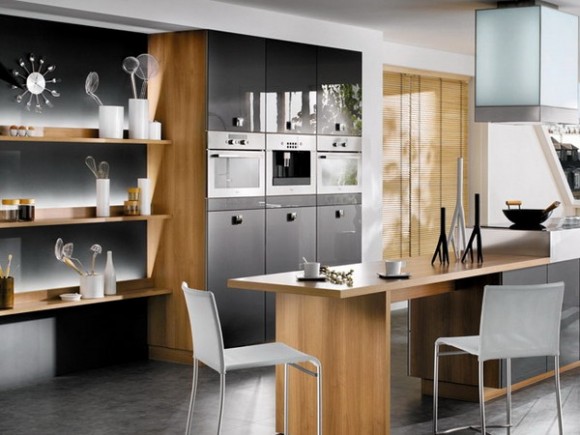 There are designers who have played with their ideas and used black in the kitchen with a combination of other colors. This includes colors like orange, red or even pink. The use is obviously dependent on the amount of space available.
Whether one wants to use black in the classy neutral tone or as a minimal accenting color is totally dependent on the kitchen theme desired. For those who think black is a classy addition, it is time to revamp the kitchen!