The Villa Amanzi is the unspoiled house on the rocks and has been designed by popular architectural firm Original Vision Studio. Designed to be a perfect vacation house for the modern groups, this house is located on West coast of Phuket, Thailand in Cape Sol. The house spreads on area of 8600 square feet and features six master bedrooms with magnificent views of the sea below. There is an extended 15m infinity pool meant for soothing fun with the silent and unperturbed backdrop. The cool weather of the location and stunning views of the Andaman sea makes this home one of the most sought after vacation spots in Phuket.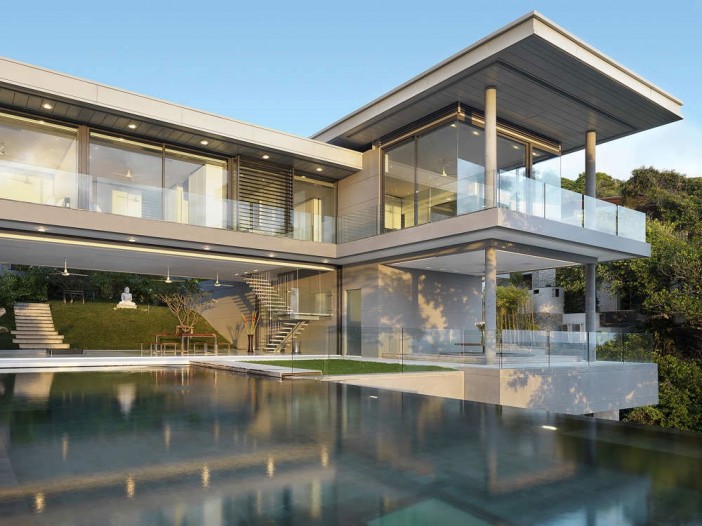 The entire house has been designed with very unique and sophisticated elements. Every room has walls made of complete glass in addition to the open public areas. From each room, one can sit behind and enjoy nature at its best. The furniture, right from the pool side, to the extended open living areas and bedroom has been selected with utmost care with colors, materials and tastes in variance. While white rules as the main color for the interiors, the beautiful rocks come almost in the house and offer a very natural setting.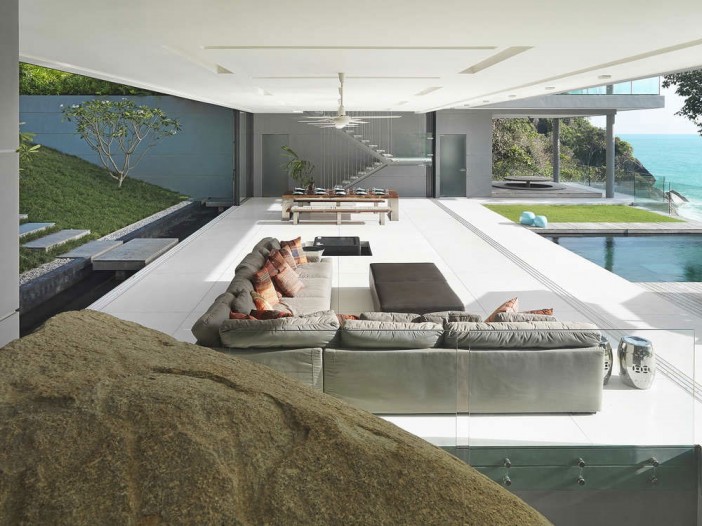 Most parts of house have marbled floors that look perfect with the high ceilings that are designed with mixed elements. The lighting is hugely effective with many options including ceiling and free standing lights in use. The design firm has worked hard in giving the exteriors a very beautiful and posh feeling with ample space for public use. Rejuvenation is next name for this picturesque house that promises luxury, fun, and recreation with the nature for company.
Photos by: Marc Gerritsen, Helicam Asia Aerial Photography