Bathroom is probably the most functional space in the entire house, where you wish to indulge and have some time that is totally your own. If you are blessed with a home or rented an apartment with a bathroom that is large enough, there are quite a few things that you may consider keeping. Here is a close take the ingredients for a dream bathroom.
One or more mirrors: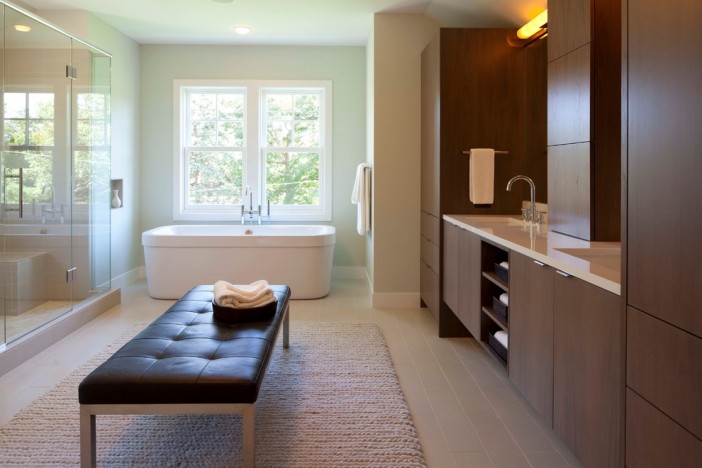 [Image Credit: Elevation]
While a small mirror can be found even in the smallest of bathrooms, we are talking of a large and elongated mirror here. You can choose one that can cover almost a good portion of the wall or can place two on the same wall. Mirrors help you get a lot of illusionary space in the bathroom. The best choice is to look for two opposite walls where the effects look at best.
Shower enclosure:
[Image Credit: KTARCH]
Meant to have a steam bath or an area where you can enjoy a shower without being disturbed. Not all bathrooms have the space to welcome a shower enclosure, so if you can get one, this is a perfect corner for some amount of indulgence.
A large and exotic bench:
[Image Credit: Maison Fine Homes & Interior Design]
Upholstered benches in the bathroom come with a very glamorous feeling and can be perfect for a large bathroom to just sit back and relax. While the idea is fun, you need to be more careful about the material. Inclined to water, any regular fabric or material can have mold or rot faster that you can think. Just look for the material or upholstery choices that are more meant for the exteriors or garden.
Incorporate a large window: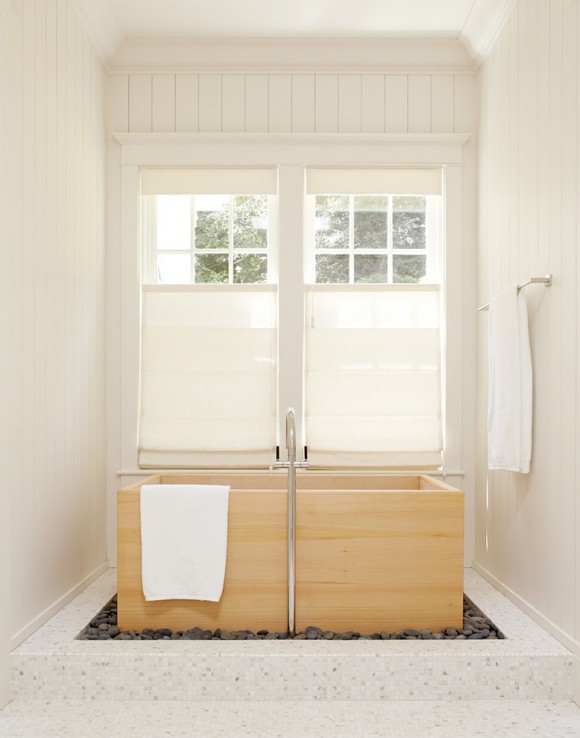 [Image Credit: Rasmussen Construction]
Designing the bathroom window can be interesting but demands a lot of caution. You need to ensure that you choose the right size for the window to allow plenty of natural light, and at the same time, ensure that blinds and curtains are used for privacy. Bathroom windows can be designed with high end fabrics and lighter sheets for a roomier feeling.
Look for expensive wallpapers: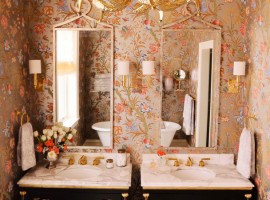 [Image Credit: Summer Thornton Design, Inc]
Unique and highly sophisticated wallpaper can add enormous charm to the modern bathroom. In spite of being a banal idea, the options are many and you can choose to go over the top with colors and designs. Even without changing the rest of the things, you can get a huge difference in the interior. Not to forget, this is one investment that can somehow fit in the smallest budgets.
Marble seating choice: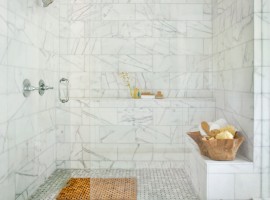 [Image Credit: Mark William Designs]
If you are constructing your bathroom, you can think of having marble extended seat just next to the wall. This can be within the shower enclosure or just around the bathroom. You can keep a few things in baskets or can simply use the area for display.
Designing a lavish and large bathroom is easy when you have a budget, so set that first for better planning for a space!